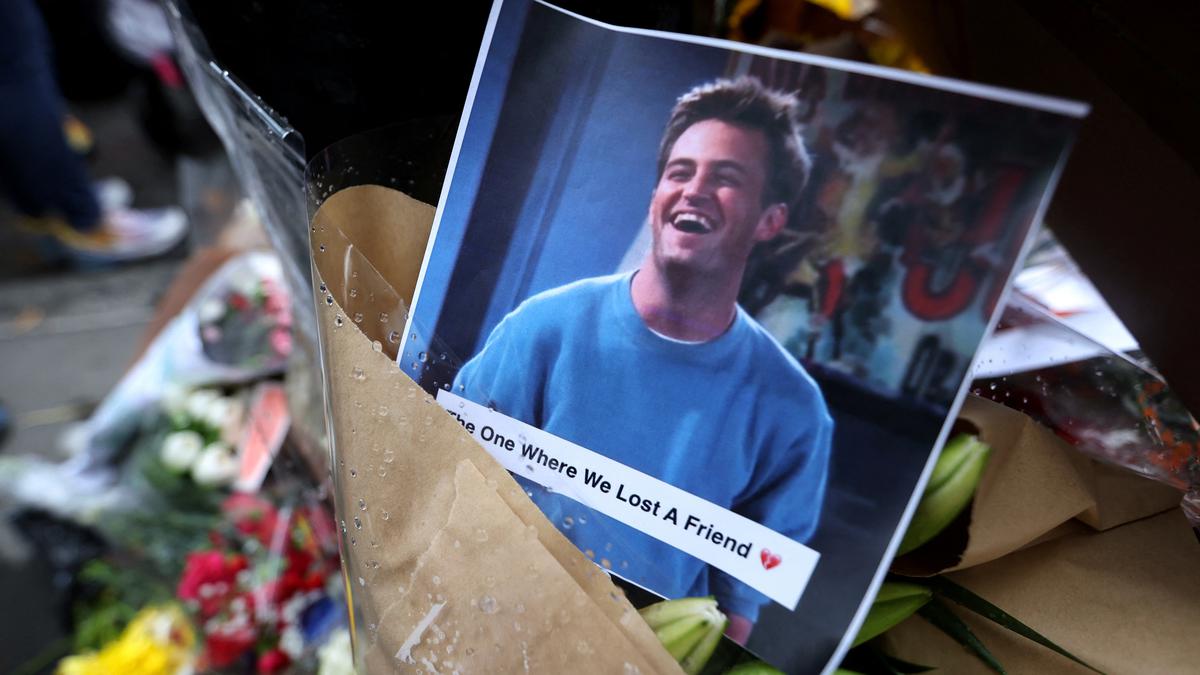 Grief is a bird that can change colour. It's a beach wave that never recedes, a scream that settles deep quietly. It also works in mysterious ways; the COVID-19 pandemic and several terrible wars have been recent reminders that we can never understand but only embrace death. And, whenever a celebrity passes, you can't help but wonder how just the idea of a person, one you have never even met, could cut so deep. The devastating news of Matthew Perry's passing has also become a mind-numbing reminder of how art enables such a mystifying connection.
Perry was a friend to many, in more ways than one. Firstly, the troubled actor who infamously fought a long battle against substance and alcohol abuse — through his philanthropic efforts — became a pillar of support to many who struggled with addiction. Everyone who found help from his sober living facility, the Perry House, and those who benefited from his lobbying for drug courts in the US would agree. Through his 2022 autobiography 'Friends, Lovers and the Big Terrible Thing', Perry strived to tell his life story for others to learn from. And to millions around the world, Perry became a friend-in-need inadvertently when he took on the role of Chandler Bing in F.R.I.E.N.D.S, inarguably one of the most popular sitcoms of all time.
In 2022, Perry told podcaster Tom Power: "The best thing about me, bar none, is that if somebody comes to me and says, 'I can't stop drinking, can you help me?' I can say 'yes' and follow up and do it."
"When I die, I know people will talk about F.R.I.E.N.D.S, F.R.I.E.N.D.S… F.R.I.E.N.D.S. And I'm glad of that, happy I've done some solid work as an actor, as well as given people multiple chances to make fun of my struggles on the world wide web… but when I die, as far as my so-called accomplishments go, it would be nice if F.R.I.E.N.D.S were listed far behind the things I did to try to help other people. I know it won't happen, but it would be nice," he said.
But one hopes that the actor knew that even through F.R.I.E.N.D.S, he had helped create something that many generations to come will take comfort in. For millions around the world, Perry became a friend as Chandler Bing, the goofy, eccentric young man who worked in Statistical Analysis and Data Reconfiguration and spent most of his time with his five friends, Joey Tribbiani (Matt LeBlanc), Monica Geller (Courteney Cox), Ross Geller (David Schwimmer), Phoebe Buffay (Lisa Kudrow), and Rachel Greene (Jennifer Aniston).
You think of F.R.I.E.N.D.S when you imagine six friends sitting on a cafe couch, and the show, nearly 20 years since it finished airing, still holds an unshakable position as the go-to comfort watch for the ages; all it takes is a random video on YouTube for a viewer to fall back into its charm. .
And Chandler, thanks to Perry's endearing performance, was our imaginary friend-in-need, a work of fiction we loved indulging in, his exceptional wit and humour coming in handy many a time. In Chandler, we saw a real human, a character who was the most flawed of the lot. We saw him recover from a smoking addiction, acknowledge his mistakes many times, and evolve from being a broken soul with commitment-phobic issues to the anchor steering Monica amidst all the chaos.
To Joey, Chandler was the partner-in-crime, the friend who wouldn't think twice when the other asked him for some money to fuel his acting dreams, a brother who embraced him with all that he came with. To Ross, he was his best friend since school, a person to confide in on everything under the sun. To Phoebe, the only other friend who grew up as lonely as he did, Chandler embodied empathy and took part happily in all her unbelievable eccentricities. To Rachel, he was the friend who was nothing like her, precisely the person to go to lunch with when your life is up in the air and the rest of your friends are either busy, too sorted… or are Joey. To Monica, he was everything she had dreamed of and more; he was her 'lobster'.
It did seem like Chandler was one who took in all the darkness and emanated light, and perhaps there's more to what David Crane and Marta Kauffman, the creators of F.R.I.E.N.D.S, said about Perry being too similar to his character.
Matthew, like the rest of the F.R.I.E.N.D.S cast, has visibly strived to break out of the shadow of his character — that's the price that success of such magnitude demands. But that might also be because he has starred in several titles in a career that spanned over four decades; Perry himself called Fools Rush In, a rom-com co-starring Salma Hayek, as his most treasured role. And then there are titles such as the crime comedy The Whole Nine Yards, Aaron Sorkin's meta comedy-drama series Studio 60 on the Sunset Strip, the CBS sitcom The Odd Couple, or even his Emmy-nominated guest appearance in Sorkin's The West Wing series, among many others —  all of which makes you wish he got a second coming as an actor.
But whether he's spoken for his social work, or as Chandler Bing, he will be remembered always as a human who helped others in more ways than one could ever hope for.
Even now, we can only take comfort in knowing that Chandler is still living his best life with Monica — the twins are 19 now and must be off to college — watching Baywatch re-runs with Joey in the comfort of their Barcalounger recliners in the Joey room, and still managing to trigger Monica's OCD somehow. And, he will always continue to be there for us… just like we'll be there for him too.
Thank you for giving us a forever friend, Chan Chan Man.