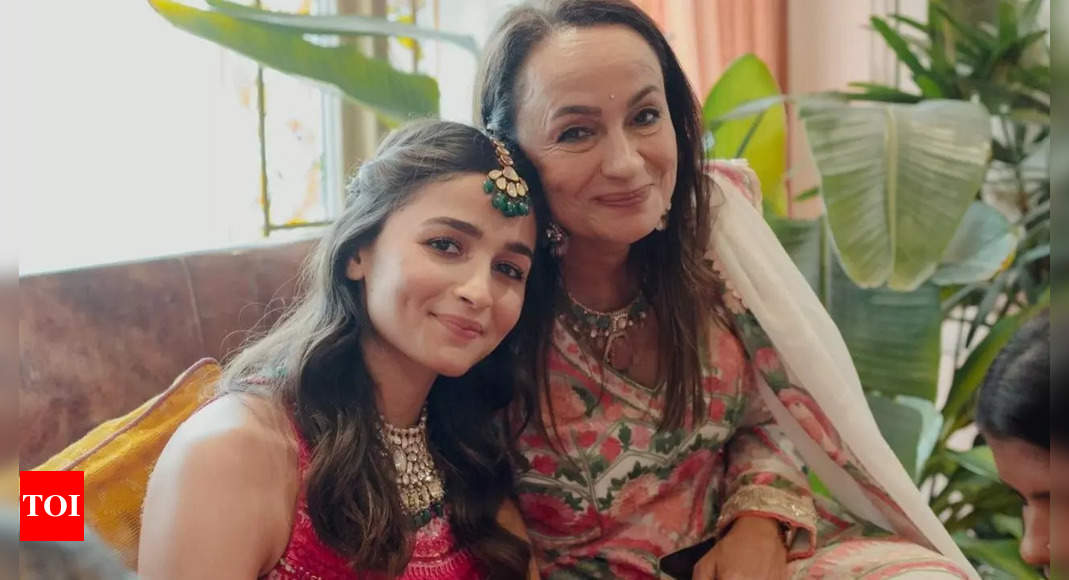 Alia Bhatt
and her mother, Soni Razdan, often share heartwarming moments on Instagram, giving us a glimpse of their special mother-daughter bond. Despite Alia's superstar status, she maintains a close connection with her extended family, particularly her mother, Soni Razdan.
Recently, Soni attended a screening of the upcoming war movie 'Pippa,' and Alia couldn't help but admire her mother's fashion sense.
On November 8, Soni Razdan graced a special screening of the war film 'Pippa,' starring Ishaan Khatter and Mrunal Thakur. Alia Bhatt took to her Instagram stories to shower praise on her mother. She shared a picture of Soni and captioned it, 'My beautiful mother just being a casual queen.' Alia also gave a shout out to "Pippa," in which Soni plays a supporting role.
Earlier, on Soni's birthday, which fell on October 25, Alia shared some unseen pictures of them together. In a heartwarming post, Alia recalled a childhood memory of sitting on her mother's lap at a birthday party because she was afraid of an inflated Godzilla. She expressed her deep gratitude and love for her mother, acknowledging how essential she is in their lives.
Meanwhile, Alia's partner and Bollywood star, Ranbir Kapoor, made headlines for a recent incident where he had a confrontation with a paparazzi while being asked to pose for a photograph. This incident generated mixed reactions on social media, both negative and positive.
From Mrunal Thakur to Vidya Balan, celebs grace a movie screening in Mumbai
"Pippa" is directed by Raja Krishna Menon and features Ishaan Khatter as Captain Balram Singh Mehta during the 1971 India-Pakistan war. The film also stars Soni Razdan as Ishaan's mother and Mrunal Thakur as his sister. Based on the book 'The Burning Chaffees,' "Pippa" is set to premiere on November 10 on an OTT platform.