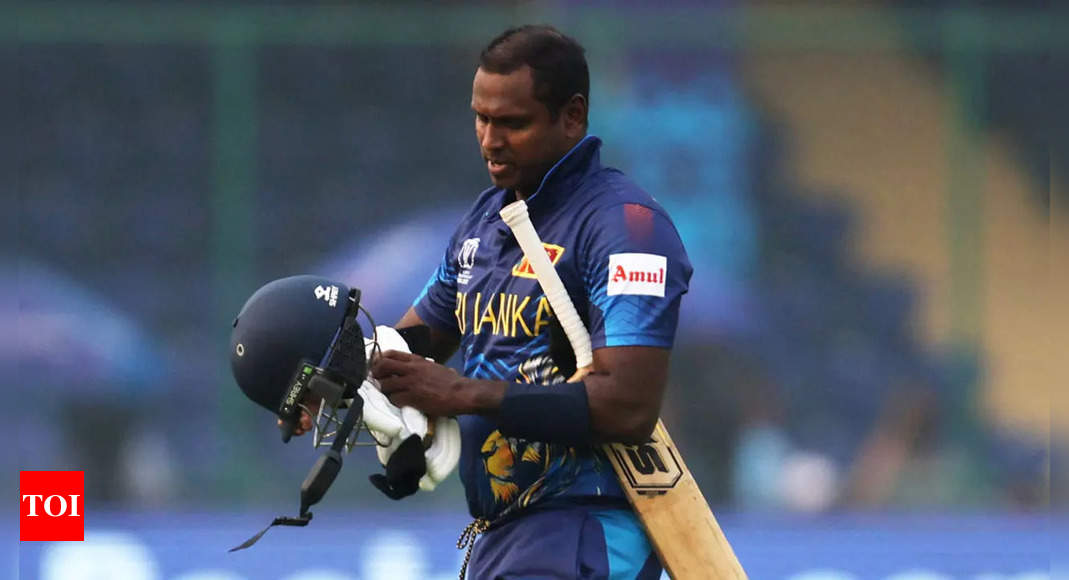 NEW DELHI: In a bizarre turn of events,
Sri Lanka
batter
Angelo Mathews
on Monday became the first cricketer to be given 'timed out' in the history of international cricket.
The incident occurred during the Bangladesh-Sri Lanka
ODI World Cup
match at the Arun Jaitley Stadium in New Delhi. After the dismissal of Lankan batter Sadeera Samarawickrama in the 25 over of the innings, Mathews was the next man in but he seemed to have issues with the strap of his helmet and was late on taking the strike.
The former Lankan captain took over two minutes to assume the batting position due to helmet issues. During this delay, Bangladesh skipper Shakib Al Hasan made an appeal, which was upheld by the on-field umpire.
As per MCC law 40.1 (Timed Out) – A batter has to be ready to receive the next ball within 3 minutes of the dismissal or retirement of a player.
But, according to ICC World Cup 2023 playing conditions, the time limit for the batter is just two minutes.
The substitute ran out with the correct helmet but it was of no use as he was declared out by then. Mathews had an animated discussion with the umpire and he also tried to explain it to Shakib but it went in vain.
Delhi pollution: Amid severe pollution levels, Sri Lanka faces Bangladesh at Arun Jaitley stadium
The batsman argued with the umpires for a period before eventually leaving the pitch in frustration, shaking his head in dismay. He then threw his helmet immediately after crossing the boundary.