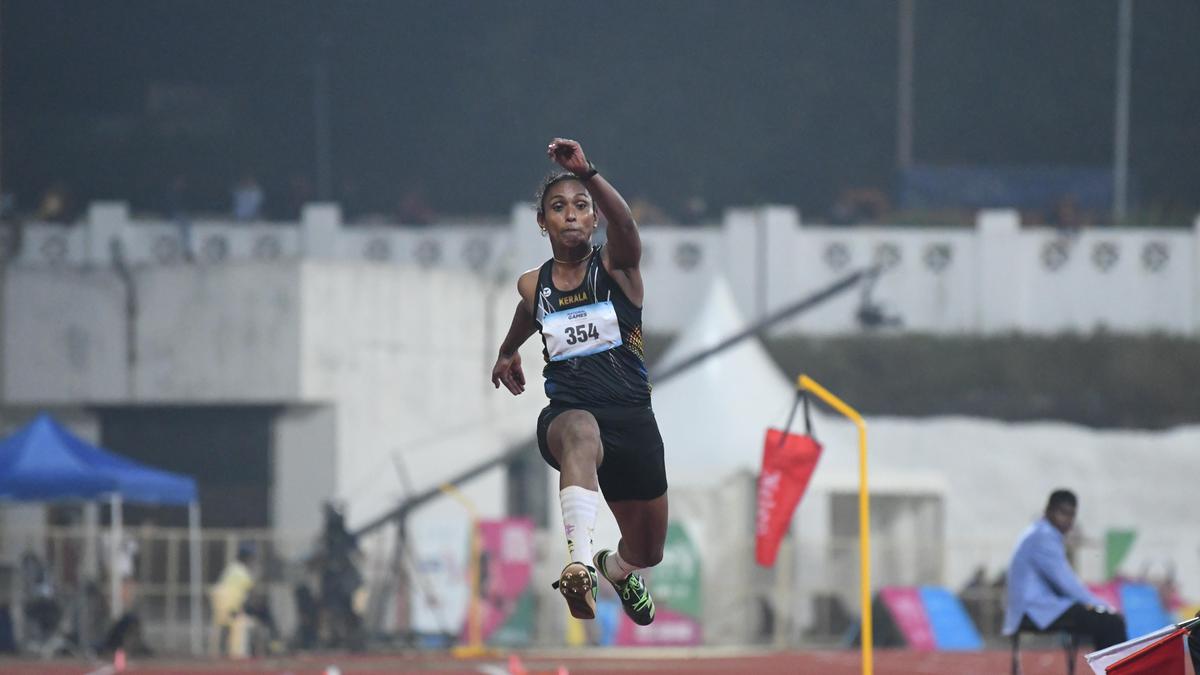 Ankit Kumar had never won a major medal in national athletics. And, the men's 10,000m in the 37th National Games at the Bambolim Athletics Stadium here on Wednesday night had some top names, including the Asian Games bronze medallist Gulveer Singh and Asian Championship bronze medallist Abhishek Pal.
But Ankit did not let that trouble himd. He ran a cool race and somewhere around the 10th lap broke into a strong lead. Shortly after that, he looked back a few times to check whether the others were anywhere close. And when he realised that they were far back, he grew in confidence and kept extending his lead and won by nearly a 200m margin.
"I had prepared well for this race, I had not bothered about the others," said the 22-year-old who hails from the hilly Pauri in Uttarakhand. Abhishek and Gulveer took silver and bronze.
Meanwhile, Kerala's N.V. Sheena completed a hat-trick of National Games triumphs in the women's triple jump — her first came in the Thiruvananthapuram in 2015 — State-mate Nayana James took the silver.
Poovamma returns
Later many eyebrows were raised when quartermiler M.R. Poovamma, who was under a two-year doping ban that should have ended in June 2024, ran in the women's 4x400m relay final. She had run in the Sri Lankan National championship in July this year when the National Anti-Doping Agency had lifted her suspension. But in September, the NADA admitted that it was a mistake and her ban was back.
Adille Sumariwalla, the AFI president, confirmed to The Hindu that Poovamma's suspension was over.
Tanya Chaudhary set the day's lone record, in the women's hammer throw.
Madhya Pradesh's 18-year-old Dev Meena won the men's pole vault gold with 5.16m on Tuesday night and in the process broke his own junior National record (old record 5.00m) and also qualified for next year's under-20 World championships (entry standard 5.10m) in Peru.
Sajan's new mark
In swimming, Sajan Prakash bettered his own one-year-old meet record in the 200m butterfly at the Campal Sports Complex on Wednesday. The Karnataka 4x200m men's and women's relay teams also improved their meet records on the way to gold.
National champion Kerala beat host Goa 7-5 and won the men's title in beach football, an event which was making its debut here.
The results:
Athletics: Men: 10,000m: Ankit Kumar (Utr) 29:51.41s; shot put: Samardeep Singh Gill (MP) 18.99m; 4x400m: Services (Shubham Deshmuk, K. Sathish, Himanshu, Angrej Singh) 3:07.79s; pole vault: Dev Meena (MP) 5.16m.
Women: 5000m: Seema (HP) 15:44.05s; triple jump: N.V. Sheena (Ker) 13.49m; pole vault: Baranica Elangovan (TN) 3.90m); hammer throw: Tanya Chaudhary (UP) 62.47m (MR, Old: 61.56, Hardeep Kaur, 2001); 4x400m relay: 1. Andhra Pradesh (Kunja Rajitha, M. Shreesha, Chelemi Pratyusha, D. Jyothikasri) 3:37.94m.
Swimming: Men: 200m butterfly: Sajan Prakash (Ker) 1:59.38s (MR, Old: 1:59.56, own, 2022); 50m breaststroke: S.P. Likith (Ser) 28.71s; 4x200m freeestyle relay: Karnataka 7:37.47s (MR, Old: 7:41.10s, own, 2022).
Women: 200m butterfly: Astha Choudhury (Asm) 2:19.29s; 50m breaststroke: Chahat Arora (Pun) 34.09s. 4X200m freeestyle relay: Karnataka 8:49.74s (MR, Old: 8:51.59s, own, 2022).
Beach football: Final: Kerala 7 (T.K.B. Muhseer 2, 28 & 29; Muhammed Unais 18, K.K. Umarul Mukthar 20, Y. Rohith 25, Ali Akbar 36) bt Goa 5 (Pedro Gonsalves 9-p, 11 & 13; Richard Cardoz 22 & 30).