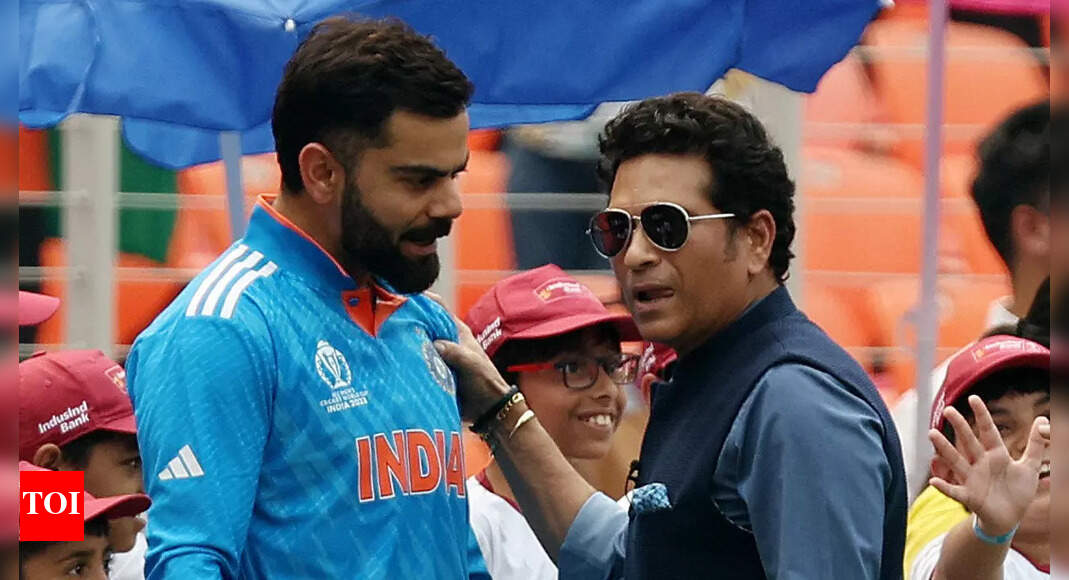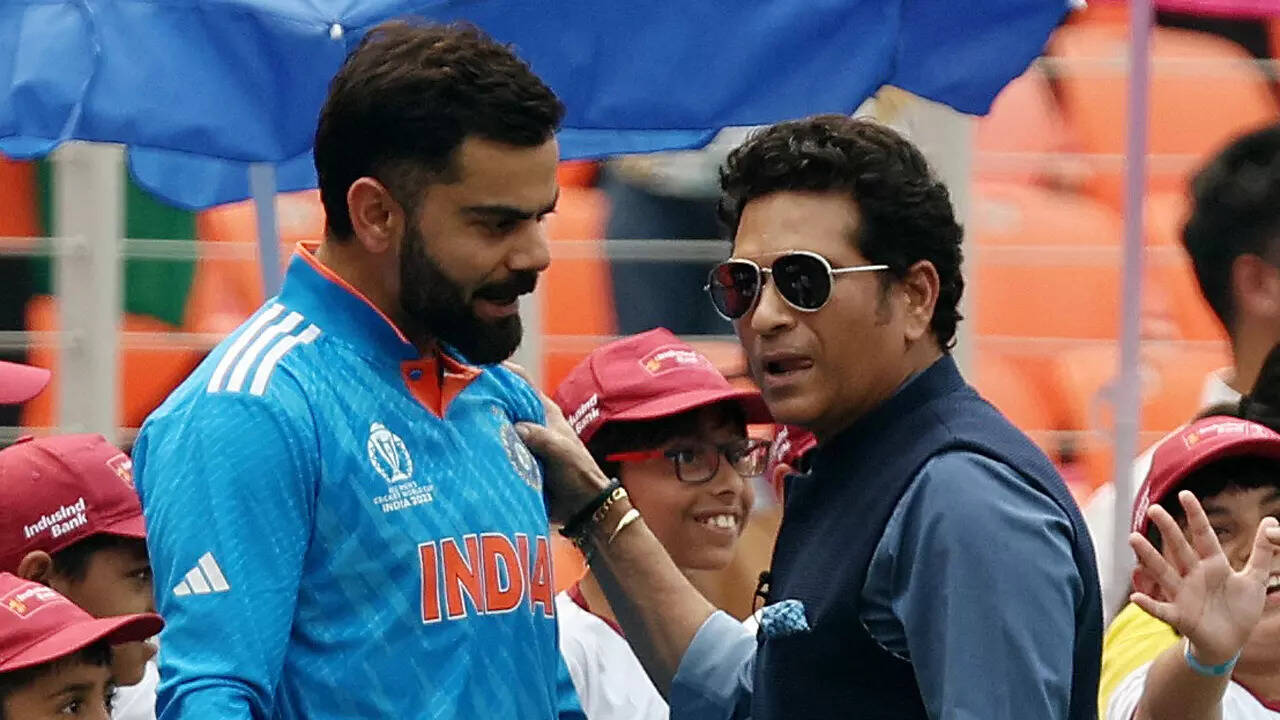 NEW DELHI:
Virat Kohli
on Sunday notched his 49th one-day international century, a feat that brought him on par with
Sachin Tendulkar
's legendary all-time record.
Celebrating his 35th birthday, Virat achieved this milestone in his 277th innings during the World Cup match against South Africa in Kolkata, whereas Tendulkar required over 400 innings to achieve the same milestone.
During the course of his 101 not out knock, Virat also has become the second batter after Tendulkar to complete 6,000 runs in ODIs at home.
Virat has 6046 runs in 116 innings, averaging 60.46, while Tendulkar scored 6976 runs in 160 innings at an average of 48.11.
Two other batters who have managed 5000-plus runs at home are former Australia captain Ricky Ponting and former South Africa captain Jacques Kallis.
BATTERS WITH 5,000-PLUS RUNS IN ODIS ARE:
| | | | | | | | | |
| --- | --- | --- | --- | --- | --- | --- | --- | --- |
| BATTER | INNS | NO | RUNS | HS | AVG | 100s | 50s | SR |
| Sachin Tendulkar | 160 | 15 | 6976 | 200* | 48.11 | 20 | 38 | 88.39 |
| Virat Kohli | 116 | 16 | 6046 | 166* | 60.46 | 23 | 31 | 96.73 |
| Ricky Ponting | 150 | 12 | 5406 | 134* | 39.17 | 13 | 32 | 79.35 |
| Jacques Kallis | 135 | 24 | 5178 | 139 | 46.64 | 6 | 40 | 75.00 |
India's thumping win against the Proteas was Men in Blue's third biggest victory in terms of runs in the World Cup.
INDIA'S BIGGEST WINS IN TERMS OF RUNS IN THE WORLD CUP
| | | | |
| --- | --- | --- | --- |
| MARGIN | OPPONENT | VENUE | DATE |
| 302 runs | Sri Lanka | Mumbai | 2.11.2023 |
| 257 runs | Bermuda | Port of Spain | 19.3.2007 |
| 243 runs | South Africa | Kolkata | 5.11.2023 |
| 183 runs | Sri Lanka | Johannesburg | 10.3.2003 |
| 181 runs | Namibia | Pietermaritzburg | 23.2.2003 |
Virat is the seventh cricketer who has managed to score a century in his birthday in ODIs.
Interestingy, the list also has the name of batting legend Tendulkar who scored 134 against Australia in Sharjah in 1998.
Apart from Virat and Tendulkar, Vindod Kambli, Sri Lanka's Sanath Jayasuriya, New Zealand's Ross Taylor and Tom Latham, and Australia's Mitchell Marsh are in the elite club.
BATTERS POSTING A HUNDRED ON BIRTHDAY IN ODIS
| | | | | | |
| --- | --- | --- | --- | --- | --- |
| BATTER | FOR | SCORE | OPPONENT | VENUE | DATE |
| Vinod Kambli | India | 100* | Sri Lanka | Jaipur | 18-1-1993 |
| Sachin Tendulkar | India | 134 | Australia | Sharjah | 24-4-1998 |
| Sanath Jayasuriya | Sri Lanka | 130 | Bangladesh | Karachi | 30-6-2008 |
| Ross Taylor | New Zealand | 131* | Pakistan | Pallekele | 8-3-2011 |
| Tom Latham | New Zealand | 140* | Netherlands | Hamilton | 2-4-2022 |
| Mitchell Marsh | Australia | 121 | Pakistan | Bengaluru | 20-10-2023 |
| Virat Kohli | India | 101* | South Africa | Kolkata | 5-11-2023 |