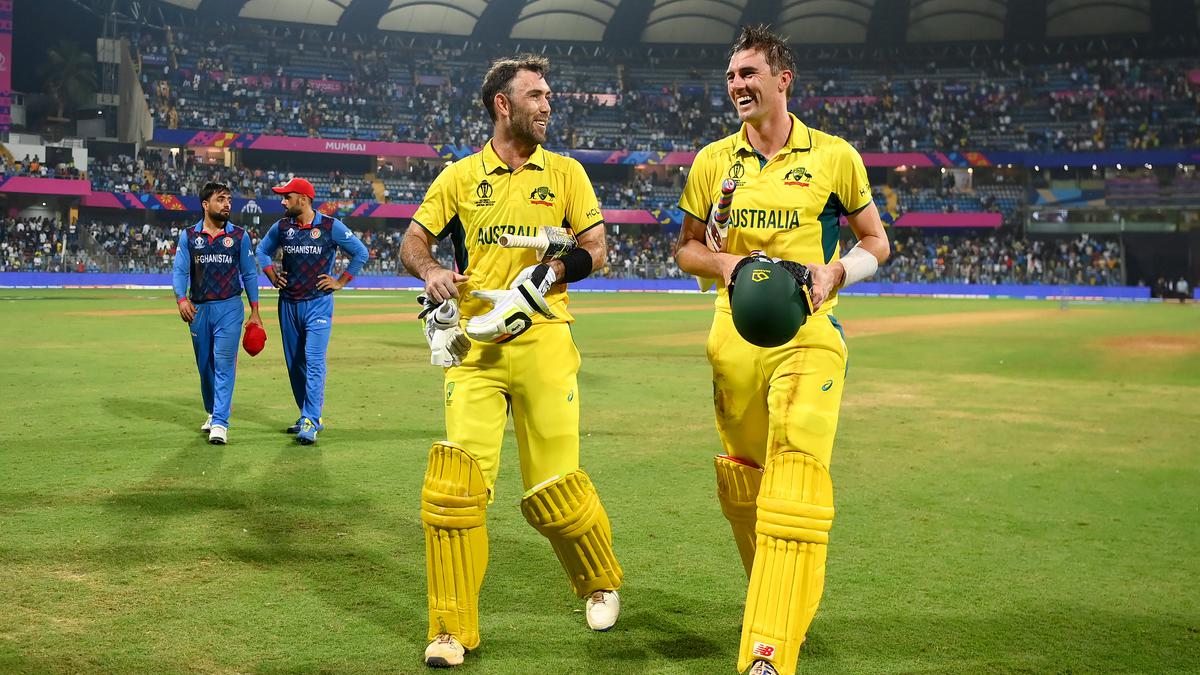 Australia captain Pat Cummins said he witnessed the greatest innings in 50-over cricket on Tuesday after his compatriot Glenn Maxwell's unbeaten knock of 201 secured a miraculous World Cup victory against Afghanistan.
Maxwell and Cummins got together with Australia tottering at 91-7, chasing 292 for victory against Afghanistan at the floodlit Wankhede Stadium.
But Maxwell then smashed an unbeaten 201 off 128 balls and combined in an unbroken eighth-wicket stand of 202 in which Cummins contributed just 12.
"I think that's the greatest ODI innings," a beaming Cummins told reporters.
"We're just chatting about it, all the players and we've decided it's one of those days where you just go, 'I was there in the stadium the day Glenn Maxwell chased down that total by himself'."
Maxwell suffered multiple cramps during his knock, which was studded with 21 fours and 10 sixes, but still managed to continue and Cummins said he could only stand at the other end and admire his compatriot.
"It's just a one-man show. It's just like, it looks so easy," Cummins said.
"He still can't move and still manages to hit a six (over) the third man with reverse – he's a freak, he hits into different areas, again, he makes it look so easy. And when you're up against someone like that as a bowler, you just, you don't have many options."
Tuesday's win also secured Australia a semifinal spot in the World Cup, a tournament the team have won five times.
Cummins said improving the net run rate was top of his mind when he walked out to join Maxwell at the crease and it was not until the final 20 minutes that he actually believed that Australia could win.
"When I went out there, I thought if we can somehow scratch the 200, our net run rate should be pretty good for the semis," he said. "When Maxi got his 100, I kind of thought, 'wow, we're within 120 or something'.
"And then I still thought, 'no way'. So, I reckon it wasn't until the spinners were just about done and there was maybe 40 off 40 (balls) or something where I thought, 'okay even if Maxie gets out here, I reckon the other guys can get it done'."