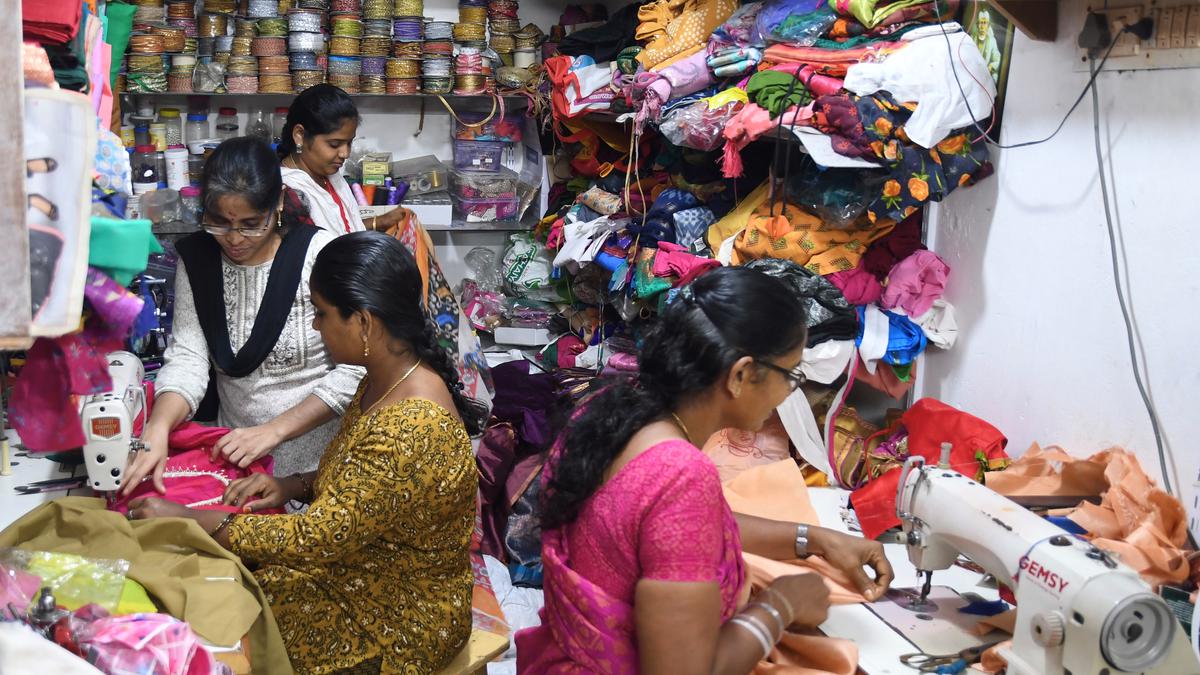 As the pre-deepavali rains bring a welcome change from the blistering heat, T Nagar's Ranganathan Street is crammed with holiday shoppers on every corner. From the new swanky multi-storey shopping complexes, to garment businesses that have existed for generations, everyone gets a piece of the Deepavali cake. 
There's an old saying in the service industry — good, fast, cheap, pick any two, because you can never have all three. It's known as the iron triangle rule. However, in every nook and cranny of Chennai's busiest shopping hubs, there are hundreds of small tailoring shops proving this theory wrong on a daily basis. 
On entering the bylines of the famous Ranganathan street in T Nagar, one is greeted with signs that say 'One-hour delivery guarantee' and 'blouse stitching in one hour'. Humming with the sounds of the sewing machines, a whole lane of tailors are busy at work.
A head tailor speaks to the customers, takes their orders and measurements, and passes on the material along with the details to his tailors. The scissors are out immediately and your blouse is already in the making.
"We stitch anywhere between 25–30 blouses every day over the weekend, and the volume sometimes increases to 50 when we are around festivals," says Saravanan, a tailor who has been in the profession for over 25 years. Saravanan employs five tailors who work eight-hour shifts for six days a week.
"The starting price of a simple blouse with no embellishments will set you back ₹280-300, and the price gets higher with more complicated design and style requests," says Ammu, who was born and raised in a family of tailors. "Festivals like Deepavali sometimes brings more business, but there have been days when we do not stitch a single blouse," she adds. 
Contrary to popular belief, the finishing on the blouses and dresses stitched are near perfect. No stitch is out of place and no measurements are off. "I discovered these one-hour tailors while I was wandering through Ranganathan Street. I needed a blouse for an event the next day and took a chance. I was pleasantly surprised that it fit me like a glove," says a customer. 
Some tailoring shops who can afford the luxury of space also offer a private space for their customers to try on the stitched blouses so they can be satisfied with the final product. 
In between all the chaos of customers and tailors, are also embroidery and stone-work artists who get busy during Deepavali. Sultan Khan, originally from Jaipur, Rajasthan, has been embellishing the materials customers bring according to their requests for the last three years. He, along with three others from Kanpur work in the same shop. "We like Chennai better because we get paid on time and the rates are better. We've been doing this work all our lives," says Sultan, who gets paid ₹1000 for a day's work and see a rise in requests for fancier blouses during the festive seasons.
If you've splurged on sweets and gifts this Deepavali, consider giving these smaller home-grown businesses a shot to meet your basic stitching needs without burning a hole in your pocket.