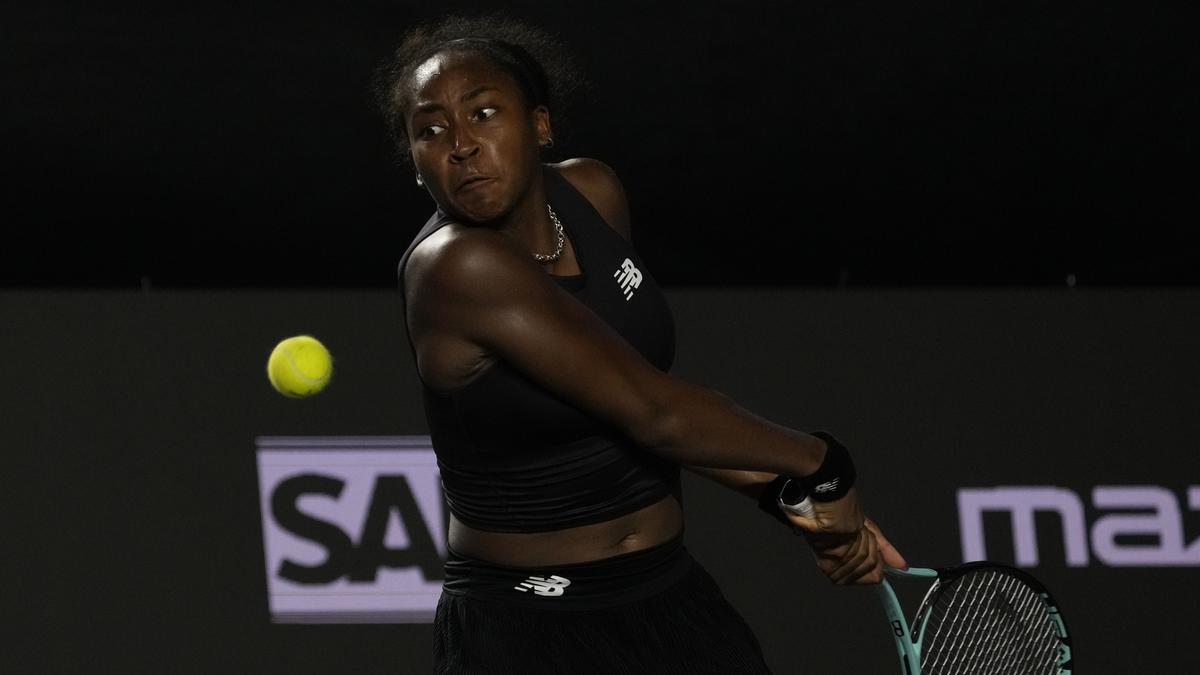 Coco Gauff overcame 17 double-faults and came back after being a game away from elimination at the WTA Finals, eventually pulling out a 5-7 7-6(4) 6-3 victory over Wimbledon champion Marketa Vondrousova in a round-robin match to stay in contention for a semifinal berth.
"Mental toughness is the biggest thing I'm pleased with," Gauff said on Friday.
"That was a tough match. She's not an easy player. Not easy conditions. And I stayed in there, every point, just fighting." Gauff, the 19-year-old from Florida who won the U.S. Open in September, dropped four consecutive games and 16 of 21 points to go from leading the opening set to dropping it and trailing 1-0 in the next.
There was a 25-minute rain delay early in the second set; perhaps that helped Gauff regroup a bit.
Still, Vondrousova managed to get in front and serve for the victory at 6-5 in the second. Gauff broke there to stay in it.
And after briefly trailing in the third set, too, Gauff grabbed five of the match's last six games to improve to 2-1 at the season-ending championship for the top eight players in women's tennis.
Vondrousova went 0-3 and will not advance.
The third-seeded Gauff's hopes for getting to the event's semifinals for the first time hinged on the result of Friday's last match: Iga Swiatek (2-0), who already was guaranteed a berth in the final four, against Ons Jabeur (1-1).
"Every match, you want to win, but I knew that I needed to get (at least) a set — and hopefully a win — to even have the chance to move on," Gauff said, "so I'm really happy I was able to buckle down and do my best to get through that." Earlier on Friday, No. 1-ranked Aryna Sabalenka reached the semifinals for the second consecutive year, holding on to beat Elena Rybakina 6-2 3-6 6-3 in a contest that was repeatedly interrupted by rain the night before.
Play was halted on Thursday night with Rybakina about to try to force a third set by serving for the second at 5-3. When they resumed, she did just that. But Sabalenka came through in the decider — although not without a bit of tension in the last game: She needed to save five break points, and then required four match points to end it.
"Really tough conditions, and I'm super happy that I was able to get this win, no matter what," said Sabalenka, who double-faulted 15 times.
This was a rematch of the Australian Open final in January, also won by Sabalenka.
Sabalenka went 2-1 in round-robin play and advanced as the second-place finisher in her group. Jessica Pegula, who beat Maria Sakkari on Thursday to go 3-0, finished atop their group.
Rybakina was eliminated with the loss on Friday.
There were a half-dozen rain delays during Thursday's stop-start-stop action.
"Just so much ups and downs," said Rybakina, who won Wimbledon in 2022. AP SSC SSC