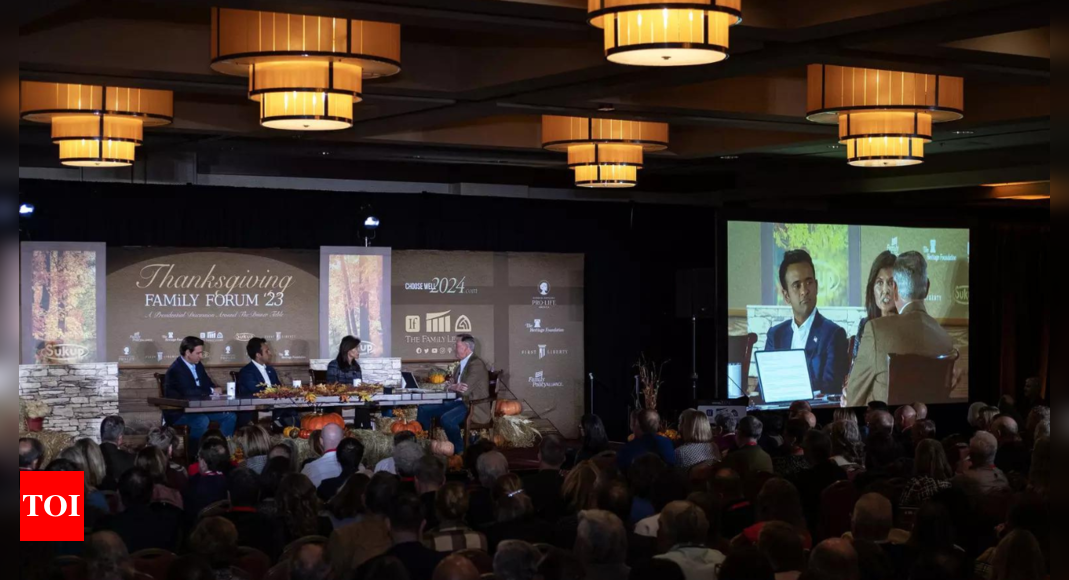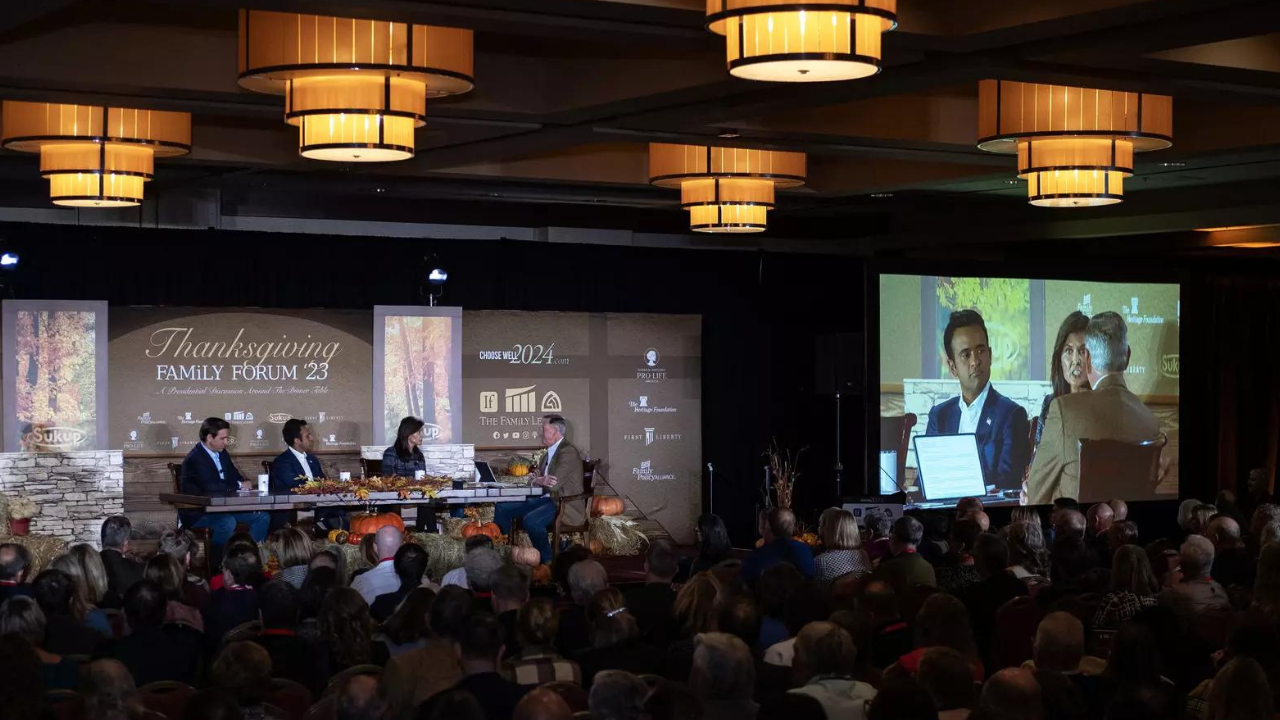 DES MOINES: The Republicans battling to be their party's alternative to former President
Donald Trump
came together Friday for a different kind of cattle call, bringing personal and at times emotional stories to what an influential
Iowa
Christian organisation billed as a friendly conversation. Three candidates – Florida Gov. Ron DeSantis, former United Nations Ambassador
Nikki Haley
and entrepreneur Vivek Ramaswamy– sat side-by-side at a festive Thanksgiving table for a "family discussion" in Des Moines Friday.Trump did not attend, though he was invited.
The field around Trump is winnowing with less than two months before the Iowa caucuses kick off the GOP nominating calendar. In a sign of the urgency the field faces, many of his rivals are going after each other more frequently with jabs that have often turned personal.
But there was little sign of such tension Friday – except perhaps toward the candidate missing from the conversation.
The candidates addressed each other by their first names and at times noted where they agreed. The conversation often led them back to pieces of their stump speeches, as foreign policy on Israel, China and the Russia-Ukraine war, religious liberty and agriculture were raised, but the interactions between them were friendly.
The candidates also shared emotional stories during the unusual forum that offered a more collegial, intimate conversation, moderated by Family Leader President and CEO
Bob Vander Plaats
.
All three connected their opposition to legalized abortion to difficulties they had having children. DeSantis talked about his wife Casey's miscarriage and its impact on them. Ramaswamy gestured for his three-year-old son to join him onstage after detailing how his wife, Apoorva, thought she had suffered a second miscarriage.
Haley mentioned the difficulty she had getting pregnant. Vander Plaats later asked her to address her stance on abortion, which calls for consensus on the issue.
Haley has urged Republicans to not push for a national abortion ban with next to no chance of passing Congress. But when pressed by Vander Plaats on whether she would have signed a new law banning most abortions after about six weeks of pregnancy as governor, as Iowa Gov. Kim Reynolds did this year, she said yes.
"Whatever the people decide," Haley said.
As governor, she signed the most conservative abortion bill South Carolina Republicans were able to pass through both chambers at the time, restricting the procedure at 20 weeks.
Friday's event deviated from more testy moments on the campaign trail, a welcome change for many of the voters who attended.
Glenn Gibisch of Downers Grove, Illinois, was looking forward to the forum, preferring its approach over the debates. He came to the forum expecting to continue backing Trump, but he walked away feeling excited about DeSantis after hearing from him directly about his values.
"I like the format of not attacking anybody," said Gibisch, 71, adding that he was better able to consider the candidates' background and principles.
This week, DeSantis and Ramaswamy both criticized Haley after she said Tuesday that social media companies should ban people from posting anonymously online.
DeSantis posted on social media that the proposal was "dangerous and unconstitutional," while Ramaswamy referenced the idea as "disgusting." Ramaswamy and Haley have frequently feuded in recent candidate debates, culminating with Haley calling Ramaswamy "scum" after he attacked her daughter for using TikTok, the video-sharing app that many Republicans want to ban due to its links to China.
The rivalry between DeSantis and Haley is also growing, with both sides competing hard for major donors and arguing over who has a better chance of beating Trump.
The Family Leader reiterated that the event was not a debate after the Republican National Committee's counsel's office circulated a letter to campaigns dated Oct. 28 reminding candidates of their pledge not to participate in non-sanctioned debates. The letter warned candidates that attending the Family Leader's forum would disqualify them from future RNC debates.
After DeSantis committed to attending anyway last Friday, Vander Plaats posted on social media and the RNC issued a second letter to campaigns stating that the two had come to an agreement on the format and the forum would proceed as planned.
Trump, the dominant front-runner for the 2024 Republican nomination, has skipped all three primary debates so far and instead hosted large rallies to appeal to his supporters, as he will on Saturday in Fort Dodge, Iowa.
Phoebe Flury of North Liberty, Iowa, liked what she heard from the candidates Friday but ultimately decided that she'll stick by Trump, the "strongest candidate."
For her, it didn't matter that the former president wasn't there.
"It's time for the other candidates to show who they are," Flury, 47, said. "We've already seen four plus years of Trump."
On stage, though, Trump's absence didn't go unmentioned.
"You know how that goes with Thanksgiving, right?" Vander Plaats quipped after DeSantis brought some heat in his answer to the moderator's question about why he, not Trump, should be the GOP nominee. "Sometimes some guests don't show up."