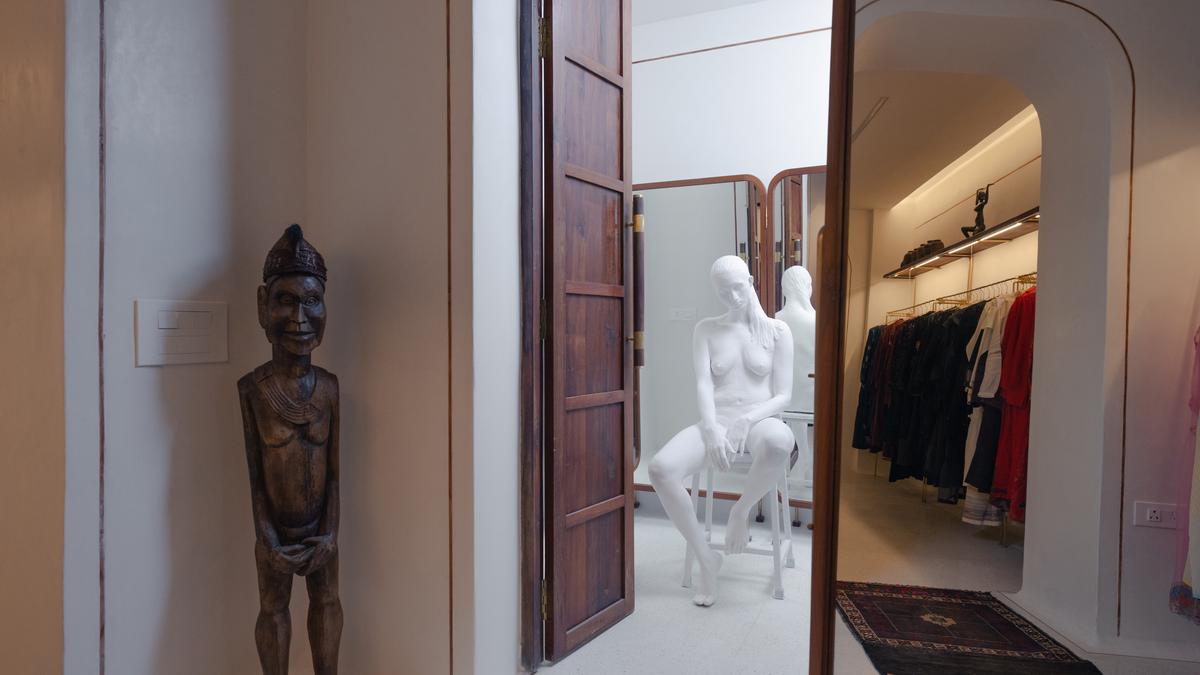 Eka's first-ever flagship store may have made a late entry but it sure has arrived in style. Almost 12 years after Eka was launched, it opened its store in Lodhi Market recently. It is quaint, quiet, minimalist and reflects the brand's sensibilities. With its limestone walls, arches with borders, use of natural material like reclaimed wood, terracotta, Porbandar stone, and sculptures and antique pieces strategically placed along the 1,200 square feet store, one may easily confuse it for an art gallery. It has a broad corridor in front and a charming backyard.
"It's right in the middle of Lodhi Art District. There's an old world charm; it is the kind of place where Eka belongs," says designer Rina Singh who started the brand and was sure that she did not want a fast-paced marketplace to be the store's location.
Eka's Autumn Winter collection is currently on display. Splashes of burgundy, black and an earthy palette add colour to the white space. "I work with natural fibres. I have used merino for winters, wool and wool blends like wool linen and wool silk, and pure linen. The inspiration for this collection is Ladakh, its vastness, the huge confluence of natural elements and a little bit of culture and ethnicity," says Rina.
Eka started out with a successful presence around the globe — Europe, America, Japan, Korea, West Asia — before retailing in India. "The last 11 years was learning and familiarising myself with the India market," says Rina, over a call from Delhi. The website in India was launched two years ago and Rina was servicing clients through appointments at her studio in Gurgaon. "We launched Eka Woman, Eka Man, Core collections, Eka Home. It was the right time to foray into domestic retail and represent Eka as a lifestyle brand," she adds.
Here, the design philosophy stems from the charm of simple things. "I find a lot of charm in creating stories around feminine characters; using fables and women characters like authors, poets…" says Rina, who works with natural eco-friendly textiles and traditional textile techniques of India.
The idea is to be relevant to customers with each season. "I experiment a lot with shapes. I don't want to make the woman body conscious. I don't make it too structured or close to the body. We work with different kind of silhouettes, drop shoulders, billowy, sometimes more voluminous, some seasons more waist focus. We work with the textile and how it drapes on the body and how the entire look comes about," explains Rina.
She is of the belief that clothes should be made to belong to a person for their entire life and not just one moment or occasion. "Whether it is joy, grief, travels, meetings, these clothes should be part and parcel of your life. They should narrate your story to the rest of the world."