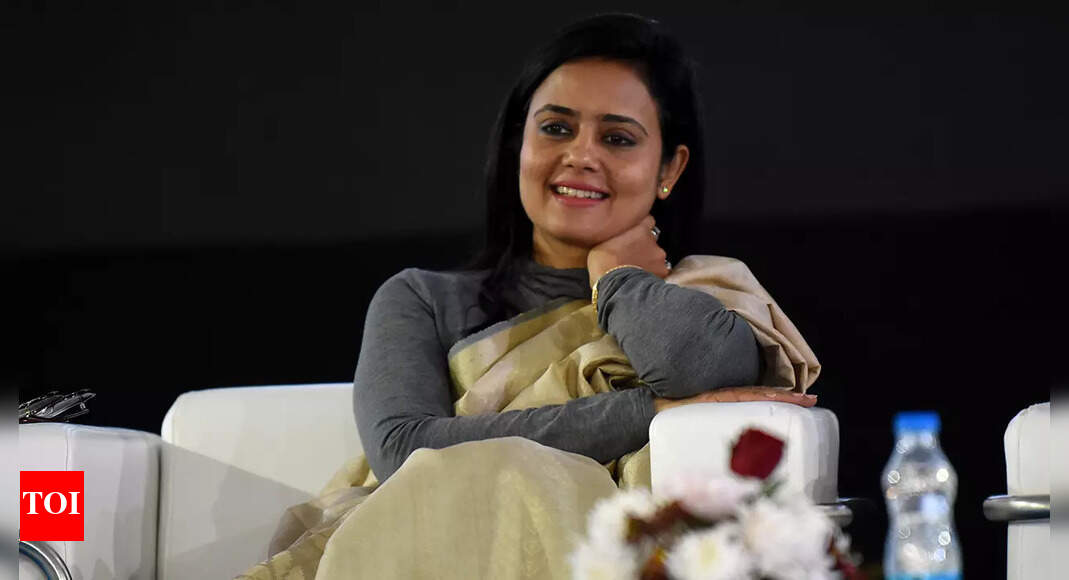 NEW DELHI:
Trinamool Congress
MP Mahua Moitra, who is facing possible expulsion from
Lok Sabha
for allegedly seeking bribes to ask questions and sharing her Parliament log-in id with businessman Darshan Hiranandani, now seems to have the full backing of her party.
On Monday, Mahua was given organisational responsibility in the party as she was appointed as party's district president of Krishnanagar (Nadia North).Moitra is the Lok Sabha member from Krishnanagar constituency in Nadia district.
Moitra was the district president in Krishnanagar a few years ago before being removed in a prior reshuffle. Her reinstatement comes at a time when she faces expulsion from the Lok Sabha following a probe by the Lok Sabha Ethics Committee into allegations that she targeted the
Adani group
and took bribes from businessman Darshan Hiranandani.
Cash-for-query case: Lok Sabha Ethics Committee recommends expulsion of TMC MP Mahua Moitra
Expressing her gratitude on social media, Moitra stated, "Thank you @MamataOfficial and @AITCofficial for appointing me District President of Krishnanagar (Nadia North). Will always work with the party for the people of Krishnanagar."
The TMC move comes days after Abhishek Banerjee, the national general secretary of the party and nephew of West Bengal chief minister Mamata Banerjee, spoke in support of the embattled MP.
Last week, Abhishek Banerjee had alleged that whoever questioned the government was "harassed" by the BJP-led NDA dispensation at the Centre.
More trouble for TMC MP Mahua Moitra as ethics panel recommends her dismissal from Lok Sabha
"Whoever is questioning the government on the Adani issue is being harassed. How can the Lok Sabha Ethics Committee take any action against Mahua Moitra even before the allegations are proved against her?" Banerjee had said coming out in support of Moitra.
The Lok Sabha Ethics Committee, which probed the cash-for-query charges against Mahua Moitra, has adopted its report with a 6:4 majority. According to panel chairman Vinod Sonkar, six members of the committee supported the report, including Congress MP Preneet Kaur, while four members opposed it. Mahua has denied any pecuniary gains but has accepted that she shared her Parliament log-in id with Darshan Hiranandani, who used it from Dubai.
While the recommendation of the committee has not been made public, it has been reported that the Ethics Panel has recommended her expulsion from Lok Sabha.
Reacting to the news of committee's recommendation, Mahua Moitra said she will be back with a bigger mandate in 2024.
In a post on X, the TMC MP said, "Proud to go down in parliamentary history as 1st person to be unethically expelled by Ethics Comm whose mandate doesn't include expulsion. 1st expel & THEN ask govt to ask CBI to find evidence. Kangaroo court, monkey business from start to finish".
"Never Waste a Good Crisis they say… – this just helped me double my 2024 winning margin," she said.
(With inputs from agencies)
Watch TMC has a new role for MP Mahua Moitra amid ethics panel probe into cash-for-query row