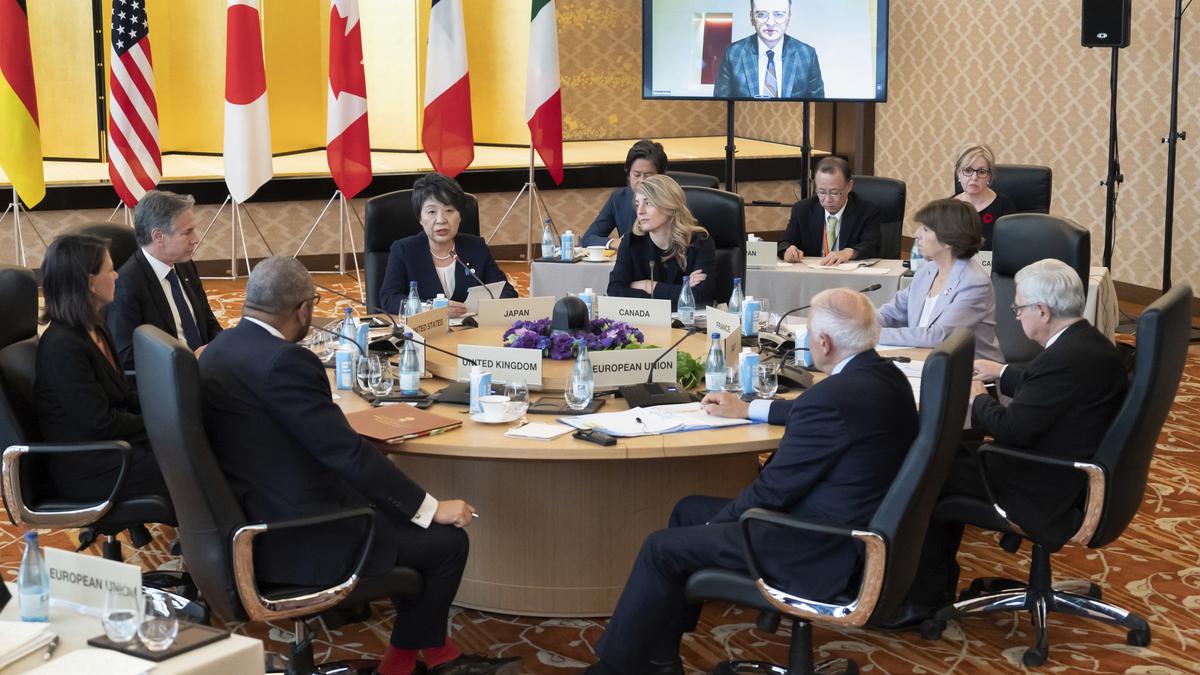 G-7 Foreign Ministers said on November 8 that they supported "humanitarian pauses and corridors" in the Hamas-Israel war but refrained from calling for a ceasefire.
The group also said after talks in Japan that their support for Ukraine in its war with Russia "will never waver" while calling on China not to support Moscow in the conflict.
"We stress the need for urgent action to address the deteriorating humanitarian crisis in Gaza… We support humanitarian pauses and corridors to facilitate urgently needed assistance, civilian movement, and the release of hostages," a joint statement said.
The Ministers also "emphasize Israel's right to defend itself and its people in accordance with international law as it seeks to prevent a recurrence" of the Hamas attacks on Israel on October 7.
It added: "We call on Iran to refrain from providing support for Hamas and taking further actions that destabilize the Middle East, including support for Lebanese Hezbollah and other non-state actors, and to use its influence with those groups to de-escalate regional tensions."
Follow live updates from the Israel-Hamas war on November 08, 2023
'Overall security'
The Israeli military has relentlessly bombarded Gaza since October 7, when Hamas militants launched an attack that left 1,400 dead in Israel, most of them civilians, according to Israeli authorities.
The Hamas-run Health Ministry says the death toll in Gaza has surpassed 10,300 people.
Israeli Prime Minister Benjamin Netanyahu said on November 6 there would be no fuel delivered to Gaza and no ceasefire unless more than 240 hostages seized by Hamas were freed.
In pictures | One month of Israel-Hamas war
Rockets are launched by Palestinian militants from the Gaza Strip towards Israel, in Gaza, on October 7, 2023. The militant Hamas rulers of the Gaza Strip carried out an unprecedented, multi-front attack on Israel at daybreak on Oct. 7, firing thousands of rockets as dozens of Hamas fighters infiltrated the heavily fortified border in several locations by air, land, and sea and catching the country off-guard on a major holiday.
Palestinians wave their national flag and celebrate by a destroyed Israeli tank at the Gaza Strip fence east of Khan Younis southern on October 7, 2023.
An IDF soldier walks past a house that was shot at and destroyed in an attack by Hamas militants on this kibbutz near the border with Gaza on October 17, 2023 in Kfar Aza, Israel. The Hamas militants broke out of Gaza and rampaged through nearby Israeli communities, taking captives.
Smoke rises following Israeli strikes in Gaza on October 7, 2023. Israel began its retaliatory efforts against the Hamas.
People stand outside a mosque destroyed in an Israeli air strike in Khan Younis, Gaza Strip on October 8, 2023.
A Palestinian sits on the rubble of a building destroyed in Israeli strikes, in Rafah in the southern Gaza Strip on October 9, 2023.
Israeli soldiers walk through a tunnel discovered near the Israel-Gaza border on October 13, 2013.
Rockets are fired from Gaza towards Israel, on October 10, 2023.
The first flight carrying 212 Indian nationals from Israel, as part of Operation Ajay landed at Indira Gandhi International airport in New Delhi on October 13, 2023.
Palestinians check the place of the explosion at al-Ahli hospital, in Gaza City, on October 18, 2023. The Hamas-run Health Ministry said an Israeli airstrike caused the explosion that killed hundreds at al-Ahli, but the Israeli military said it was a misfired Palestinian rocket.
Wounded Palestinians sit in al-Shifa hospital in Gaza City, central Gaza Strip, after arriving from al-Ahli hospital following an explosion there on October 17, 2023.
A man carries the body of Palestinian girl who was killed in an Israeli strike as her relatives mourn in Khan Younis in the southern Gaza Strip.
U.S. President Joe Biden is greeted by Israeli Prime Minister Benjamin Netanyahu after arriving at Ben Gurion International Airport, in Tel Aviv on October 18, 2023.
The U.N. Secretary-General Antonio Guterres speaks at the Rafah border crossing, Egypt on October 20, 2023.
Israel's Iron Dome anti-missile system intercepts rockets launched from the Gaza Strip towards Israel, as seen from Ashkelon, in southern Israel October 20, 2023.
Judith Tai Raanan and her daughter Natalie Shoshana Raanan, U.S. citizens who were taken as hostages by Palestinian Hamas militants, walk while holding hands with Brig.-Gen. (Ret.) Gal Hirsch, Israel's Coordinator for the Captives and Missing, after they were released by the militants on October 20, 2023.
Trucks carrying humanitarian aid from Egyptian NGOs drive through the Rafah crossing from the Egyptian side on October 21, 2023. These were the first aid trucks to bring urgent humanitarian relief to the Hamas-controlled Palestinian enclave that was suffering what the U.N. chief labelled a "godawful nightmare".
Protesters take part during a demonstration organised by the "National Collective for a just and lasting peace between Palestinians and Israelis" in Paris on October 22, 2023.
Voting results are displayed as the United Nations General Assembly voted on a non-binding resolution calling for a "humanitarian truce" in Gaza and a cessation of hostilities between Israel and Gaza's Hamas rulers, on October 27, 2023 at U.N. headquarters. It was the first U.N. response to the conflict.
Israeli tanks and troops move near the border with Gaza, in Sderot, Israel on October 28, 2023. On the evening of October 27, the Israel Defense Forces (IDF) launched a large scale invasion inside the Gaza Strip with the stated intent to "destroy" Hamas and overthrow it.
A man reacts as Palestinians search for casualties a day after Israeli strikes on houses in Jabalia refugee camp in the northern Gaza Strip on November 1, 2023.
Citizens with foreign passports wait to travel through the Rafah crossing,in Rafah, Gaza on November 2, 2023. For the first time since the outbreak of war, the crossing at the Gaza-Egyptian border opened to allow a small number of foreign passport holders and seriously wounded to enter Egypt.
Palestinians gather to collect water, amid water shortages in Khan Younis in the southern Gaza Strip on November 2, 2023.
Palestinians check the damages after a convoy of ambulances was hit, at the entrance of Shifa hospital in Gaza City on November 3, 2023.
Druze men attend the funeral of Druze Israeli Lieutenant colonel Salman Habaka in the village of Yanuh Jat, northern Israel. Habaka was killed during a ground operation in the Gaza Strip.
1/3
He also said Israel would assume "overall security" in Gaza after the war ended, while allowing for possible "tactical pauses" before then to free captives and deliver aid to the besieged territory.
Washington said on November 7 it opposed a new long-term occupation of Gaza by Israel, a stance reiterated by Secretary of State Antony Blinken in Tokyo.
Key elements for lasting peace and security "should include no forcible displacement of Palestinians from Gaza, not now, not after the war; no use of Gaza as a platform for terrorism or other violent attacks; no reoccupation of Gaza after the conflict ends," Mr. Blinken told reporters on November 8 before departing for South Korea.
EDITORIAL | Cease fire: On the danger of Israel turning Gaza into an open prison on fire
Ukraine fatigue
On the Ukraine war, the G-7 statement said: "Our steadfast commitment to supporting Ukraine's fight for its independence, sovereignty, and territorial integrity will never waver."
"We further call on China not to assist Russia in its war against Ukraine, to press Russia to stop its military aggression, and to support a just and lasting peace in Ukraine," it said.
The Ministers from the G-7 — the United States, Japan, France, Germany, Italy, Britain and Canada — also said that they "welcome China's participation in the Ukraine-led peace process".
Ukrainian Foreign Minister Dmytro Kuleba joined the G-7 meeting by video conference.
With Ukraine's counteroffensive struggling to gain ground after almost two years of war, President Volodymyr Zelensky has regularly met Western leaders to try to stave off fatigue over the conflict.
"It is clear, particularly at this moment, that around the world some (parties) are watching very closely how we will continue to support Ukraine," German Foreign Minister Annalena Baerbock said earlier.
French Foreign Minister Catherine Colonna said it was "important to remember that the situation in the Middle East in no way distracts us from what is happening in Ukraine".