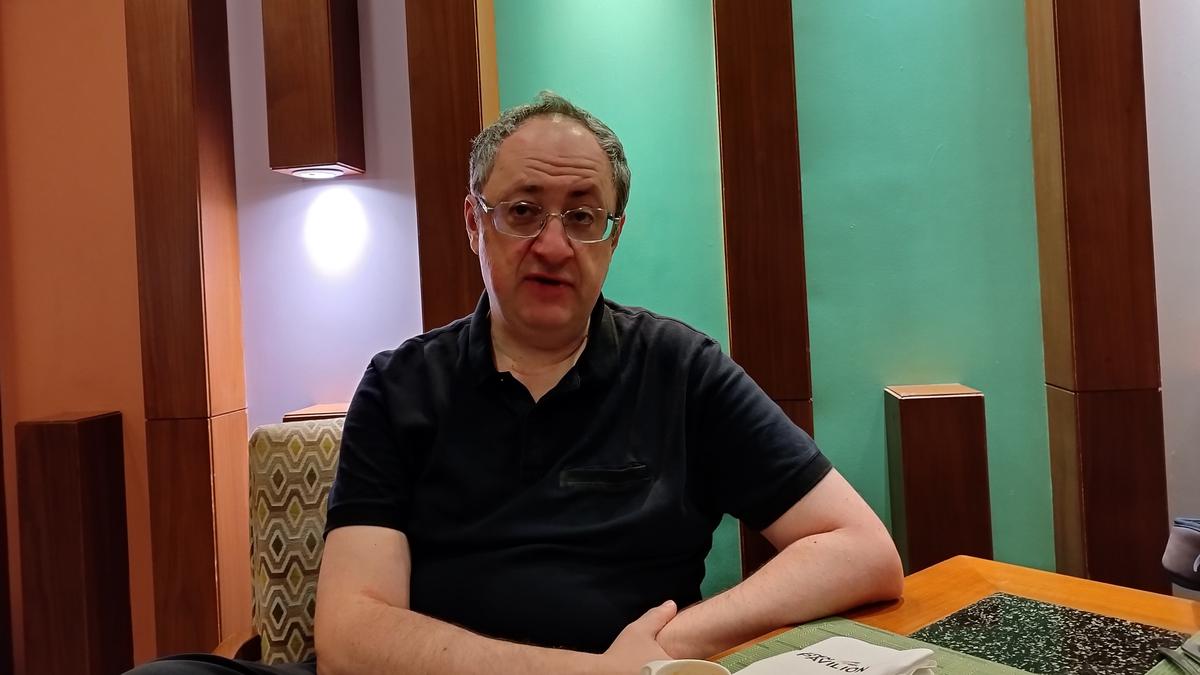 Boris Gelfand challenged Viswanathan Anand for the World chess championship in 2012 and was one of the planet's leading players for decades. A former World No. 3, he won the World Cup in 2009. He was a part of the Soviet Union chess dynasty that dominated the game for long before moving to Israel.
Although he still continues to play competitively, he spends more time coaching and has worked extensively with Indian players, including the group of young men that is taking the world by storm. Gelfand, who was in Kolkata recently to head a training camp for India's best talent, sat down for an interview with The Hindu. Excerpts:
How do you find working with some of the world's most exciting young talents? You have spent a lot of time with D. Gukesh, R. Praggnanandhaa, Arjun Erigaisi and Nihal Sarin.
I am very impressed by how much respect the Indian players give to the coaches. They may have already become top-level players, but they respect their coaches immensely, and I find it rather nice. That means they are not just excellent, but also nice human beings. I keep in contact with each trainer that has helped me in my life.
Talking of the fabulous four of Indian chess, what are the things that you find most impressive about each one of them?
I think it is important to note that we cannot generalise because we are talking about players with extraordinary talent. What unites all of them is their desire to improve. As for certain qualities in their game, I like Gukesh's depth of calculation and his deep thinking. I like Pragg's feeling for the game and his intuitive understanding. I am impressed by Arjun's creativity and Nihal's technique and ability to grind.
Do you think there could, sometime in the future, be a World title match between two Indian players?
Well, I will not be surprised if all of them become World champions. They have maybe 20 years ahead of them and that means 10 World championships. So if everything [about their game] goes the way it is, why not? Within a few years, India will become the No. 1 country in world chess.  
You are also a part of the team at the WestBridge Anand Chess Academy (WACA).
I think the WACA is a great idea, especially with the involvement of Anand. The academy is serving Indian chess well.
How do you look back at your World title match against Anand in Moscow? That was probably your best chance to become the World champion. You had tied the score 6-6 in the 12 classical games, but lost out in the tie-breaker.
I saw the World championship as a great opportunity. I was very excited when I won the Candidates [the qualifying tournament], and before that to play the Candidates, I had to win the World Cup. I was very optimistic about the World championship; I wanted to show my best and I think I managed to do it. It was an equal match. I think I played well in the tie-breaker, but not well enough to win. I paid the price of being too — how to say — stubborn in my opening choices. I probably surprised Anand in the openings, but he managed to find a solution.
Before that, in 2007, you were placed third in the World championship, which was played in an eight-player round-robin format in Mexico City. You finished behind Anand and Vladimir Kramnik.
I had a good chance. I was always chasing him [Anand]. But maybe I was not tough enough, because I didn't have an invitation for top tournaments for many years. I played maybe two top tournaments in five years. I lacked experience, unlike the others, so I was not tough or confident.  
Chess is probably the only sport that benefited from the Covid-induced lockdown. It has become more mainstream.
I feel the Netflix series The Queen's Gambit has also contributed to the popularity of the game. It increased people's interest in chess tremendously. Back home in Israel, it became more difficult to buy chess sets. The Queen's Gambit played a significant role in taking chess to common people. My friend, who is one of the top chess organisers in Europe, told me that one series did more for the promotion of chess than the 40 years he spent trying to do it.
You belong to the generation of some great talents like Garry Kasparov, Anatoly Karpov, Anand, Vladimir Kramnik, Alexei Shirov and Vassily Ivanchuk…
Absolutely. Nowadays, when they tell me this guy is incredibly talented, I would think, come on. I was playing at the time of Karpov, Kasparov, Ivanchuk, Anand, Kramnik… It is tough to impress me. When I became the Soviet Union junior champion, Ivanchuk was second. What a great talent he is, easily one of the best I have ever come across. I wish he wrote a book of his best games, annotating his moves. It will be a great gift to chess. Maybe I will ask him to write, but then his country [Ukraine] is at war now.
How do you look back at your time as a chess player in the Soviet Union?
Well, sometimes people were given scholarships. There were training camps and they were giving us daily allowance. We couldn't go to Europe because of the Iron Curtain. I was 19 when I went to Europe for the first time. And the first time I played a foreign player, I was 17. It was an Indian player, A.B. Meetei, and I played him on the second board. It was a match in which my city Minsk took on an Indian team that was on a tour of the Soviet Union. Pravin Thipsay was the strongest Indian player, by far, of that team. And then we played a blitz tournament, and I won all the games.
What interests you apart from chess?
I like football. I like reading books.
Your favourite authors?
[Anton] Chekhov is one of my favourite short story writers, along with Somerset Maugham and Ryunosuke Akutagawa. Among the Russian writers, I also like Mikhail Bulgakov as well as [Ilya] Ilf and [Yevgeny] Petrov.
What about the great Russian masters, like Leo Tolstoy and Fyodor Dostoyevsky?
Dostoyevsky less, but Tolstoy yes. You know, recently I read Anna Karenina again. And I was really impressed.