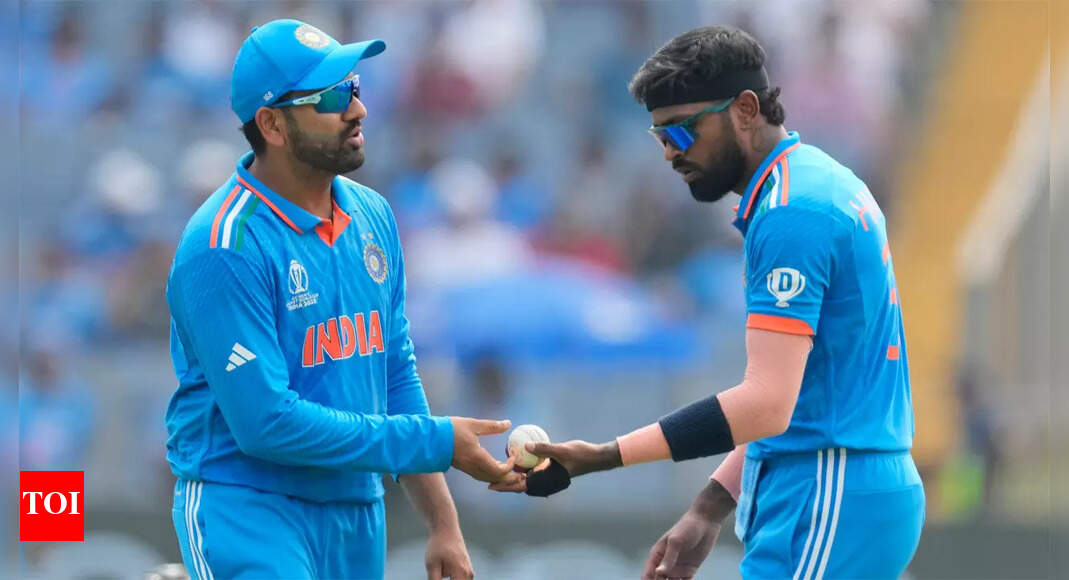 NEW DELHI: India will continue to miss their injured vice-captain Hardik Pandya in the World Cup match against Sri Lanka on Thursday, as confirmed by captain
Rohit Sharma
. However, Rohit added that the all-rounder's progress in recovering from an ankle injury was promising.
Pandya sustained the injury while attempting to block a shot with his foot during India's seven-wicket victory over Bangladesh.As a result, he was absent from India's victories over England and New Zealand.
"His procedure after the injury is very positive. Right now, he is not available for tomorrow's match," Rohit told reporters on Wednesday at the Wankhede Stadium. "Hopefully, we'll get a chance to see him as soon as possible."
Rohit's team has lived up to their reputation as favorites for the 50-over showpiece event by triumphing in all six of their round-robin matches. As they take on Sri Lanka, they aim to secure their spot in the last four.
Sri Lanka, on the other hand, has managed to win two out of their six games.
Rohit emphasised that if the conditions are conducive to slow bowling, the hosts will not hesitate to include three frontline spinners in their lineup.
"All sorts of combination are possible," Rohit said. "In this tournament you've seen that spinners are actually the ones stopping that run flow in the middle overs.
"I'm keeping my options open… Our spinners have got so much skill in these conditions."
Worsening air quality in Mumbai has also been a big talking point during the tournament with England's Joe Root complaining about difficulty in breathing after the team's 229-run loss to South Africa at the Wankhede Stadium.
Rohit, who hails from Mumbai and leads the local Indian Premier League franchise, had earlier posted on social media a picture of the Mumbai haze taken from his flight.
Fans celebrate as India thrash defending champions England in style, Rohit Sharma plays a captain's knock
"In an ideal world, you don't want a situation like this," Rohit said. "I'm pretty sure the concerned people are taking the necessary steps to avoid these kind of situations.
"But obviously, looking at our future generation, your kids, my kids, obviously, it's quite important that they get to live without any fear… we have to look after our future generation."
(With Reuters Inputs)