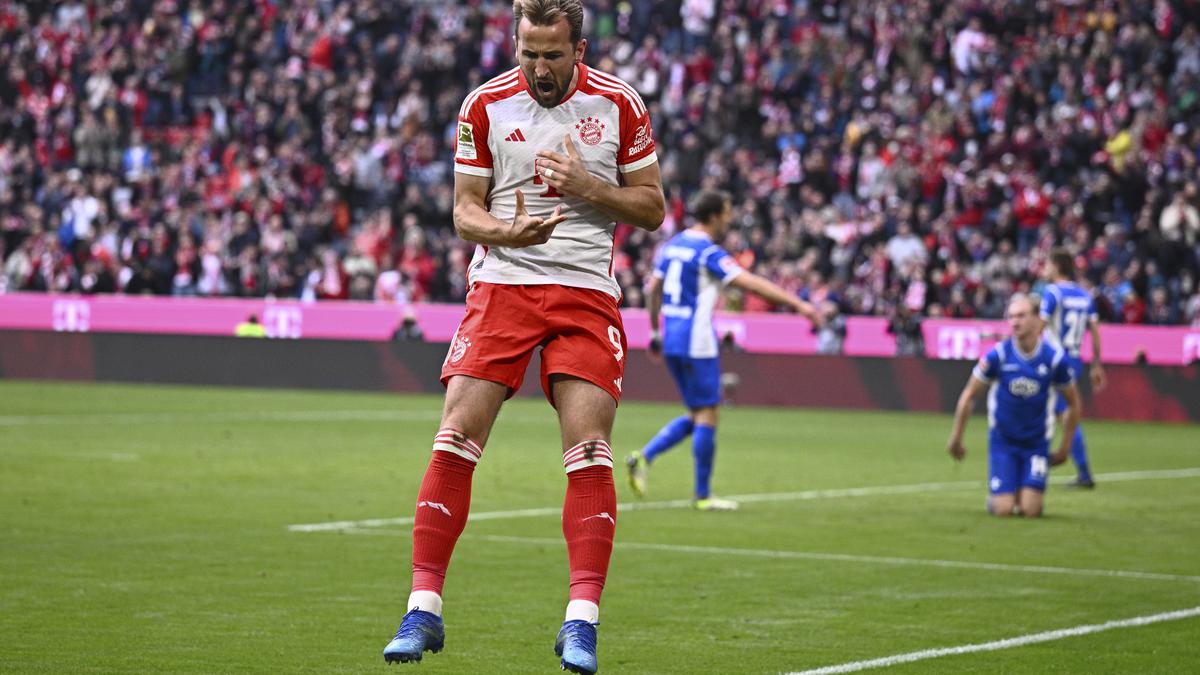 However Harry Kane imagined preparing for his first "Klassiker" for Bayern Munich against Borussia Dortmund, it probably didn't involve losing to a third-division team.
The England captain watched on as an unused substitute as Bayern was knocked out of the German Cup 2-1 by Saarbruecken on Wednesday in one of the competition's biggest ever upsets. Bayern now has to turn it around to play Dortmund on Saturday.
It wasn't just an embarrassing loss that knocked Bayern out of contention for a trophy. Matthijs de Ligt suffered a partial knee ligament tear in the game, leaving the team with a gap in defense, and Thomas Müller indicated a possible rift in the squad when he publicly criticized teammates for disrespecting the fans.
Even at Bayern, where any one loss tends to tip the club into crisis mode, that's a lot to deal with.
All the more so for Kane in his first "Klassiker" in front of Dortmund's famed — and loud — "Yellow Wall" of fans. Kane indicated last week that his experience of the North London rivalry between Tottenham and Arsenal might come in handy.
"It's going to be a tough match. Obviously Dortmund have started well this year as well. It'll be my first one but I've played in a lot of derby games, rival games so I'm looking forward to it," Kane said Saturday after scoring a hat trick in Bayern's 8-0 win over Darmstadt. "I'm sure it'll be a great atmosphere from both teams."
History is on Bayern's side against Dortmund — it hasn't lost to its rival since 2019 — but de Ligt's injury leaves coach Thomas Tuchel scrambling to patch together the defense. Bayern said Thursday that a scan showed de Ligt had a partial tear in a ligament in his right knee and that he would miss "upcoming games," without giving a timeline for his return. De Ligt had only last month returned from another knee injury he picked up in September.
Tuchel said Wednesday the injury was "very painful" and now he needs to find someone in the squad to partner Kim Min-jae in the center of defense. Midfielder Joshua Kimmich stepped in against Saarbruecken, but is suspended for the Dortmund game. Tuchel could try to rush Dayot Upamecano back from his hamstring injury, and while he has done some training, he hasn't played in nearly a month.
Bayern doesn't have any other fit central defenders in its first team, and the right-backs who could have covered that role last season, Benjamin Pavard and Josip Stanisic, were allowed to leave the club in the offseason.
Dortmund's new pragmatic approach this season, dubbed "less sexy, more success," by coach Edin Terzic, was on show against Hoffenheim on Wednesday in the team's third 1-0 win in four games. That said, a 3-3 draw at Eintracht Frankfurt on Saturday saw the return of some of the panicky defending that Terzic has sought to eliminate.
In the Bayern locker room, meanwhile, Müller's criticism of his teammates could also make for some uneasy conversations. Traditionally, the whole team goes up to the stands to thank the fans whatever the result, but only Müller and a few others did so Wednesday. The 34-year-old forward, a Bayern player since the age of 10, told German TV there would need to be a discussion in the team about "why our fans are rightfully upset."
"A tough defeat for us tonight. It's difficult to swallow it and focus on Saturday right now. I want to apologize to our fans for the team behavior after the match. We should stay together and show some respect for you guys," Müller added later in an Instagram post. "Maybe the Klassiker is the perfect matchup to get the things right."