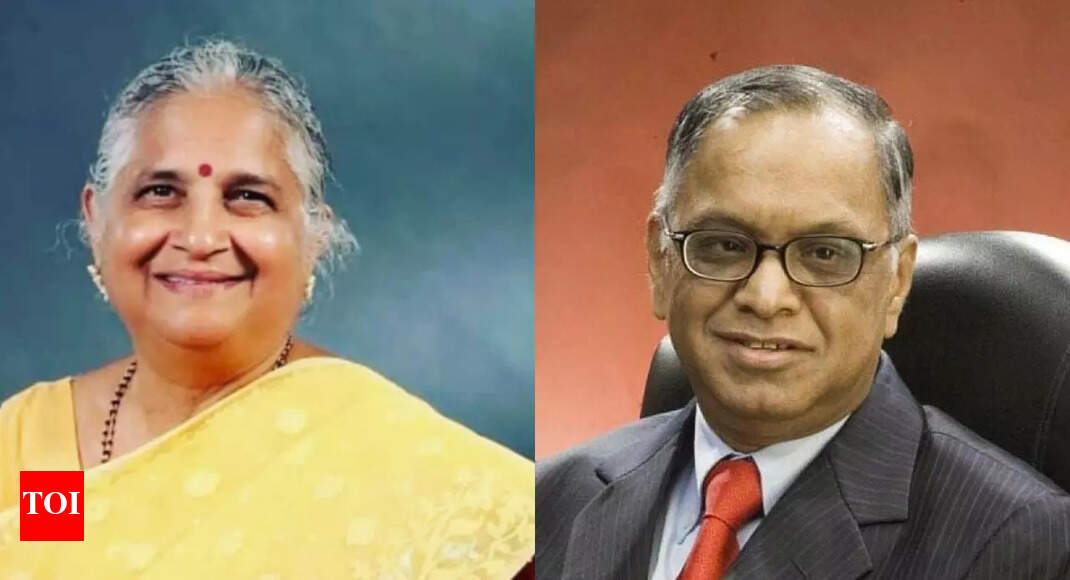 Nearly a week has passed since Narayana Murthy, the co-founder of Infosys, offered his perspective on young people working over 70 hours a week, igniting a fervent debate. Many in the population have opposed his stance, contending that such extensive working hours leave little room for a life outside of work and have even drawn parallels between this intensity and the harsh labour conditions during the slavery era. He emphasized the fact that India currently lags behind in terms of work productivity compared to many other nations worldwide. To effectively compete with countries such as China, he suggested that India's younger generation should be willing to invest additional hours into their work, drawing parallels to the post-World War II efforts of countries like Japan and Germany.
Sudha Murty, who is not only an accomplished author but also the head of Infosys Foundation, has stepped forward to defend her husband Narayana Murthy's position. She emphasized that his advice stems from his own extensive experience and dedication, with him having previously committed 80 to 90 hours a week to his work. According to Sudha Murty, her husband's intention was simply to share his insights, not impose a rigid directive.
Speaking to News18, Murty said, "He has worked 80 to 90 hours a week, so, he doesn't know what less than that is. He believes in real hard work and he lived like that. Hence, he has told what he felt," Sudha Murty said, adding that her husband believes in passion and 'real hard work'.
Support for Narayana Murthy's viewpoint also came from Bhavish Aggarwal, the co-founder of Ola Cabs. Aggarwal echoed Murthy's sentiment, highlighting that this is an important time for the youth to invest their full effort and energy into ventures that have the ability to transform the nation.
This discussion underscores the ongoing debate regarding work-life balance, the value of hard work, and differing perspectives on what it takes to enhance a nation's productivity and prosperity. It's evident that there are varying opinions on this matter, with Sudha Murty and Bhavish Aggarwal endorsing a more intensive work ethic, while others voice concerns about the toll it may take on personal lives and well-being.
Dr Deepak Krishnamurthy, for example, regarded how bad these work hours could be for an individual. He expressed on his X handle, "Don't marry. Don't have kids. Don't even think of work life balance. Work 12 hours a day for companies so that they can mint millions and feed you peanuts. Wonderful advice. #70Hours"
Don't marry. Don't have kids. Don't even think of work life balance. Work 12 hours a day for companies so that they can mint millions and feed you peanuts. Wonderful advice. #70Hours https://t.co/dDTKAPfJf8

— Dr Deepak Krishnamurthy (@DrDeepakKrishn1) October 27, 2023
While the statement has sparked controversy on the internet, netizens haven't backed away from putting a twist and some fun towards the issue. Various memes circulating on X and Instagram clearly show how Indians never lose their humour even in the state of pressure. Here we share some of them:
Salary – 3.5 lpa at #Infosys
Per month – 29167
Per day – 941
Per hour (14h working + 2h commute) – INR 59.

MNREGA Delhi salary per hour – INR 45.#narayanmurthy

— Aashish (@mishrasipesh) October 27, 2023
The anti-70 hour work week 👇

Who gets to do it?

[1] People who are highly skilled.
[2] Can invest really well.
[3] Want to give up on the hustle culture. pic.twitter.com/04fPRKFDT7

— Akshat Shrivastava (@Akshat_World) October 29, 2023