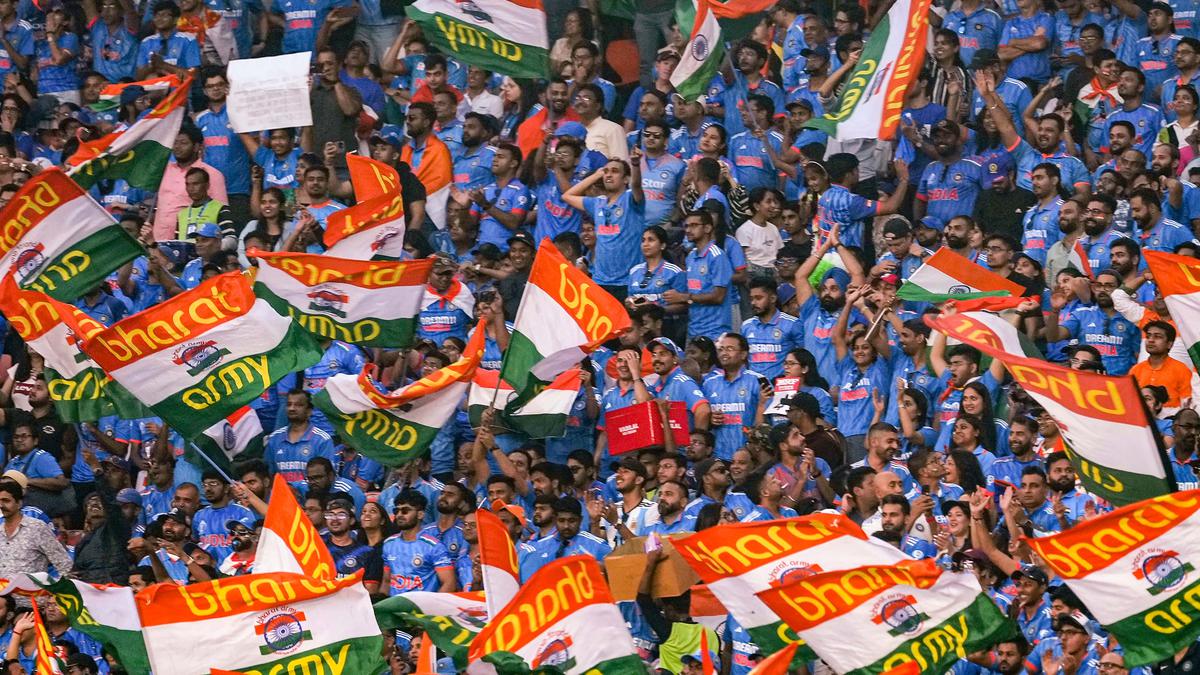 Australia's grizzly-haired veterans brought all their big-game experience to the fore, restricting a hitherto rollicking India to 240 all out in the World Cup final in Ahmedabad on November 19.
Their dominance over the hosts had multiple focal points to it, while India made a couple of moments of their own through fifties by Virat Kohli and KL Rahul.
Here's a closer look at important moments in the match.
1. Rohit lives by sword
From the beginning of the tournament, Rohit batted only in one gear, evidenced by his strike-rate of 126. On this day, the Mumbaikar made runs at 151. His strategy was clear, blunt the Aussie new ball bowlers and the skipper blasted two sixes off pacer Josh Hazlewood to give early momentum to his side.
But Rohit's innings did not bloom into something bigger. His effort to hoist off-spinner Glenn Maxwell over the ring ended when Travis Head took a lovely running-diving catch towards sweeper cover. Australia snapped India's march too for that moment.
2. Australia's fielding
The Antipodeans have always been a very good fielding side, and they raised the bar one notch up in the summit clash. Travis Head took that brilliant running catch to dismiss Rohit Sharma and David Warner made more than one diving saves near the ropes to save the boundaries, leaving Indian batters a bit frustrated.
It also forced them to change their gung-ho approach that they followed so far in the tournament. Cummins also made some really good field placements.
When Kohli and Rahul were batting, the Aussies skipper opened the cover region with a sweeper in place and closed ranks around the square-leg and mid-on areas. It was a clear ploy to force the Indian batters to take more risks to make quick runs, or contend with those workman-like singles to covers and leg-side.
3. Edgy Gill and Shreyas
This was the first 50-over World Cup final for Shubman Gill and Shreyas Iyer, and they looked a bit nervous. Gill was like a cat on a hot tin roof, and hardly offered a settled moment. His harrowing time at crease ended when a half-hearted pull off left-arm pacer Mitchell Starc found Adam Zampa at the edge of the circle.
Shreyas came to this match riding on back-to-back hundreds against Netherlands and New Zealand. But this noon, his innings lasted just three balls. Cummins caught him rooted inside the crease with a delivery that jagged back just enough at a fair clip.
4. Kohli and Rahul stand tall
They joined forces when India were shaking at 81 for 3, but Kohli and Rahul sussed up the conditions and pitch very well, knuckled down to make steadying 67 runs for the fourth wicket. It was more industrious than eye-popping, but that was what India needed at that moment.
In fact, the entire alliance had just one boundary in it, but India recovered to a good extend through them until Kohli (54) chopped one from Pat Cummins onto his stumps.
However, Rahul (66) continued to hold the innings together with a composed innings.
5. Captain Cummins and his bowlers
Through the whole of this showpiece Pat Cummins the bowler was conspicuous by his absence. Coming into this match, the pacer's run-rate was above six and has taken 13 wickets from 10 matches. But he would have liked to make a bigger impact, and the New South Welshman chose the finest occasion to make his mark.
He got the big wickets of in-form Kohli and Shreyas to keep India in check, also bowled an economic spell. Pacers Mitchell Starc and Josh Hazlewood too helped him taking five wickets among them on a pitch that had very little for their type of bowlers, using umpteen variations. The spinners — Adam Zampa, Glenn Maxwell and Travis Head — too chipped in choking run-flow in the middle period. They hardly allowed Indians to get the boundaries, a vital part of India's batting supremacy in the tournament so far.
There were two periods of prolonged boundary drought in hosts' innings, the Rahul-Kohli stand where India managed a lone four, and in the period between 41st and 50th overs, a phase when India managed just two fours through Mohammed Shami and Mohammed Siraj.