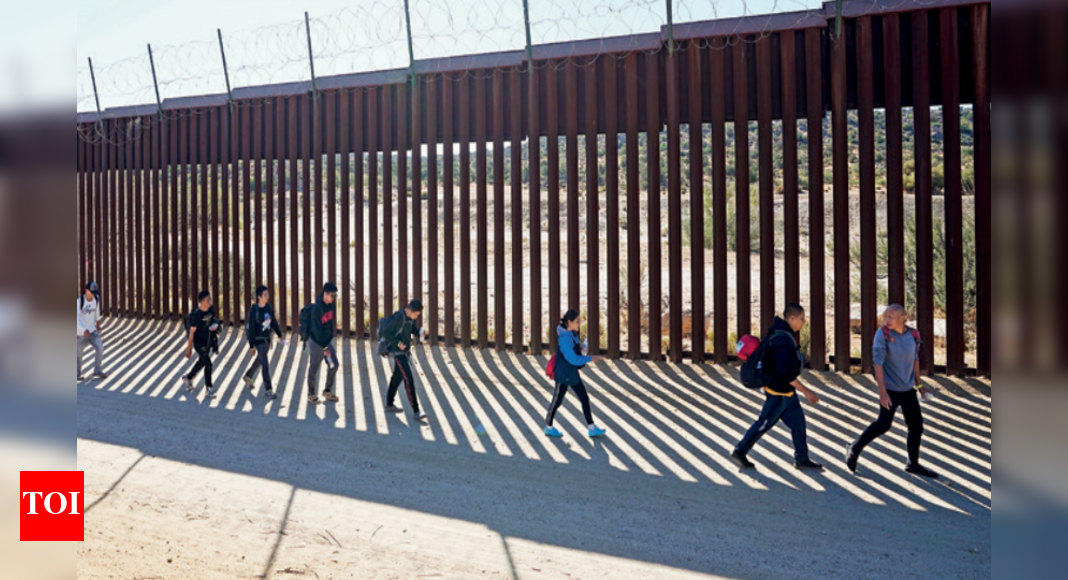 AHMEDABAD: A record 96,917 Indians were apprehended while unlawfully crossing into the US between October 2022 and September 2023, according to US Customs and Border Protection (UCBP) data.
The numbers have emerged despite the tragic loss of lives in recent years during such intrusions, particularly through hazardous routes. Of the 96,917 Indians, 30,010 were caught at the Canada border and 41,770 at the frontier with Mexico.The rest are those tracked down mainly after sneaking in. The total marks a fivefold increase over 19,883 Indians caught in 2019-20.
Law enforcement agencies point out that these figures represent only recorded cases, and the actual number is likely to be significantly higher. "This is just the tip of the iceberg. For every person caught at the border, there may be at least 10 others who successfully infiltrated the US," said a police officer in Gujarat.
The state accounts for many of those taking the perilous route. "These are mainly people from Gujarat and Punjab who have aspirations to settle in America," said an officer of Gujarat police probing illegal immigration rackets.
Those arrested are classified under four categories — unaccompanied children, children accompanied by family members, and entire families. Single adults make up the largest category. This time, 84,000 single adults were apprehended at the US border. Alarmingly, 730 unaccompanied children were also detained.
One of the most egregious cases was of Brijkumar Yadav, a resident of Gandhinagar who attempted to cross into the US by scaling the Trump wall in December 2022. Tragically, he fell onto the Mexican side of Tijuana while holding his child and lost his life. His wife, Pooja, fell 30 feet onto the US side in San Diego. As a result, their three-year-old child was placed under the custody of Immigration and Customs Enforcement (ICE).
This case serves as a stark reminder of the potential presence of many Indian children in the US who find themselves in similarly perilous situations, a fact borne out by data.
India-Canada row: US and UK back Canada in diplomatic standoff with India?
The illegal influx is likely to have surged after the end of the pandemic-era border policy Title 42 in May, which allowed the US to swiftly deport illegal immigrants without asylum hearings.
Despite the tragic incidents involving families attempting illegal entry, the flow of illegal immigration continues, despite efforts by the Gujarat police and Indian, US, and Canadian agencies to combat the issue. In various instances, including the Dingucha village tragedy and the Mehsana family's drowning in the St. Lawrence River in April, individuals and families have been exposed to life-threatening risks in their pursuit of illegal entry into the US.
Sources in the central agencies and the Gujarat police said that though many Indians are caught in the US yearly, very few are deported as some obtain shelter there on humanitarian grounds.
Watch Indians top charts in getting citizenship of rich nations, most of them in US