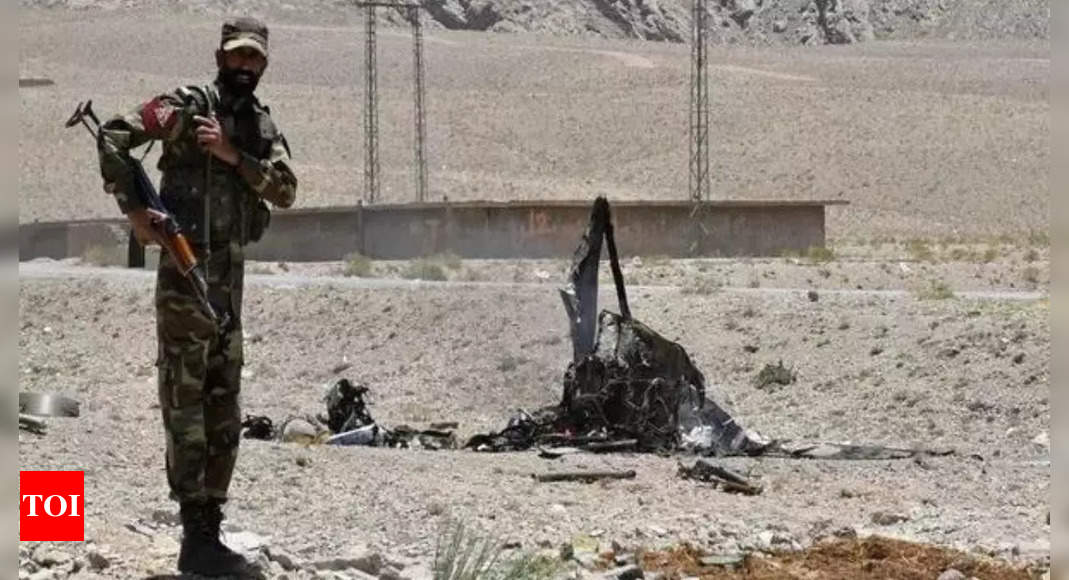 ISLAMABAD: Over a dozen terrorists, all on New Delhi's "most wanted list", have been mysteriously killed in various parts of Pakistan in the last two years. But Pakistan, and the banned militant organisations it nurtured against its eastern neighbour, are silent about the killings. All the militant commanders killed were associated with the Lashkar-e-Taiba (LeT), Hizbul Mujahideen (HuM), the separatist Khalistan movement or the Jaish-e-Muhammed (JeM).
Within the first fortnight of November three senior Let/JeM terrorists have been shot dead, including a close associate of Maulana Masood Azhar and the LeT's chief recruiter.
This string of assassinations started soon after a botched attempt on the life of LeT founder and 2008 Mumbai attacks mastermind Hafiz Saeed in Lahore in 2021. All these killings follow the same pattern: in each case, unknown armed men riding motorcycles have been involved in the targeted killings of militants accused of terrorism in India.
Pakistani officials involved in the investigations blame the "intelligence agency of a hostile country". A hostile spy agency,an official familiar with the probes said, has established an organised network of local assassins — some of them disgruntled former law enforcement personnel — to achieve their targets. He alleged India controls this network through operatives stationed in a Gulf state, likely a veiled reference to the UAE.
Meanwhile, Pakistani authorities as well as the media have stayed silent. Following a press conference in 2021 by the then Pakistan interior minister, Rana Sanaullah, after the bombing outside Hafiz Saeed's Lahore residence, Islamabad has at best ignored the mysterious assassinations of militants associated with the LeT, JeM, HuM and the Khalistan separatist movement.
Pakistan downplayed such incidents in an apparent attempt to hide the identities of those considered "most wanted terrorists" in India. According to Pakistani intelligence sources, New Delhi had over the years shared the names and whereabouts of several terrorists with Islamabad; many of these men have been gunned down by unidentified assailants.
Islamabad's reluctance to acknowledge the killing of these militants appears to be due to pressure from the Financial Action Task Force (FATF). It has assured the international watchdog on terror financing and money laundering that it will take "credible, verifiable, irreversible and sustainable action" against terror groups on its soil.
None of the men killed have been identified as terrorists either by the Pakistan government or media. Maulana Raheem Ullah Tariq, a JeM leader and close associate of Maulana Masood Azhar, was the latest "jihadi" to be shot dead by unknown men in Karachi on November 13. The incident was portrayed as the killing of a local cleric.
Former LeT terrorist Akram Khan, alias Akram Ghazi, head of LeT's recruitment cell, was shot dead in Khyber Pakhtunkhwa's Bajaur tribal district on November 9. Pakistani media referred to him as a "muezzin", a person who proclaims the call for daily prayers.
Major blow to LeT: Key commander Akram Ghazi assassinated by unidentified gunmen in Pakistan
On November 5 Khwaja Shahid, also known as Mian Mujahid, was purportedly kidnapped and later discovered beheaded near the Line of Control in Pakistan-occupied Kashmir. Shahid, according to sources, was a prominent LeT figure and one of the masterminds of the 2018 terrorist attack on an Indian Army camp in Sunjuwan that had claimed seven lives.
Shahid Latif, a former JeM operative and allegedly the mastermind of the 2016 Pathankot attack, was shot dead by three unknown men riding a motorcycle in Sialkot, Pakistan Punjab, in October. An associate of Latif was also killed and another associate injured in that attack.
Other key terrorists shot dead by unknown gunmen
Sept 2023: Riaz Ahmad (alias Abu Qasim), among the masterminds of the Dhangri terror attack, was killed in a mosque in PoK.
Sept2023: Maulana Ziaur Rehman of LeT was killed inKarachi'sGulistan-e-Jauhar neighbourhood.
Sept 2023: Mufti Qaiser Farooqui of LeT killed in Sohrab Goth, Karachi
Pakistan's Mianwali airbase attacked by terrorists, locals share video
Aug 2023: Mullah Sardar Hussain Arain, Jamaat-ud-Dawa, shote dead in Nawab Shah district, Sindh.
May2023: Paramjit Singh Panjwar, a Pakistan-based leader of the Khalistan Commando Force, was killed in Johar Town, Lahore.
March 2023: Bashir Ahmad Pir (alias Imtiaz Alam) of Hizbul Mujahideen was killed in Rawalpindi.
March 2023: Syed Noor, prominent "jihadist", killed in Khyber tribal district
Feb2023: Syed Khalid Raza of al-Badr Mujahideen killed inKarachi.
March 2022: Mistry Zahoor Ibrahim (alias Zahid Akhund) of JeM, considered the deadliest of the five hijackers of Kathmandu to Delhi Flight IC-814 (1999) was killed in Karachi.
Watch Who are the 7 ISI-backed anti-India terrorists killed in Pakistan within 3 months? Full details here