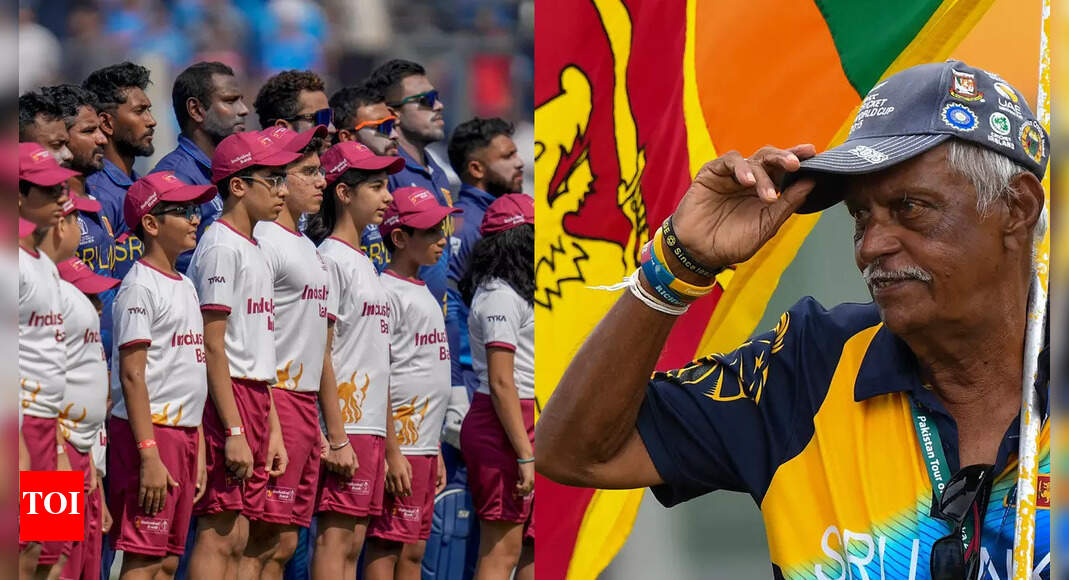 NEW DELHI: The Sri Lankan cricket team paid tribute to their beloved 'legendary cheerleader' Percy Abeysekera, who passed away recently at the age of 87, during their
World Cup
match against India on Thursday. Abeysekera, affectionately known as 'Uncle Percy,' had been a passionate supporter of Sri Lankan cricket and was an iconic figure in the cricketing world.
During the match, the Sri Lankan players wore black armbands as a mark of respect and remembrance for Uncle Percy, who was a fixture at Sri Lanka's cricket matches for several decades. He gained immense popularity during the 1996 World Cup, which
Sri Lanka
co-hosted, and was known for waving a large Sri Lankan flag, offering encouragement to players, and even accompanying them to and from the dressing room.
"Sri Lanka players will wear black armbands during today's game vs India to pay tribute to the late Percy Abeysekera, the legendary cheerleader," stated Sri Lanka Cricket (SLC).
Scorecard: India vs Sri Lanka
Abeysekera's presence at cricket matches, his unwavering support for the Sri Lankan team, and his infectious enthusiasm left an indelible mark on the sport. The SLC's statement hailed his significant role in Sri Lanka cricket, stating, "Abeysekera was an integral part of the game of cricket in Sri Lanka and did play a pivotal role from beyond the boundary line to support and motivate the players. His towering legacy spans across Sri Lanka's pre- and post-Test eras, and his name will remain etched forever among cricket lovers."
India's captain, Rohit Sharma, also shared his memories of meeting Abeysekera during a visit to his house in Colombo. He remembered Uncle Percy as a genuine and passionate fan of the game and an extraordinary supporter of the Sri Lankan team.
Rohit, reflecting on his first encounters with Uncle Percy, said, "When I first went to Sri Lanka in 2006, actually for (the) U19 World Cup, he was there, but I was a little boy, I had no idea about how things work outside (the) cricket field. I was not too much into that."
Sri Lanka's Dilshan Madushanka celebrates with teammates after taking the wicket of India's Rohit Sharma. (Reuters Photo)
However, it was during a tour with the Indian senior side in 2008 that Rohit had his first close interaction with Uncle Percy. He recalled the passionate support and genuine enthusiasm that Abeysekera brought to the game.
Rohit expressed his sadness over the loss of Uncle Percy and paid tribute to him, calling him the first-ever fan he had encountered in cricket. His genuine support for the game and the players left a lasting impact on the cricketing fraternity.
Uncle Percy's legacy as a 'legendary cheerleader' continues to be celebrated and remembered by cricket enthusiasts worldwide.
India vs Sri Lanka, WC 2023: Sri Lanka captain Kusal Mendis wins toss, opts to field vs India in Mumbai
(With inputs from PTI)