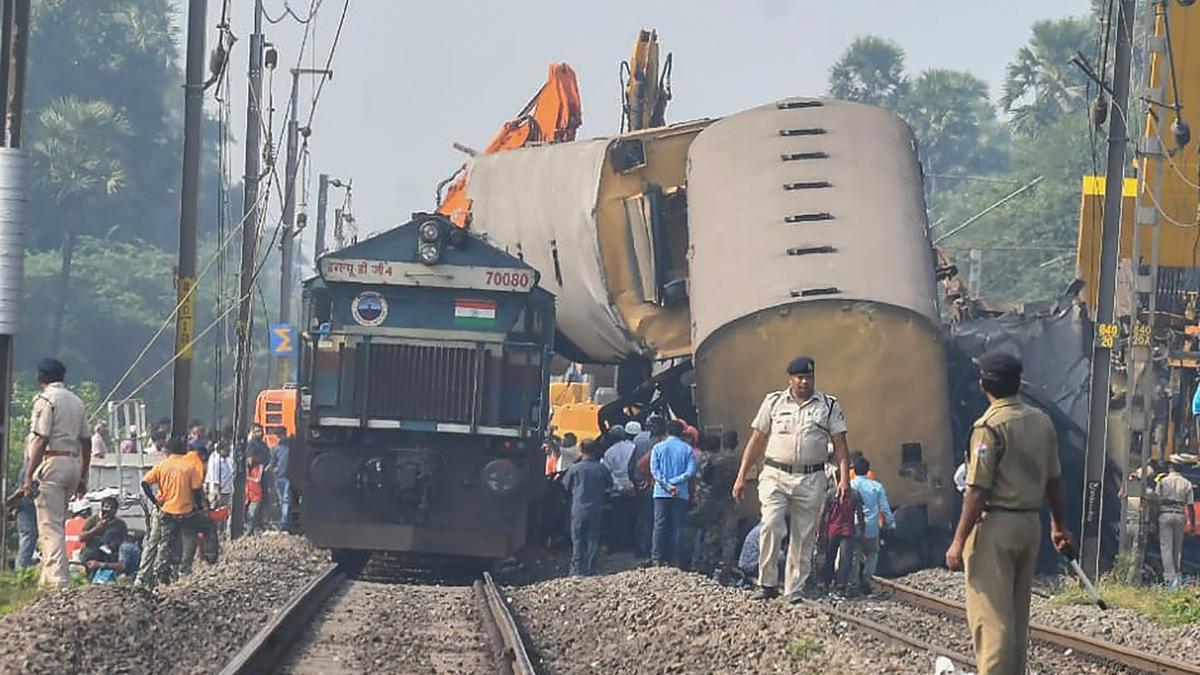 A preliminary investigation into the rear-end collision involving two trains that left about 14 passengers dead and 38 others injured near Kantakapalli railway station in Vizianagaram district of Andhra Pradesh on Sunday has revealed that the crew passed a defective signal in red leading to the accident.
According to railway sources, an inquiry at the scene of the accident conducted by multi-departmental officials concluded that the accident took place after the crew of Train No 08504 Visakhapatnam-Rayagada passenger passed the defective automatic signal in danger. The inquiry team held the Loco Pilot S.M.S. Rao and Assistant Loco Pilot Chiranjeevi, both among the deceased, responsible for the incident which took place in Waltair Division of East Coast Railway.
Though different reasons are being suspected to have led to the train tragedy, the enquiry committee comprising seven officials said they carefully examined the accident site, available evidence, data logger report, speedometer chart and statements of staff present at the scene before concluding that it was a case of crew passing a defective auto signal in danger.
The initial findings said that while the crew of Palasa Passenger noticed danger at two signals and stopped the train for two minutes and proceeded at a speed of 10 kmph, the following train failed to notice the red signal and passed through, resulting in the accident.
Days before the accident, the All India Loco Running Staff Association had given in writing to the General Manager of East Coast Railway, Bhubaneswar, stating that the auto signalling system was newly commissioned in Waltair Division from Simhachalam to Vizianagaram and extended towards Palasa and the crew had to be given intensive training (to get familiarised) as per the rules.
"Being a newly introduced system, repeated representations were given to the authorities concerned, including the General Manager, Divisional Railway manager and others, requesting to impart intensive training for Loco Pilots and Assistant Loco Pilots to understand the working of the signals…but it was never done," AILPA central organizing secretary V. Balachandran told The Hindu on Tuesday.
Mr. Balachandran claimed there was information that the Station Master of Kantakapalli railway station had given a Private Number authorising the Loco Pilot of the ill-fated Rayagada Passenger to proceed. "This is not necessary in the automatic block system. The Loco Pilot would presume that the section is clear and run the train at normal speed. Without any valid reason, the Loco Pilot will not run at normal speed after passing the signal in danger. Let us wait for the final enquiry to be conducted by the Commissioner of Railway Safety," he said.
The Vizianagaram train accident comes barely four months after the devastating rear-end collision at Bahanaga Bazar station in Balasore where a suspected signalling error led to multiple collisions involving two express trains and a goods train which left about 290 passengers dead and dozens of others injured.