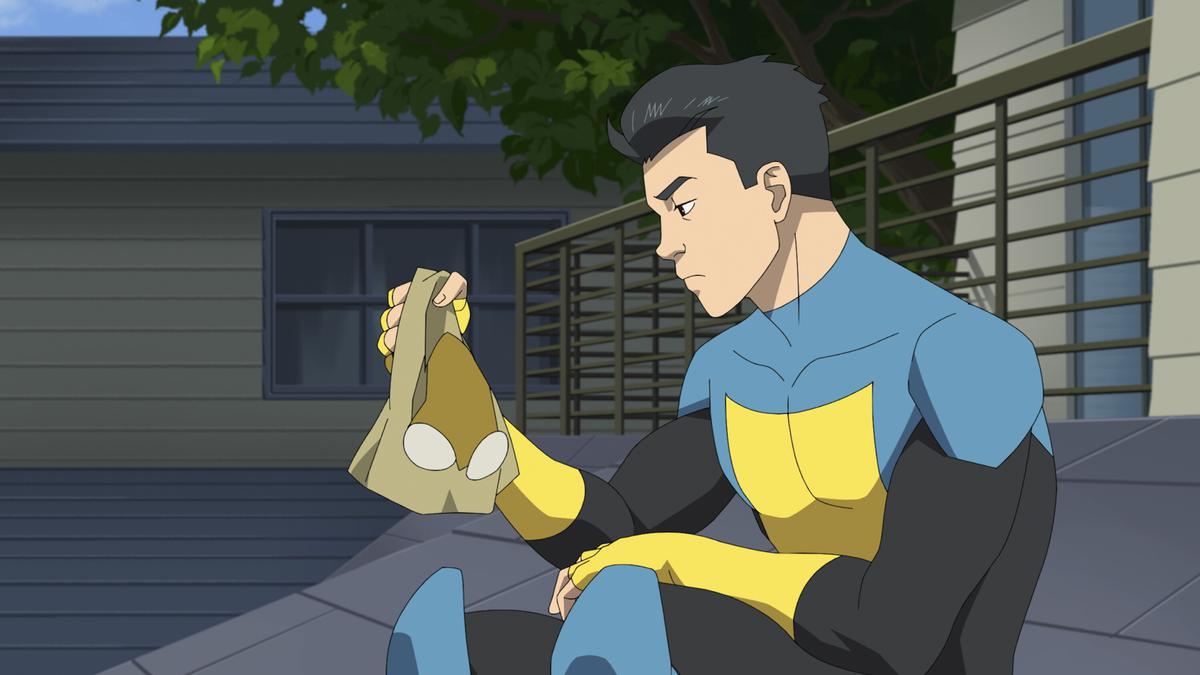 Just as Gen Vdrew to a diabolical close, comes the long-awaited Season 2 of Invincible, with four episodes dropping now and four next year (sigh).
When not helping his home planet Viltrum's intergalactic expansion plans, Omni-Man is a well-heeled travel writer, Nolan Grayson. He lives quietly with his wife, Debbie (Sandra Oh), who is a real estate agent, and mentors his son, Mark (Steven Yeun), who came into his powers at age 17 to become Invincible.
Invincible is based on Robert Kirkman, Cory Walker, and Ryan Ottley's comic series of the same name. Created by Kirkman (The Walking Dead), the first season ended with the erstwhile defender of the meek, Omni-Man (J.K. Simmons), revealing himself to be not very nice. Chicago and countless human lives pay for the battle royale between Omni-Man and his son.
One of the most touching aspects of the second season is Debbie, in a downward spiral of depression and alcohol abuse where even Olga's (Grey Griffin) well-intentioned suggestion of seeking a support group ends in disaster. The complaints against season that there was just too much going on has been addressed with more focussed storytelling.
Invincible Season 2 (English)
Creator: Robert Kirkman
Voice cast: Steven Yeun, Sandra Oh, J.K. Simmons, Clancy Brown, Ross Marquand, Kevin Michael Richardson, Jazlyn Ione, Andrew Rannells, Walton Goggins, Chris Diamantopoulos, Zazie Beetz
Episodes: 4
Runtime: 45 minutes
Storyline: Mark is trying to come to terms with his father's betrayal and razing Chicago to the ground, as he battles alien threats from outer space
The thread running through the series is that superpowers do not make heroes, they create danger, and also the fact that good intentions often pave the path to hell. The multi-dimensional portal-opening person, Angstrom Levy (Sterling K. Brown), is proof of that.
The Lizard League is as bumbling as ever while the Mauler Twins/clones (Kevin Michael Richardson) are unadulterated fun as they try in vain to establish who is the original and who is the copy in the midst of carrying out many a dastardly plan.
The eccentric Doc Seismic (Chris Diamantopoulos) tells Mark that rather than fall into a pool of lava, he fell into a new realm of understanding. The Atlanteans are furious with Omni-Man for killing their king and Mark might have done more than he hoped to smoothen the troubled waters.
Mark and his girlfriend Amber (Zazie Beetz) have both joined college, though Mark is not immune to calls from Cecil (Walton Goggins), the head of the Global Defense Agency (GDA), an organization to monitor and harness superheroes and their powers. Amber puts it down to the perils of dating a superhero. "It is lucky that he is cute," she confides in Eve (Jazlyn Ione), the former superhero who decides to use her powers to help people in practical ways.
While Debbie tries to move on, brushing aside monetary aid from Cecil — she knows better than anyone there is no such thing as a free lunch — and Mark, Amber, William, Eve and the new roaster of Guardians of the Globe embark on their new lives, there is a threat from Outer Space. As we know, the Viltrumites are not going to let bygones be bygones. And there is the small matter of Omni-Man (who was last heard calling Debbie a pet) and his son, unpacking all the baggage between them.
There is a sweet scene of Mark, Amber and William (Andrew Rannells) graduating. While Amber and William throw their hats in the air, Mark throws his into the stratosphere — what else can a superhero do? Donald (Diamantopoulos again), Cecil's 2IC, apparently did not die…or did he? And is this someone/thing else?
Invincible is yet another look at the superhero genre. It is only natural that as the genre grows there will be a more nuanced look at these metahumans, moving from the childlike gaze at Superman to the teenage angst with attendant violence of this crop of superhero outings. Wonder how a mature, Zen, superhero story will look like.
Till then, we can immerse ourselves in the lovely colours, animation and voice work of Invincible,while Radiohead sings of 'Karma Police.'
Invincible Season 2 Part 1 is currently streaming on Amazon Prime Video with new episodes dropping every Friday till November 24, 2023