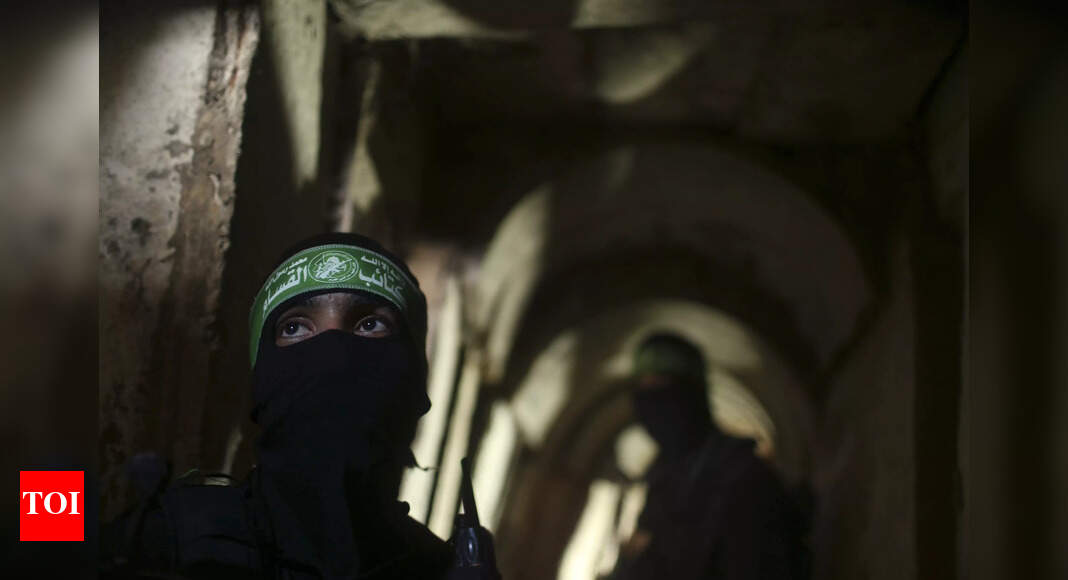 With Israel's war on
Hamas
advancing to the heart of
Gaza
's main city in a little under six weeks, the army is looking to minimize the risk of confronting another challenge: infiltrating the group's vast, secret network of tunnels.
Anxious to limit losses among its soldiers, Israel's military has deployed a complex array of technologies to probe and attempt to destroy the underground complexes — and eventually the Hamas leadership — including around Al Shifa hospital.
From the air, surveillance drones seek to detect the hidden structures, while warplanes are equipped with bunker-buster bombs designed to penetrate hardened structures to reach deep below the ground.
On the ground, bulldozers clear areas suspected to be above the subterranean network while attack dogs, unmanned vehicles and robots are used to help explore the underground terrain. Also in the military's arsenal is a new weapon: a chemical grenade that doesn't contain explosives but rapidly expands and solidifies foam to seal off entrances, known as a "sponge bomb."
The hi-tech tactics aim to avoid the risk of sending soldiers into Hamas's several hundred kilometers of tunnels, where Israel believes highly-armed militants are protecting themselves from the ongoing Gaza assault. The military is instead prioritizing the blocking and damaging of the network — which may not be enough to root out the group and help Israel achieve its ultimate aim: ensuring Hamas's destruction.
Hamas is considered a terrorist group by the US and European Union.
Israel's defense ministry has approached numerous companies for help in the mission, including non-defense startups like Asterra, an Israeli firm whose software detects underground water leaks using satellite imagery.
Highly dangerous
Hamas has for years made use of tunnels under the densely-populated coastal strip to conceal weapons, command facilities and fighters. Israel has specially trained combat engineers but entering the subterranean labyrinth is still highly dangerous because of booby-traps and the defenders' superior knowledge of the area.
"There's no need to go into any tunnel if we don't have a real reason do it," said Itamar Yaar, a former deputy head of Israel's National Security Council. "The best solution is try to collapse these tunnels — to disconnect different underground sites."
But without deploying ground forces, it's hard to verify the extent of damage inflicted by bombing, according to Daphné Richemond-Barak, an expert on underground warfare at Reichman University in Tel Aviv.
That risks the hostilities dragging on for months. Thousands of people have already been reported killed in Gaza, mainly in Israeli airstrikes since the October 7 attack by Hamas on Israel that killed some 1,200 people.
The tunnels could also be re-purposed for a long-term insurgency after the war ends, Richemond-Barak warned.
"They need to destroy the whole tunnel system. It's very important," said Richemond-Barak. "As the difficulty becomes more apparent and as the pressure mounts to put an end to this operation, I worry that the job is going to be left half done."