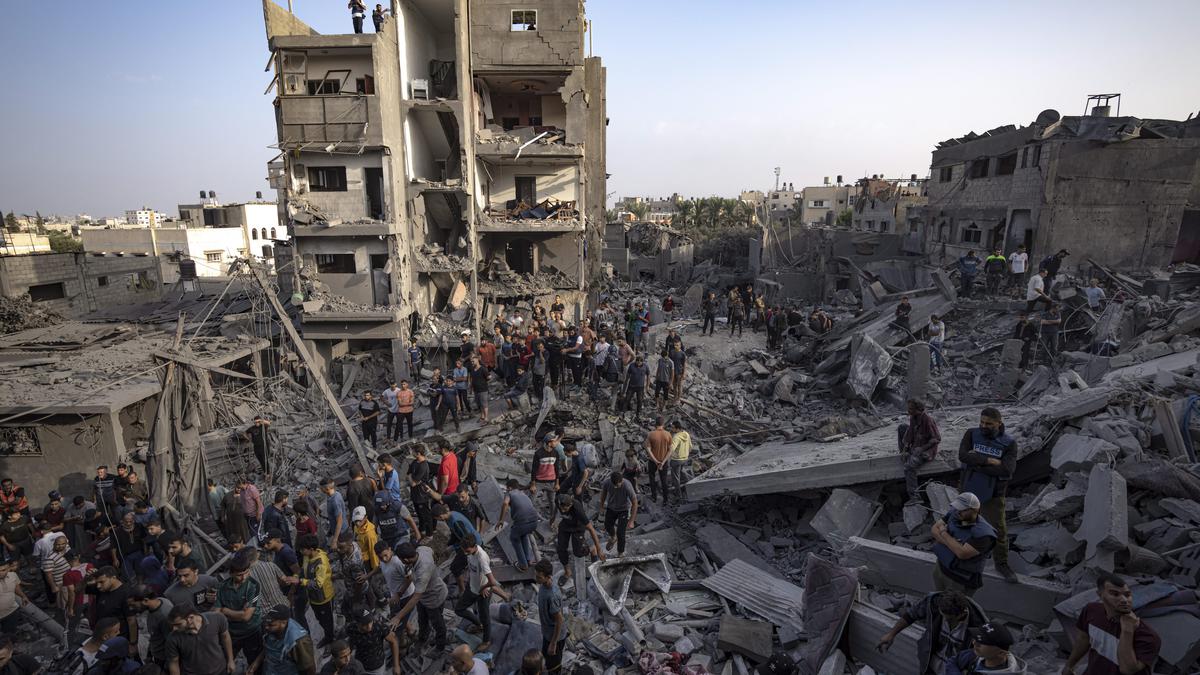 An Israeli Minister from the far-right Otzma Yehudit party on Sunday said that dropping an atomic bomb on the Hamas-ruled Gaza Strip was "an option", prompting Prime Minister Benjamin Netanyahu to suspend him from government meetings indefinitely.
In a radio interview, Jerusalem Affairs and Heritage Minister Amichai Eliyahu said that "there are no non-combatants in Gaza" and providing humanitarian aid to the Strip would constitute "a failure".
When asked if there are no non-combatants in Gaza in his view then if a nuclear attack on the Gaza Strip is "an option", Eliyahu responded, "That's one way." His remarks infuriated members of both the ruling coalition and the Opposition, evoking calls to fire him from the government.
Following the uproar, Eliyahu backtracked from his statement, calling it a "metaphorical" remark.
"It's clear to anyone with a brain that the remark about the atom was metaphorical. We indeed must display a forceful and disproportional response to terror, which will clarify to the Nazis and their supporters that terrorism isn't worthwhile. This is the only formula with which democracies can deal with terror," he said.
"Simultaneously, it is clear that the State of Israel is obligated to do everything to return the captives alive and in good health," Eliyahu wrote in a bid to defuse tensions.
Meanwhile, Prime Minister Netanyahu suspended Eliyahu from government meetings indefinitely, the PMO said.
Eliyahu is not a part of the security cabinet involved in the wartime decision-making, nor does he hold sway over the war cabinet directing the war against Islamist Hamas, it said.
Mr. Netanyahu called the remark "detached from reality".
"Israel and the IDF (Israel Defence Forces) are acting in accordance with the highest standards of international law in order to prevent harm to uninvolved people, and we will continue to do that all the way to victory," the Prime Minister said.
Taking to X, Defence Minister Yoav Gallant called Eliyahu's statements "baseless" and said that it's "good that these aren't the people in charge of Israel's security".
Opposition Leader Yair Lapid slammed Eliyahu's comments as "a horrifying and insane remark by an irresponsible minister".
"He offended the families of the (241 Gaza) captives, offended Israeli society and harmed our international standing. The presence of the extremists in the government endangers us and the success of the war goals — defeating Hamas and returning the hostages. Netanyahu must fire him," he demanded.
Observers opine that Israel is coming under increasing pressure from the international community as the death toll increases in Gaza, and such comments harm its efforts to maintain support for its "right to self-defence".
Israel has launched a massive diplomatic effort to drum up support globally with Foreign Minister Eli Cohen directing the country's missions across the world to screen to lawmakers and social influencers the horrible scenes obtained from Hamas' dastardly acts on October 7.