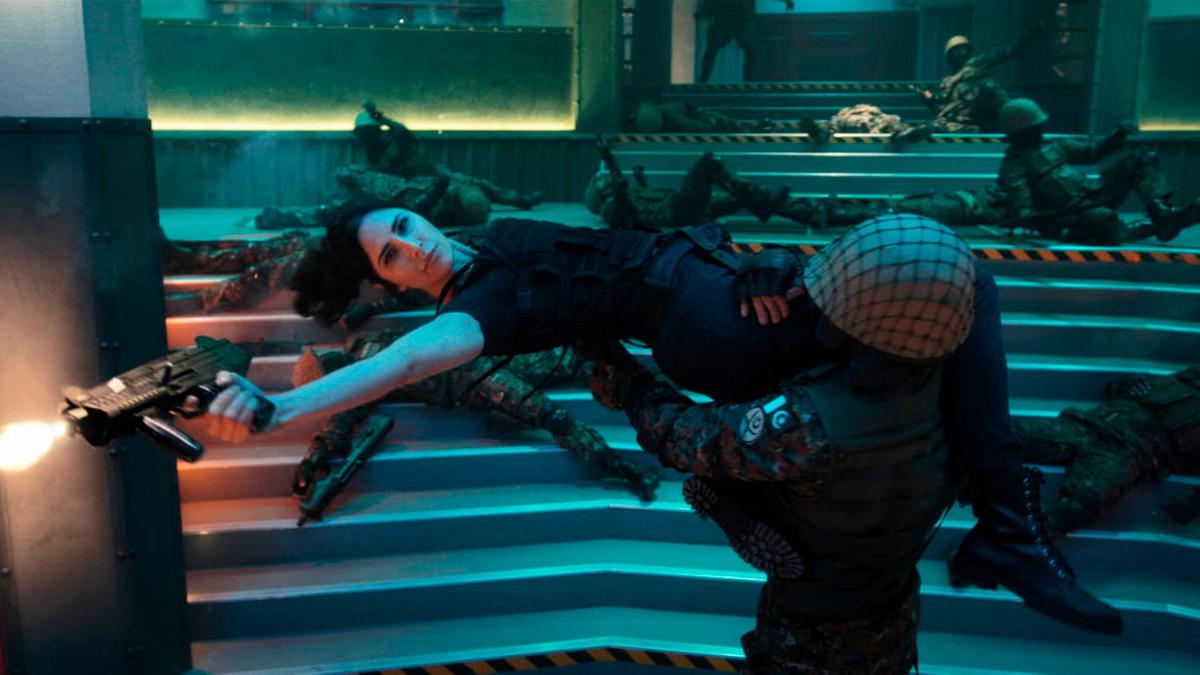 As Tiger 3emerges as a record-setting film for Katrina Kaif, the actor says she has discussed the possibility of a full-length film centering on her spy character of Zoya with YRF boss Aditya Chopra.
Tiger 3, a follow-up to Ek Tha Tiger (2012) and Tiger Zinda Hai (2017), sees Katrina returning as former ISI agent Zoya alongside Salman Khan's super spy Avinash Singh Rathore. The Maneesh Sharma-directorial is a part of Yash Raj Films' spy universe and is set after the events of studio's January release Pathaan.
"Me and Adi (Chopra) have had so many discussions on it. Once a week, I'll find him and be like, 'Adi what do you think about this, what do you think about that'. So, that dialogue is always open.
"We have been working for quite a few years and have these conversations. Even before Adi was working on Pathaan, we used to discuss this character and that character," the actor told PTI in an interview.
Katrina said the spy universe, which also includes Hrithik Roshan's War, is turning out to be a well-defined franchise.
"Each character is strong, well-written, well-defined and that's what is beautiful about it. Every character is strong and unique, and you can bring the characters into each other's worlds… It adds to the whole story and picture," she added.
Tiger 3 was released on November 12 on the occasion of Diwali in Hindi, Tamil and Telugu. The film, also starring Emraan Hashmi, has collected Rs 324 crore gross at the worldwide box office.
With the third chapter, Katrina said the goal was to create a well-rounded narrative and characters while also raising the bar for action sequences.
"With each film, you get familiar with the character and you go deeper into the story and their journey. This allows you to do more as you are more confident in your space and already have a history behind you," the actor said, adding the commercial success of a film feels like scoring good grades in exams.
"The validation at the box office is like an exam. When you go for an exam, you want to get that A mark and the box office is like that… The ultimate validation," Katrina said.
The Bharat actor believes the USP of the Tiger franchise is the compelling storyline, brilliantly crafted characters and high-octane action scenes.
She credited Kabir Khan, the director of Ek Tha Tiger, for conceptualising a "novel" idea about two spy agents, Tiger and Zoya, and Ali Abbas Zafar for upping the scale in the sequel Tiger Zinda Hai.
"With Tiger 3, it was an incredible team journey. Adi has been making wonderful action films and Maneesh had a new take. What's wonderful about Tiger and Zoya is there's so much you can do with the story.
"To give an example, it's like Mission Impossible, Bourne Identity or James Bond. The storyline can keep changing because in the life of an agent. Anything can happen, it can go anywhere and gives you a premise to do so much with the story," the actor said.
For Katrina, reuniting with Salman has always been a delightful experience. The two have worked on movies such as Maine Pyaar Kyun Kiya, Yuvvraaj, Partner, and Bharat.
"There are so many days when Salman will take me by surprise, he will come with new energy or a different approach. Salman is such an honest person. With him, things are not calculated, everything is very honest and organic. So it will come from nowhere, and you don't know when it will come, the whole scene will light up.
"That's always fun and special because we have done quite a few films over the years. You get to know that person, their rhythm, how they come on set, what they are thinking and how their mood is. And it's fun when you can surprise each other," she said.
Katrina said action has always been one of her favourite genres, and she has been a huge fan of action movies featuring Hollywood stars Charlie Theron and Halle Berry.
According to the actor, it's amazing to see nuanced and fierce female characters in action-packed films.
"I've always been a fan of Charlie Theron's action films and Halle Berry's action films. Whether it was John Wick or Anne Hathaway in The Dark Knight Rises, I love these characters. I think they are so layered, feisty and strong.
Also Read | Women on top: Why it's immensely satisfying to see on-screen rampages by female characters
"I can connect to that kind of physicality, determination, perseverance and willingness to fight till the end," she said.
Katrina will next be seen in Sriram Raghavan's much-anticipated film Merry Christmas. The movie, set to release on January 12, also features Vijay Sethupathi.