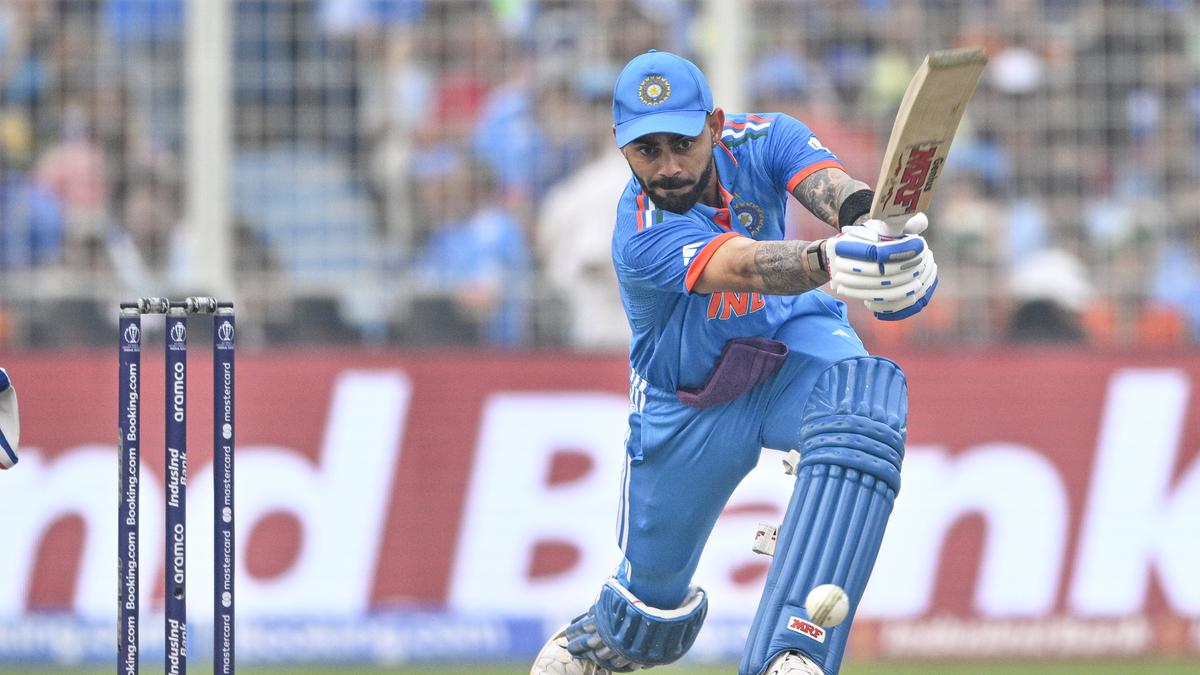 Very few cricketers have been as intensely scrutinised as Virat Kohli but even for a boss personality like him, it is tough to seclude himself from all that attention.
The way an entire nation obsessively waited for Kohli's record equalling 49th ODI century was scary even. Just maybe, we were more relieved that Kohli finally went level with Sachin Tendulkar than the man himself.
But pressure seems a stimulant for him to go higher, and Kohli gave a peek into his mind, his way of staying away from the clamour.
"I always wanted to keep my emotions and feelings in control. It is a very important part of my game. So, I keep that awareness ahead of the match," said Kohli on Star Sports.
Of course, a congratulatory message from Tendulkar can still race his heart and turn his eyes misty.
The other time Kohli was overwhelmed was when a normally stoic Rohit Sharma celebrated with gusto India's win over Pakistan at Melbourne in the T20 World Cup 2022.
"I have played with Rohit for a long time but I have not seen him express so much," said Kohli.
Kohli had played a magnificent unbeaten 82 off 53 balls to steer India to a four-wicket win in that match, and the former Indian captain placed that innings as a case in point on how he tackles pressure.
The 35-year-old negated a potent Pakistan pace attack including Shaheen Shah Afridi, Naseem Shah and Haris Rauf to produce a match-winning innings.
"There was no extra preparation to face them because over the years you are used to 140, 145, 150 kmph bowling.
"The only thing you need to do is to get into a mental space and get ready for the challenge," he said.
Many people viewed that game as a grudge match after India's loss to their neighbours in the T20 World Cup 2021.
But Kohli said such thoughts never occurred to him or anyone else in the team.
It was another pointer to how Kohli's mind works in such high-pressure occasions.
"The defeat against Pakistan in 2021 never came to my mind (in 2022). Considering the big human error factor involved in sport, there is no guarantee that on a given day you will win.
"We were winning against Pakistan all those years but on that day, they outplayed us. There's no shame in accepting that. It was a good reality check for everyone. We can't play a match thinking we have to avenge a defeat in the past," he added.
After a prolonged lean patch, Kohli announced his return to run-making ways with a T20I hundred in the Asia Cup at Dubai.
He made an unbeaten 122 against Afghanistan as India won the match by 101 runs, and Kohli said the performance put him in a good mental space ahead of the T20 World Cup.
"If I was not playing well, then probably, I would have been a bit uneasy. But I scored my first T20I hundred in the Asia Cup and that brought me back into a contented space.
"I was not feeling desperate or nervous. I was just happy that I was able to play at such a big occasion once more," he noted.
One more person in the team was aware of Kohli's prowess in keeping himself alienated from pressure to deliver at some of the biggest stages — head coach Rahul Dravid.
Dravid, who knows a thing or two about taming the boiling points himself, asked Kohli to address the team huddle ahead of the match against Pakistan at the MCG.
His words were a masterful crash course in how to deal with the pressure.
"I told them not to look at the other guy to do the job… think that you are the guy who is going to stay back and finish the job. If the whole 11 can think like that then something special can happen.
"One more thing I told them was that if it is a pressure situation and you feel that you are going to crack, then there is an equal or more chance that the opposition might crack as well," he added.