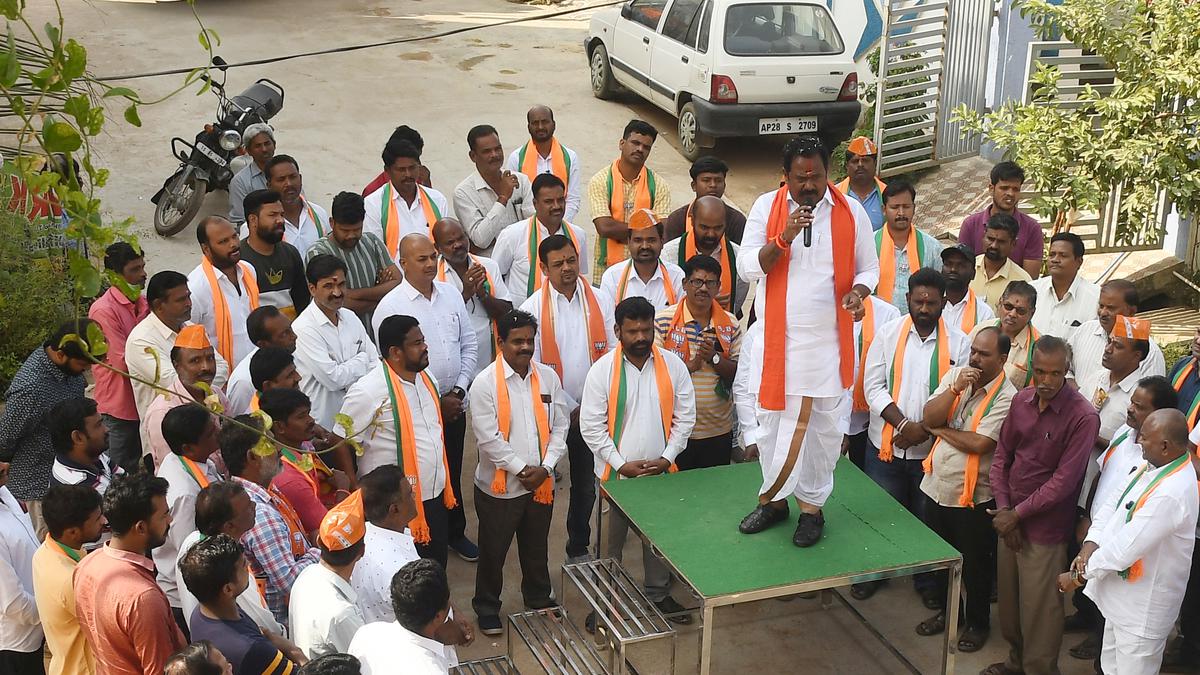 November 20, 2023 06:21 pm | Updated 06:21 pm IST – NIZAMABAD/KAMAREDDY districts
Pushing backward the key issues confronting the people, a problem of a different kind is confronting the contesting candidates, including president of Bharat Rashtra Samithi (BRS) and Chief Minister K. Chandrashekhar Rao and president of Telangana Pradesh Congress Committee (TPCC) A. Revanth Reddy, in erstwhile Nizamabad district.
Locals versus 'outsiders' (non-locals) sentiment is slowly but steadily gaining ground in at least five of the nine Assembly constituencies in old Nizamabad district, which was bifurcated into Nizamabad and Kamareddy districts. The issue is visible in Yellareddy, Banswada, Nizamabad, Balkonda and Jukkal SC constituencies.
Once elected, will these candidates — called 'parachute' leaders — be accessible to the people is the moot question raised by the voters across the district. This has forced the candidates to go the extra mile to reiterate their commitment to stay put in the constituency.
The issue if it percolates down could cause serious dent into the fortunes of the contestants. New entrants into politics, who are making their debut having made successful careers as entrepreneurs too face the issue.
Former ministers and MLAs' with over three decades of political careers, who have shifted to other constituencies within the two districts too are facing the heat.
For the record, Chief Minister K. Chandrashekhar Rao, Congress State unit chief Revanth Reddy are in the field from Kamareddy Assembly constituency apart from Gajwel and Kodangal constituencies respectively.
Similarly is the case with senior Congress leader and former minister Md. Ali Shabbir, now contesting from Nizamabad Urban seat. Ex-MLAs Enugu Ravinder Reddy (Congress) and Yendla Laxminarayana (BJP) both are in the fray from Banswada constituency and pitted again Speaker Parige Srinivas Reddy. Previously, the two leaders had represented Yellareddy and Nizamabad constituencies multiple times. BJP candidate from Balkonda Aleti Annapurna too has shifted from Armoor constituency this time.
Congress candidates Madan Mohan Rao (Yellareddy), Laxmikanth Rao (Jukkal) and Muthyala Sunil Reddy (Balkonda) are all successful businessmen and trying their luck in this election. For Mr. Madan Mohan and Laxmikanth Rao, this will be their debut polls while Sunil Reddy, who operates luxury travel buses, is in the fray for the second time. Two-time BRS MLA Bigala Ganesh Gupta, who is trying for a hat-trick from Nizamabad Urban too is an NRI.
Voters are concerned if the leaders would be available all the time. Raji Reddy of Ramareddy village in Yellareddy constituency wondered if these leaders would ever be accessible to them. "How will the locals approach them? We will again be forced to meet the local leaders representing these leaders to address our concerns," he said.
BJP candidate from Kamareddy, Katipally Venkatramana Reddy is not sparing KCR and Revanth Reddy in his election campaign. "Dear voters, please decide whether you want a local leader, who is available round-the-clock or outsiders. You all can knock my door in the middle of the night. Will you dare to do the same with KCR and Revanth," Mr. Venkataramana Reddy says wherever he is campaigning. The tone and tenor of his appeal seem to have stuck a chord with the electorate.
Asked about the outsider tag by his opponents in Nizamabad Urban constituency, Md Ali Shabbir shot back. "I am in politics for the last 40 years. As an NSUI and Youth Congress leader I served Nizamabad district. Having become a minister I did everything for the people of the district. Those, who are calling me non-local themselves are outsiders," he said pointing out to BRS MLA Ganesh Gupta and BJP candidate Dhanpal Suryanarayana.
"They hail from Makloor and Ch. Kondur villages, which are not party of Nizamabad Town," he argued. Dhanpal Suryanarayan hit back claiming that his father had set up a successful textile shop several decades ago in Nizamabad and he had taken the business forward. "For the last 24 years my charitable trust is rendering service to the people of Nizamabad Town in irrespective of caste and creed. So where is the question of myself being an outsider," he questioned his critics.
But, leaders from the BRS, Congress and the BJP, who did want to be identified, maintain that the outsider tag that is being raised by some leaders will not affect the functioning of these leaders. "All the elected representatives have sound systems in place to look into the grievances of the locals. They always are available to the constituents whenever they visit the constituency. These charges are only to divert the attention of people and seek some votes," they pointed out.