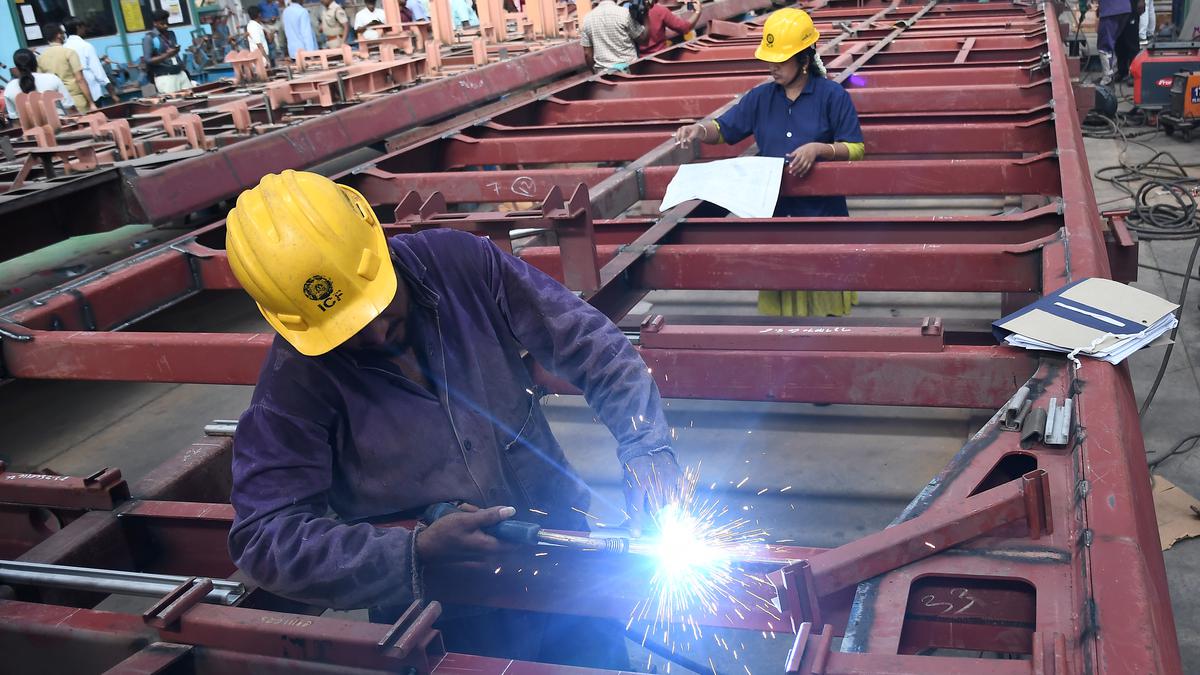 Manufacturing sector growth in October eased to the slowest pace since February with the uptick in new orders hitting a one-year low, as per the seasonally adjusted S&P Global India Manufacturing Purchasing Managers' Index (PMI) that slipped to 55.5 from 57.6 in September. 
Growth subsided on several fronts as demand for certain types of products faded with consumer goods being the worst hit. Job creation was the weakest since this April, with less than 4% of surveyed firms hiring new staff. 
Business confidence levels slipped to a five-month low. Although firms remained broadly positive about future business prospects, concerns surrounding the path for inflation and demand dampened spirits compared to the first half of 2023-24. International orders also slowed to a four-month low though some firms reported an increase in demand from Asia, Europe, Middle East and the U.S. 
Input cost pressures intensified for producers who reported rising prices for aluminium, chemicals, leather, paper, rubber and steel. While manufacturers continued to stock up on inputs, the pace of accumulation was the slowest in eight months. However, the rate at which output prices were raised by firms receded. 
"The survey's new orders index slipped to a one-year low, as some firms raised concerns about the current demand picture for their products," said Pollyanna De Lima, economics associate director at S&P Global Market Intelligence. 
"Consumer goods was behind most of the slowdown, recording considerably softer increases in sales, production, exports, input inventories and buying levels. Growth of all of the aforementioned variables was led by capital goods makers which, with the exception of new orders, registered accelerated rates of expansion," she added.  
Ms. De Lima also highlighted an interesting finding from the survey-based PMI's qualitative evidence. When asked about future output prospects, firms signalled that rising inflation expectations were expected to dent demand and subsequently production growth over the course of the coming 12 months.