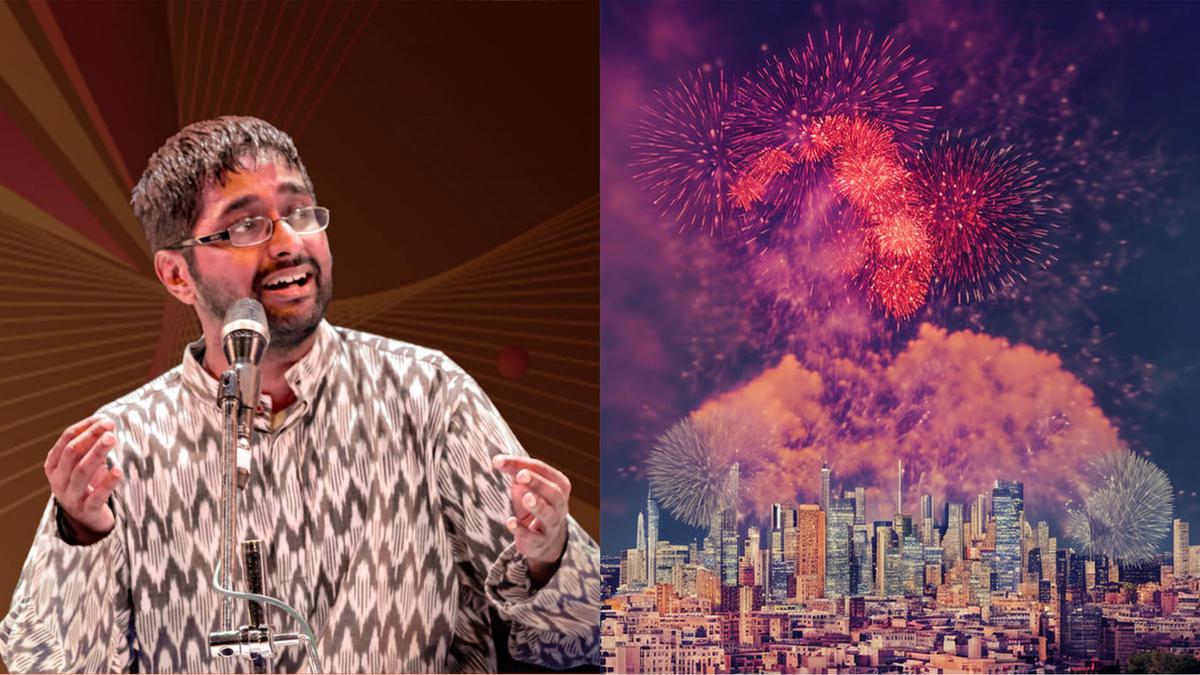 "Try it with me once…just once. Once you see it, you can't unsee it." I don't know if Madrasana founder Mahesh Venkateswaran is convincing me or himself, but colour me intrigued.
He goes on, as if he's leading a guided meditation. "Close one eye. Squint the other, and take your phone away. What do you see?"
It takes me a minute…but I see what he's been saying all along. Ramakrishnan Murthy's face emerges from the haze of Chennai flower market, the vague outline of a tambura confirming my hesitant guess.
It is all part of Venkateswaran's latest innovative ploy, an add-on to Madrasana's usual Margazhi festival that year after year, continues to reinvent itself. This time , he takes hold of the recent invention that has the world polarised — AI, or artificial intelligence.
Over the last two weeks, Venkateswaran has announced the line up of artists via social media in a whimsical tease. Three images of slightly blurry sketches of artists' profiles, superimposed over a generic background — a display of fireworks, for instance — were unveiled, challenging Madrasana's followers to 'guess the artist.' The answer was revealed a day later, the image slowly transforming into each artist's identity.
"I used generative AI — it's like a virtual artist that can create new content such as images, music, or text based on patterns it has learnt from existing data," Venkateswaran explains. He was just experimenting, he says, having fun with AI technology in an attempt to add 'new flavor' to the annual festival.
Violinist Kamalakiran Vinjamuri, who will be performing as part of this year's festival had collaborated for the first time with Madrasana last season in a duet recording with fellow violinist Sruti Sarathy for the organization's YouTube channel. The draw, he says, is 'the innovation, not to mention the interaction between the digital era and the age-old classical art form.'
"I've seen it first-hand — for students of mine and my father's, they tend to find that if the concert announcements are so interesting and innovative, the concert itself must be that much more exciting and novel. The beauty, also, is that they didn't overdo it— great ideas like these allow greater ideas to grow, and that's what Mahesh has done," Vinjamuri smiles.
Generative AI will also play a role in the backdrops, says Venkateswaran at the Asian College of Journalism's MS Subbulakshmi Arangam where Masrasana's Margazhi festival will be held.
"The auditorium is our newest partner, so-to-speak: its absolutely one-of-a-kind, and acoustically, it has so many aspects that make the audio experience better for both audience and artist," Venkateswaran expands.
Of course, that's what Madrasana has been known for all along: pristine audio quality. Innovative technological strategy, then, is simply the cherry on top. For artist Charumathi Raghuraman, whose association with Madrasana spans over five years, the inclusion of AI is only part of the draw of taking part in this year's festival.
Venkateswaran has something up his sleeve there too: this year's series is an amalgamation of instrumental and vocal concerts, spanning 14 shows over a week's time. The special highlight? A Christmas concert by The Indian Choral Ensemble and its 40-member acapella group, all directed by Kalyani Nair.
"We always are looking at how to engage newer audiences, be it through social outreach or live shows. Performances like this choral one appeal to people who may not know Carnatic music, but love the sound for what it is," Venkateswaran says. After all, a former CEO himself, the belief pays homage to what made Venkateswaran a concert organizer all along: the love of the sheer, unbridled, melodious song.
Madrasana's 2023 Festival is set to take place between December 22-26th. Tickets can be purchased at madrasana.com.