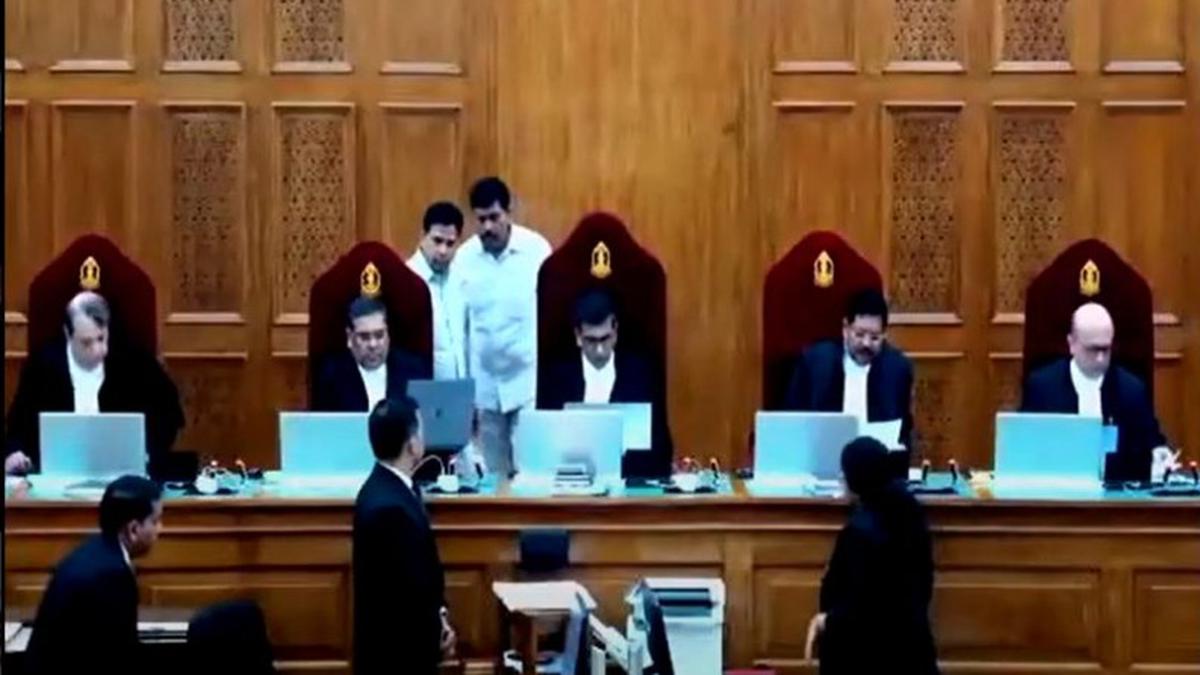 Supreme Court flags possibility of electoral bonds being used to trade favours
A Constitution Bench on October 31 raised the scenario of influential entities covertly setting up persons with verified accounts to purchase electoral bonds for them through the regular banking route in order to curry favour or anonymously enter into a quid pro quo with ruling political parties.
Suspected extremists kill police officer in Moreh; Manipur CM vows action
Manipur Chief Minister Nongthombam Biren Singh has vowed action against extremists who gunned town a sub-divisional police officer (SDPO) in the India-Myanmar border town of Moreh on Tuesday. Chingtham Anand Kumar, the SDPO, was on duty overseeing the cleaning of the grounds of a school when suspected Kuki militants opened fire on him. He succumbed to his injuries at a local primary health centre.
India to choose between Bangladesh and Nepal candidates for WHO regional chief
India, along with other South Asian and South East Asian countries, will choose between candidates from Bangladesh and Nepal for the post of Regional Director of the World Health Organization (WHO), bringing a bitterly fought campaign to an end.
The vote will take place on November 1, the third day of the 76th session of the WHO Regional Committee for South-East Asia being hosted by Union Health Minister Mansukh Mandaviya in Delhi.
Kalamassery blast accused Martin sent to judicial custody till November 29
Martin V.D., the sole accused in the Kalamassery Jehovah's Witnesses convention centre blast case, was on October 31 remanded in judicial custody till November 29.
Martin informed the court that he would argue his case as the party in person and declined to receive legal aid provided by the State. Though a lawyer engaged by the Kerala State Legal Services Authority was present at the court, the accused said he wanted to present his case in his voice.
October rain in southern India 'sixth lowest' since 1901
The northeast monsoon, which replaced the southwest monsoon in October, and brings vital rain to several parts of southern India, has been the "sixth lowest" since 1901 so far, India Meteorological Department (IMD) Director General, M. Mohapatra said at a briefing on October 31.
Apple warns Opposition MPs about 'state-sponsored' attacks on their iPhones; government assures probe
Over a dozen Opposition leaders and journalists received email alerts from U.S.-based tech giant Apple on Monday night, informing them that their digital devices were being targeted by "state-sponsored attackers". On Tuesday, the Union government said it would launch an investigation into the alerts, though the Minister for Electronics and Information Technology Ashwini Vaishnaw described Opposition claims of snooping as "vague".
List anti-pollution steps: SC to Delhi, 4 States
The governments of Delhi, Punjab, Haryana, Uttar Pradesh, and Rajasthan were on Tuesday directed by the Supreme Court to file affidavits within a week enumerating measures initiated by them to control air pollution in the national capital.
A three-judge Bench of Justices S.K. Kaul, Sudhanshu Dhulia, and P.K. Mishra said the city is now marred by worsening air quality and it is difficult to even step outside the house, adding that stubble burning is a major cause of the rising pollution. It posted the matter for hearing on November 7.
Maratha quota stir | Jarange Patil issues fresh ultimatum, lashes out at State government
With no let-up in the Maratha quota stir, beleaguered Maharashtra Chief Minister Eknath Shinde called for an all-party meeting on November 1 in a bid to defuse the situation even as quota activist Manoj Jarange Patil issued a fresh 24-hour ultimatum to the government on Tuesday to grant immediate reservation to the Marathas via a special session of the State Legislature.
Trains involved in accident not fitted with Kavach but have Vigilance Control Device, says Waltair Divisional Railway Manager
Train no. 08532 Visakhapatnam-Palasa passenger and the 08504 Visakhapatnam-Rayagada passenger, which were involved in the rear collision in Vizianagaram district, do not have the anti-collision device – Kavach. While railway officials suspect overshooting of the signal as the cause of the accident, they do not rule out other possibilities.
Canada bans WeChat and Kaspersky on government phones
Canada on Monday banned popular Chinese messaging app WeChat and Russian platform Kaspersky from government smartphones and other mobile devices, citing privacy and security risks.
Two dead as Bangladesh garment workers protest low pay
Thousands of garment workers in Bangladesh walked off the job in protest at low wages Monday, sparking clashes with security forces and damaging multiple factories in unrest that left at least two people dead, police said.
ICC World Cup | New Zealand and South Africa cross swords in a key clash
Even before the Men's World Cup began, November 1 clash was supposed to be among the matches to watch out for in the league stage. The manner in which the tournament has progressed makes it a tantalising affair.
After all, New Zealand and South Africa are among the rank favourites to enter the semifinals. The winning outfit at the Maharashtra Cricket Association stadium will set one foot in the last-four, while the losing team may well have to face the table-topper in the semifinal.