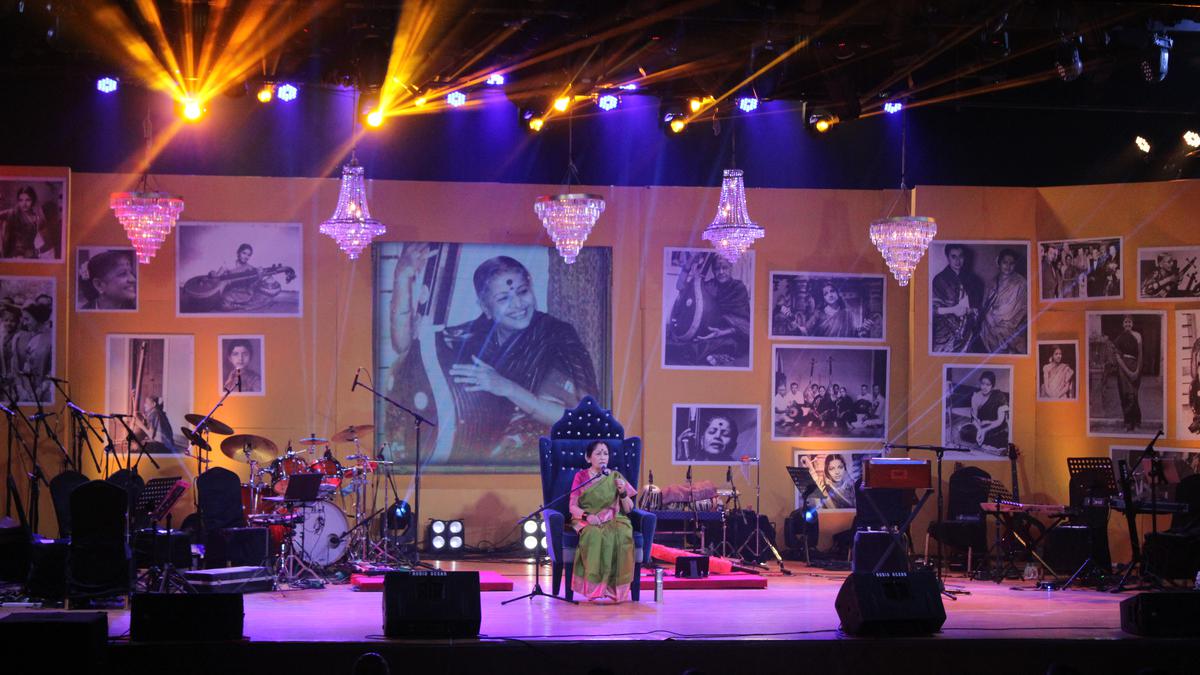 On a Friday evening, the Music Academy was packed. Women were clad in elegant silks and men in kurtas and dhotis. The atmosphere was one of celebration — a celebration of an icon and her music.
Sri Sankara TV in association with Hamsadhwani RRC 100 recently presented 'M.S. Forever', a musical tribute to the inimitable M.S. Subbulakshmi.
A trip down memory lane
The event began with R. Sundar, secretary, Hamsadhwani sharing his memories of meeting the legendary vocalist. It was then actor, singer and anchor Revathi Sankkaran's turn to tap into nostalgia. With her gripping narration, she brought alive for the audience M.S. Subbulakshmi's struggles and triumphs. She mentioned this marked the 25th year of her presentation on M.S., and that how she had performed it many years ago at a Sankara Nethralaya event with M.S. sitting beside her.
The curtains went up revealing a yellow backdrop adorned with black and white photographs of M.S., and Revathi began with the song 'Engum niraindhaaye'.
From Madurai to Madras
Discussing her early years, Revathi recalled the appreciation M.S. received for her veena performance in Madurai. "Her mother brought Subbulakshmi to Madras to find avenues for her musical skills. They stayed in Purasawalkam at Veenai Dhanammal's house, where M.S. was encouraged to sing, and play the veena. Dhanammal realised the young girl's exceptional talent. Once Ariyakudi Ramanuja Iyengar's concert at the Sangeetha Vidwat Sabha (where the Music Academy was earlier) had to be cancelled since he had sore throat. As a replacement, Dhanammal suggested that M.S. will sing while she herself would play the tambura. M.S. performed her first and last concert at the Music Academy. Hence, there could not have been a better venue than the Music Academy for this event," says Revathi.
Musical evening
Next, well-known composer Ramesh Vinayakam presented 11 songs popularised by M.S. with a new musical arrangement. A live orchestra and six singers performed the songs.
The musical extravaganza began with the adorable four-year-old girl Shyamini, dressed in a green and pink pavadai, singing 'Maragadha Vadivu'. Following this, Rahul Vellal sang the timeless 'Bhavayami gopala.' The music enhanced the appeal of his rendition.
Senior vocalist Abhishek Raghuram presented 'Jagadodharana', another gem from the M.S. repertoire. The chorus set the stage for the song with their opening performance. Ramesh said that he drew inspiration from 'Aadisidaleshoda,' which portrays Yashoda playing with Krishna. He also pointed out how her singing in films made M.S. popular across the country. On that note, C. Srisha sang 'Aranga un mahimai' from the film, Meera. Following this, Abhishek and Srisha rendered 'Manamohananga' from Sakunthalai, originally sung by M.S. Subbulakshmi and G. N. Balasubramaniam. The same song was then performed by Uthara Unnikrishnan and Rahul Vellal.
Popular songs
Next in the line up was the iconic 'Kurai ondrum illai,' presented by Nithyasree Mahadevan. Ramesh had incorporated some inherently dissonant harmonies in this track. 'Kaatrinile varum geetham,' was sung by Srisha and Uthara while Abhishek presented 'Giridhara gopala' and 'Nenjukku neethiyum'.
The best things are always saved for last, and the evening concluded with 'Maitreem bhajata' sung by the evening's singers.
Though the musical tribute felt a bit monotonous and dragging towards the end, the audience demanded an encore for many songs. After all, they had come to celebrate their favourite M.S.'s music.