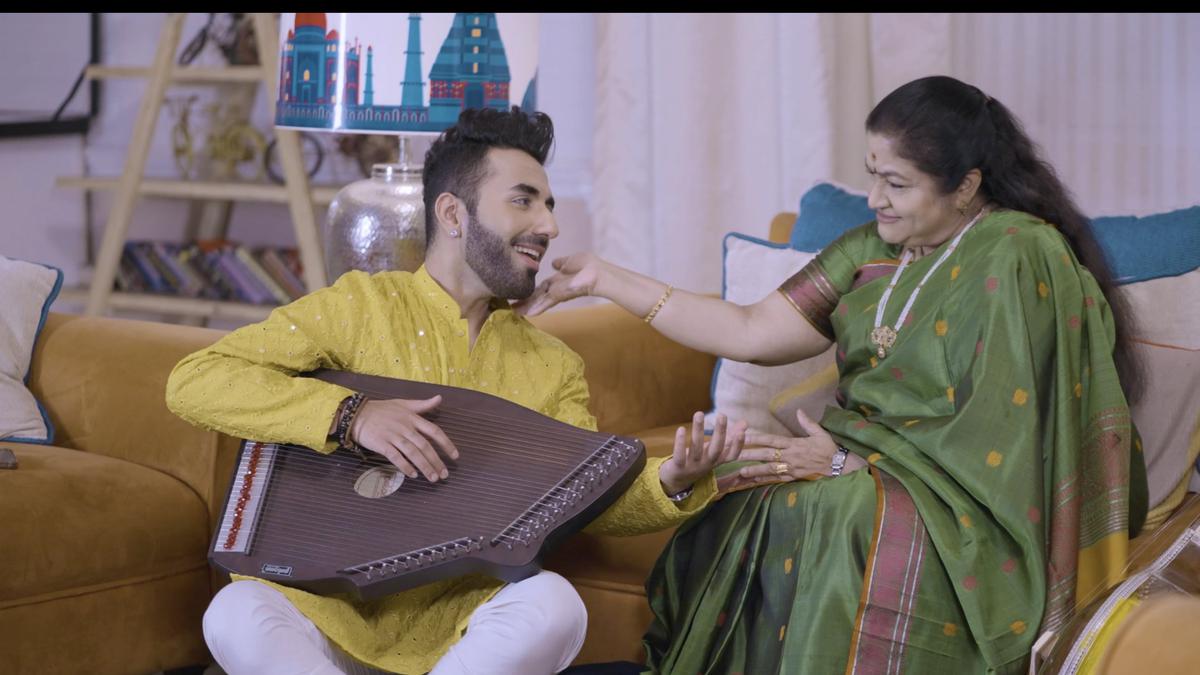 "I've noticed a lot of us who grew up outside India have a deeper connection to South Asian culture," says musician Abby V. The Toronto-based musician is currently in India for the launch of his album Aarambh in collaboration with Bengaluru-based musician Ricky Kej.
The novelty of all things Eastern still holds a certain charm; this is even more pronounced in Indians who settle abroad, but are unable to shake off the tug of the homeland on their heartstrings. Abby V and his family were no exception.
"Growing up in Toronto, my family wanted me to stay rooted in our culture so I was exposed to a lot of Indian music, and we enjoyed Bollywood movies together," says Abby.
"It was not just the parents who didn't want to lose touch with their heritage, the children too, were smitten by these traditions. A lot of us would come to India to learn music during the summers. and we would attend every cultural event happening there; it was our way to stand out from our friends at school," he admits wryly.
Abby says he eventually stumbled onto Indian classical music in his teens. "I fell in love with the whole concept of ragas, which is a very unique way to present music. The internet was a huge factor in my learning because gurus weren't easily accessible in Toronto. I would read up on ragas and listen to recordings."
As a result of this exposure, Abby says he became well-versed in both Hindustani and Carnatic music.
How it began…
Though Abby completed a degree in leadership management, he wanted to get into music and as with so many other aspiring musicians before him, the process or lack of it, left him stumped. "I didn't have any connections in the music or entertainment industry. I did the rounds of waiting in studios or for agents or labels to revert, but nothing panned out. I also had to get all of this done whenever I was in India and we were always running short of time."
Abby says he was apprehensive about making an online debut, but one day on a whim he decided to do something that would bring both schools of Indian classical music together. "Honestly, my parents weren't too enthusiastic about my idea," he says, adding, "I called my best friend Karan Deep over and told him I wanted to shoot something. He brought along his video camera and I sang 73 ragas live and in one take."
"We honestly had no clue what we were doing — there was no planning, lighting or choreography. It was on the spur of the moment. I sang those ragas and randomly posted it on my YouTube channel which had 14 subscribers at the time. The next morning I woke up to 10,000 views, and the day after that, it went into hundreds and thousands of views without any ads or promotions."
"It just took off on social media and I truly believe it is the power of the ragas. It is not me; I do not have the ability to connect with so many people. I received so much love that it completely changed my life, it put me on the map."
…and how its going now
With 73 Ragas catapulting him to fame, there came the long-sought after offers and collaborations which brought Abby a modicum of musical work. Then, music composer and environmentalist Ricky Kej reached out with an offer to work on something together. "This was three years ago; he had one song that he wanted to do with me. Payojidid quite well and it was a phenomenal experience for me to enjoy such a creative partnership."
Ricky and Abby were then approached by a label to create an album that showcased their talents. "This was during the pandemic and we'd send hundreds of our music files back and forth. It was a beautiful collaborative process."
Along the way, they decided to rope in various artistes to join them on the album. "Ricky has the most incredible creative energy and he's just so receptive of other musicians. He would completely accept my inputs and we mutually decided on who to get for each of the songs, once we had finished crafting all the numbers."
The duo chose musicians from different genres and from around the country to give their work a well-rounded feel.
The end result is Aarambh, featuring some of India's most celebrated musicians including Benny Dayal, Jonita Gandhi and Sona Mohapatra as well upcoming artistes such as Sivaangi and Antara. "But, the biggest and most adorable is KS Chitra," he gushes. "She's the kindest and probably the most loved musician in the entire country," says Abby, fresh from having recorded with her.
"This project is a huge celebration of music and it is not too often that so many artistes come together. Every compilation, song and music video is unique and everyone has been absolutely fantastic."
Singles from Aarambh, which was two-and-a-half years in the making, have dropped on social media over the past month, with an album release scheduled for November 24.
Start of something new
"This is my first collaboration in Hindi," says artiste Sivaangi Krishnakumar, still heady from her experience of shooting for the album in Mumbai. "It was a great privilege to be alongside so many big names such as KS Chitra and Ricky Kej. It was also a cultural shift to work in a multi-lingual environment."
Sivaangi, who is making a name for herself in the Tamil music industry, says she was floored by Abby's 73 Ragas and began following him on social media. "I began following him in 2019. After watching some of my videos, he approached me to collaborate on Ra Ra, sung by my mother Binni Krishnakumar. This was during the lockdown and we released the song on his YouTube channel."
After the success of Ra Ra, Abby asked her to be a part of Aarambh. Sivaangi says everything about the experience was a new and refreshing change; even the concept of her duet with him was a novel one — the song is about a couple striving hard to make it big. It releases along with the album on November 24.