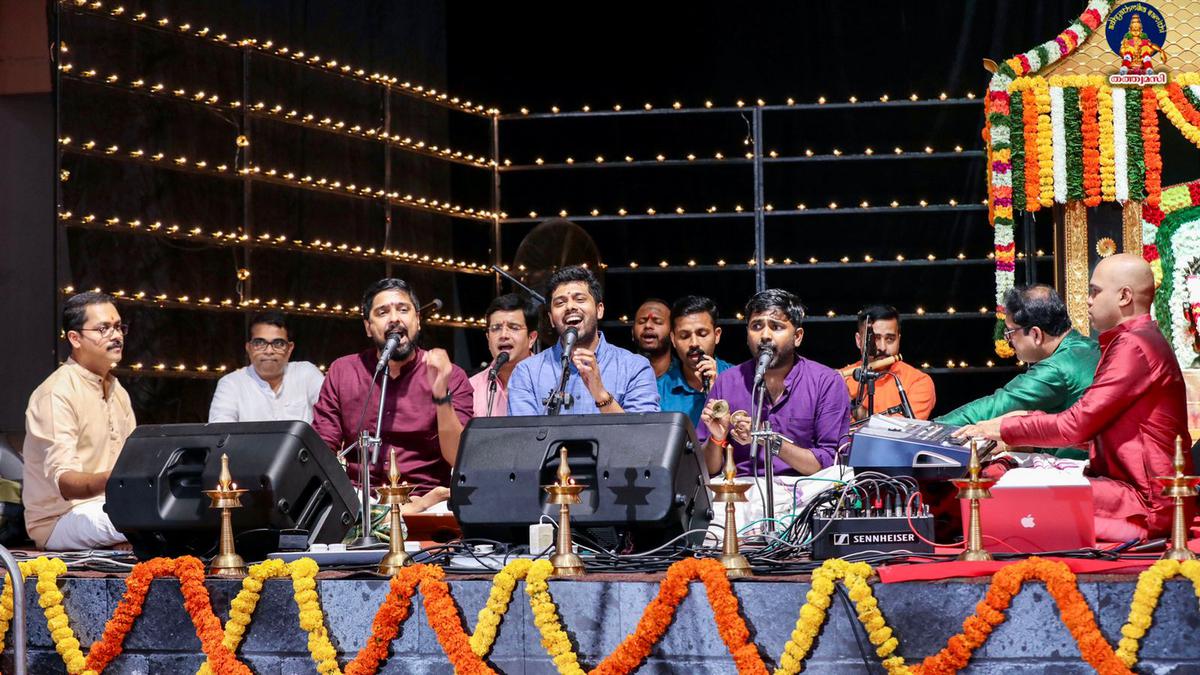 A few months ago Nandagovindam Bhajans burst into the music scene when a video of one of their songs went viral.
The video featured a medley of four songs — 'Manohari Radhe', a section from the track, 'Kathirunna pennalle' from the movie, Classmates; the popular Carnatic music kriti 'Krishna nee begane baro'; 'Enthe kannan vannilla', a lyrical adaptation of the song, 'Enthe innum vannilla' from the movie Gramaphone; and lines from 'Giridhari kamala nayana…', a namavali.
The USP of the group has been the presentation of a medley of devotionals. Formed in Kottayam district in Kerala in 2000, the group has a presence in Dubai since 2014, after some of its members moved to West Asia when they got jobs. Naveen Mohan, one of the senior members in the current line-up, was instrumental in forming the group in Dubai.
Naveen says, "Altogether, we have 30 members. While singers in the Kottayam group stay in the district, the one in Dubai includes artists from different parts of Kerala. We have programmes mostly on weekends."
Nandagovindam started as a group rendering conventional bhajans. "Like several bhajan groups, we were inspired by the likes of Prashanth Varma, a stalwart in the field. But we didn't want to perform in the same format. That was when we decided to sing sampradaya bhajans on the likes of Manjapra Mohan and Udayalur Kalyanaraman. However, after a point, we wanted to create our signature style of rendition. That was when we started fusing devotional songs," says Praveen Anand, Naveen's schoolmate and a key member of the Dubai group.
Binding force
Besides their passion for music, it is the participation of visually-challenged Rajendra Panicker, a senior member of the group, that keeps the singers together. "When Panicker ettan lost his vision, we decided that we should keep the group going to keep up his morale and to give him emotional support. He also performs with us," says Sreelal Venu, lead vocalist of Nandagovindam in Kerala. "My father used to sing bhajans and I used to perform with him. I am trained in classical music but I found that bhajans gave me more freedom as a singer and I decided to stick to it," says Sreelal.
Praveen points out that they have been singing the medley that went viral for 13 years now. They first sang it at a programme in Mumbai and have sung it at several sapthahams (spiritual discourses). It was a video of a performance held early this year that got uploaded on social media and caught everyone's attention. The group has several followers for their sessions posted on their YouTube page, Nandagovindam Bhajans.
Among the first medleys that they uploaded on YouTube and got noticed was a mix of three Ayyappa bhajans — 'Neela Neela malayil', 'Samavedam' and 'Karuppu veshti'. The lockdown gave them a chance to do more such experiments.
Naveen mentions that it was no less than a risk when they attempted the presentation of Sopanasangeetham in bhajan format. "We expected a backlash because it is a genre that is confined to temples. However, among our biggest supporters have been people such as lyricist Madhu Ambalappuzha, who has written several Sopanasangeetham songs, and Sopanasangeetham artist Eloor Biju," say Naveen and Praveen. An example is 'Darikante shirassu' and 'Raktha vasthra dharini', two Sopanasangeetham songs in praise of Goddess Bhadrakali, which Nandagovindam presents as bhajans.
Devotionals from movies are often performed as medleys. For instance, the mix of 'Sivadam sivanamam' from Mazhavillu and 'Himagiri nirakal' from Thandavam; 'Paikurumbiye meykkum' from Gramaphone, 'Govinda nacho', a Krishna bhajan, and 'Radhe radhe' from Mahaveeryar; and 'Souparnikamritha veechikal' from Kizhakkunarum Pakshi mixed with the pallavi of the kirtan, 'Himagiri thanaye'.
Music for all
"We hope to change people's outlook towards bhajans and want to cut across religious barriers with our music. Our accent has always been on the musical element and the emotion. Bhakti is key to a bhajan. But, unfortunately, several groups focus on singing foot-tapping numbers, thus making people dance to the tunes. We ensure that musicality is not overpowered by orchestration in our songs," says Praveen.
There has been criticism for their medleys, especially about the inclusion of film songs. "We are open to healthy criticism and suggestions, especially if they are about improving our presentation or the choice of songs. But when people ask us to change our style or point out that our songs do not make them dance, we ignore such comments. A lot of hard work has gone into this style and we don't want to change that at any cost," they stress.
Sreelal says that the group is flooded with requests for membership. "They just want to sing with us and it is not for any monetary benefit. Some of them have already become part of Nandagovindam," he says, adding that they regularly have programmes.
Meanwhile, the Dubai group has got invites to perform in Uganda, South Africa and in parts of UAE. "With the Sabarimala pilgrimage season set to begin next month, we will be busy with programmes till January," says Praveen.
They had released a devotional album, Ganadhipathi in 2018 and another album is in the works.