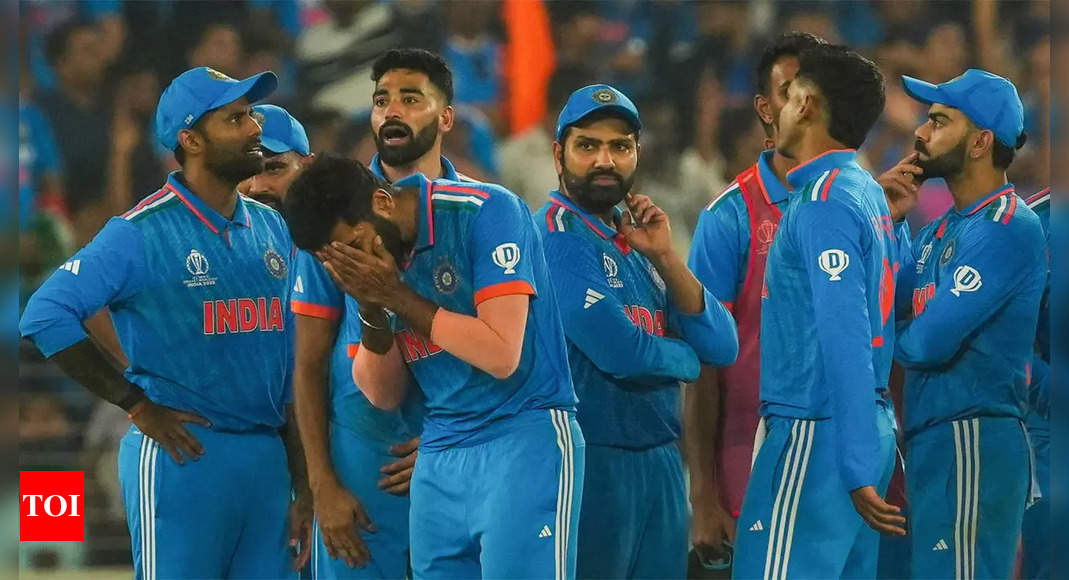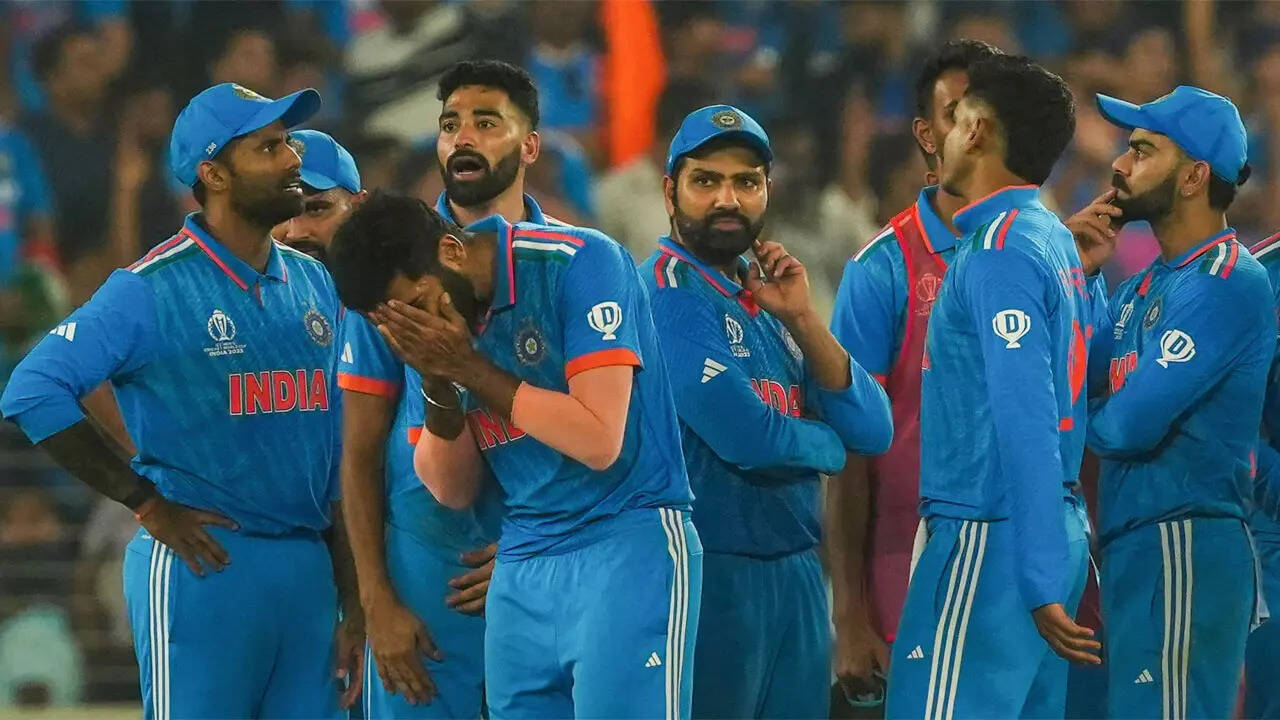 NEW DELHI: The murmurs around India's inability to land the knockout punch in a global event have grown since the ill-fated Sunday night but did the team, which looked invincible heading into the World Cup final, actually crack under pressure or was it just a bad day in the office?
Fears of a billion plus came true as Australia stitched together a perfect game to deny a rampant India who had not put a foot wrong during their stormy march to the final.
After 10 wins in a row, India's unstoppable run came to a crashing halt in yet another trophy clash. Since winning the Champions Trophy in 2013, India have lost five ICC finals and three semifinals.
Considering India's dominance heading into the final, the dejected look on faces of skipper
Rohit Sharma
and
Virat Kohli
after the six-wicket defeat was understandable.
The two greats of the game perhaps knew deep down that they might not get another shot at the crowning glory.
The dust has not yet settled but India's repeated failures on the world stage does warrant the question: did they choke or was it just an off day in an otherwise near perfect campaign?
PM Modi consoles team India in dressing room after World Cup final loss against Australia
Speaking to PTI, sports psychologist Gayatri Vartak, who works with elite Indian athletes, felt it was not a case of buckling under pressure and Australia were just tactically superior on the day.
"I don't think there was any pure evidence of the team cracking mentally. I don't think they choked or could not perform under pressure.
"All of them came into the tournament positively and had great build up to the final. As a player your reference point (over your mindset) becomes your last game and not what happened in a final three years ago. The last game was the semifinal which they won," said Vartak.
Diya Jain, a sports psychologist at Fortis Hospital, said the big match pressure can take a toll on elite athletes but India's performance should be celebrated.
"Any team can have a bad day, it's important to accept it and learn from it. Australia had a plan and they stuck to it, believed in themselves and were zoned-in. The pressure of big matches can take a toll, and mental preparation is key.
How Pat Cummins silenced the Ahmedabad crowd with Aussie team's flawless performance in the finals
"That said, this is not the time for analysis, it's time to celebrate. Being a World Cup finalist and winning 10 matches on the trot is a remarkable feat," said Jain.
Life of an Indian cricketer makes winning a tad harder
India's larger than life cricketers often talk about shutting the "outside noise" to focus on the job at hand.
Having said that, it is only human to get distracted when they are reminded of winning the coveted trophy in their fleeting public appearances at airports, hotels and stadiums, which is something they experienced over the course of the World Cup at home even with the "head phones" plugged at all times.
On the other hand, the feisty bunch of Australian cricketers, who excel at the art of winning, are not treated as demigods back home. The fans undoubtedly make Indian cricket special and provide unconditional support to the players but their non-stop attention does add to the pressure.
Matthew Hayden, a member of the all-conquering Australian team and someone who is well versed with Indian cricket, spoke about the added pressure created by fans ahead of the World Test Championship final in June, another high-stake contest that India lost.
"It's certainly not a question of skill. So, it has to be a question of just the opportunity and the mindset going in. I mean, cricket is life here, it is the DNA of sport and has no other competitors.
"In Australia I could walk down the street and largely be unrecognised, here in India it's very insular and there's a lot of pressure," Hayden had told PTI back then.
Vartak too agrees with Hayden that performing amid a constant frenzy does make winning a tad harder.
"For athletes, the Indian fan acts as a big fuel, they come from an emotional space, they can be very critical but they are also very, very supportive.
"I don't think it is specific to India but fan behaviour tells us that typically they tend to worship their athletes (which is not the case with cricketers in Australia).
"With that in mind, the fan following of cricket is so high here and it is a religion for all of us. I would agree that it is harder for an Indian cricketer (to be insulated from pressure)," said Vartak.
Not fair to compare this Indian team with teams of the past
The series of knockout defeats over the last 10 years tells a compelling story but Vartak also believes that it is not fair to compare Indian teams of the past with the current lot.
"I am sure the composition of the Indian team was different over those games in the last 10 years. There is a tendency to talk about mental block when there is a defeat but when the team is winning no one talks about the mindset. It is a little unfair on the cricketers.
"Technically you can also fail at times and that was the case with India yesterday. Australia were the superior team technically and tactically, but it doesn't become a mental issue.
"They did very well under pressure through the tournament and even won a knockout game. It was a just a bad day I would say," she added.
'India were just unfortunate'
Former chief selector MSK Prasad, whose tenure saw India falling short in the 2017 Champions Trophy and 2019 ODI World Cup semifinal, acknowledged that the team has been losing knockout games consistently but it is not down to crumbling under pressure.
"The result last night was really unfortunate. I know India have not performed in finals consistently (over last decade) but this team was head and shoulders above others in the tournament. It is their sheer hard luck that they could not go all the way.
"Credit must be given to Australia. They played excellent cricket and I feel India were 40-50 runs short. Then the evening dew made it much easier for the Aussie batters," said Prasad.