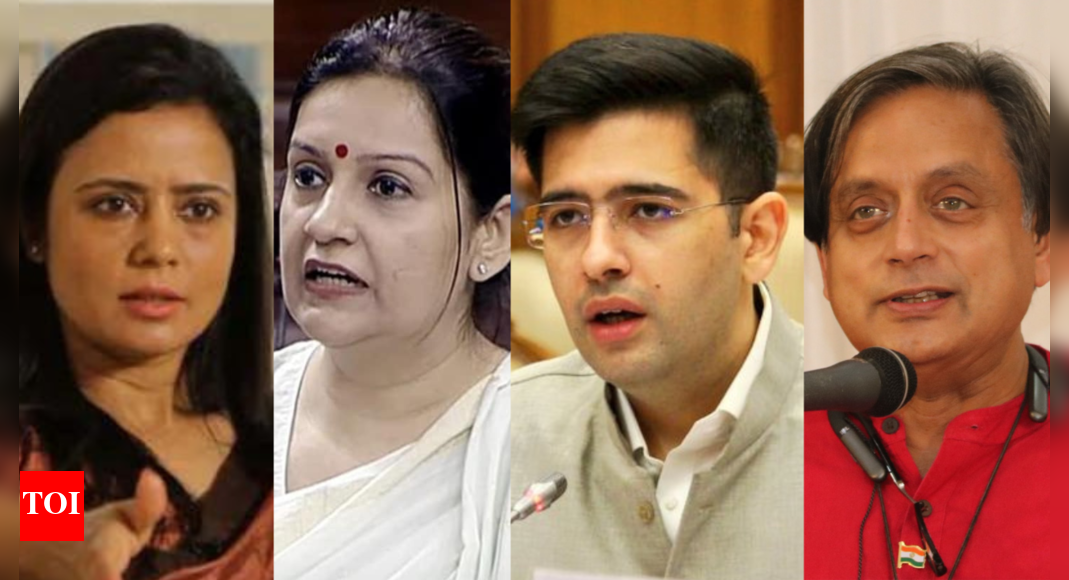 NEW DELHI: Several opposition leaders on Tuesday claimed they had received an alert from Apple warning them of "state-sponsored attackers trying to remotely compromise" their iPhones and posted purported screenshots of the message on their X handles.
The Congress was quick to accuse the Centre of being behind the snooping, a charge the BJP has vehemently denied.
'Tap as much as you want, ready to surrender my phone': Rahul Gandhi after receive Apple phone tapping row
Apple has responded to the controversy stating the attackers are "well-funded" and their techniques are "sophisticated and evolving".
Here are the top developments through the day:
IT minister attacks Congress
Within hours of the controversy erupting, Union IT minister Ashwini Vaishnaw addressed a press conference wherein he stated that the Centre "is concerned about this issue and it will go to the bottom of it".
He further said the Centre has initiated a probe and asked Apple to join the investigation with "real, accurate information on the alleged state-sponsored attacks".
The probe will be conducted by Cert-In, he said.
"There are some compulsive critics in the country. These people can't see the development of the country because when their family was in power they only thought about themselves. Apple has issued this advisory in 150 countries … From the mail sent by from Apple, it can be understood that they have no clear information, they have sent alerts on the basis of an estimate. This is vague," the IT minister added.
"Whenever these compulsive critics do not have any major issue, the only thing they say is surveillance. They tried this a few years back as well, we conducted a proper investigation, and the matter was supervised by the judiciary also but nothing came out of that including Priyanka Gandhi Vadra who said that her two children's phones were hacked but nothing of that sort happened. This is a falsehood that some compulsive critics are trying to spread," said Vaishnaw.
Attackers tragetting you because of who you are: Apple alert
The message by Apple, which was shared by the MPs on X, stated: "ALERT: State-sponsored attackers may be targeting your iPhone".
"Apple believes you are being targeted by state-sponsored attackers who are trying to remotely compromise the iPhone associated with your Apple ID. These attackers are likely targeting you individually because of who you are or what you do. If your device is compromised by a state-sponsored attacker, they may be able to remotely access your sensitive data, communications, or even the camera and microphone. While it's possible this is a false alarm, please take this warning seriously," it further stated.
Apple responds to row
iPhone-maker Apple Inc on Tuesday said it does not attribute threat notifications, such as the ones received by the MPs, to any specific state-sponsored attackers and that it cannot provide information on what causes such warnings.
In a statement, Apple said it is possible that some threat notifications may be false alarms and some attacks may not be detected.
"Apple does not attribute the threat notifications to any specific state-sponsored attacker," the firm said, adding that the attackers are "very well-funded and sophisticated, and their attacks evolve over time".
"Detecting such attacks relies on threat intelligence signals that are often imperfect and incomplete. It's possible that some Apple threat notifications may be false alarms, or that some attacks are not detected," it added.
It, however, refused to say what triggered the warnings received by MPs. "We are unable to provide information about what causes us to issue threat notifications, as that may help state-sponsored attackers adapt their behaviour to evade detection in the future," Apple said.
Meanwhile, sources privy to the development said Apple has sent threat notifications to individuals whose accounts are in nearly 150 countries.
BJP refutes snooping allegations
The BJP on Tuesday rejected allegations of government snooping as "baseless and false" with former Union IT minister Ravi Shankar Prasad asking the opposition leaders to take up the matter with Apple rather than levelling allegations against the government.
He recalled the controversy over the alleged use of Pegasus malware to hack into the phones of certain people, including opposition leaders, and said Congress leader Rahul Gandhi had refused to deposit his iPhone before a committee appointed by the Supreme Court to look into the matter.
Responding to the opposition leaders, BJP's Amit Malviya said in a post on X, "Usual suspects raising a storm over 'state sponsored' attack and pretending to be martyrs is all good… But this hullabaloo, in all probability, like in the past, will end up as damp squib!
"Why not wait for Apple to clarify? Or is it too much to let go an opportunity to outrage?"
What the targeted MPs are saying
Shiv Sena (UBT) MP Priyanka Chaturvedi, Trinamool Congress' Mahua Moitra, Aam Aadmi Party's Raghav Chadha, Congress' Shashi Tharoor and his party's media and publicity department head Pawan Khera are among dozens of leaders who shared the alert message from Apple on X.
All of them hit out at the government for the alerts.
"Received text and email from Apple warning me that the government is trying to hack into my phone and email. @HMOIndia — get a life. Adani and PMO bullies – your fear makes me pity you," Trinamool Congress MP Moitra said while sharing some screenshots.
Tagging Chaturvedi, she claimed three other leaders of the opposition INDIA alliance have received similar messages.
Chaturvedi also shared a similar screenshot which she claimed to have received from Apple and said, "Wonder who? Shame on you. Cc: @HMOIndia for your kind attention".
Congress MP from Thiruvananthapuram Tharoor put out a similar post.
"Received from an Apple ID, HYPERLINK "mailto:threat-notifications@apple.com"threat-notifications@apple.com, which I have verified. Authenticity confirmed. Glad to keep underemployed officials busy at the expenses of taxpayers like me! Nothing more important to do?" he said on X, tagging the Prime Minister's Office, the Congress, party chief Mallikarjun Kharge and Rahul Gandhi.
Sharing the same screenshot, Khera said, "Dear Modi Sarkar, why are you doing this?"
AAP's Rajya Sabha MP Raghav Chadha said in a post that the alert revealed an attack on the "democratic interests" of the country, and on the people of the country.
"Not only my smartphone but the democratic interests of our country have come under attack. This notification is reminiscent of the Pegasus spyware scandal which also had targeted many voices that are critical of the BJP. Even in this attack, I am not the only opposition leader who has been attacked. Multiple voices of the opposition have been targeted," he said.
"…Every Indian needs to be worried. Because today it is me, tomorrow it could be YOU," he added.
Rahul raises Adani issue
Congress leader Rahul Gandhi on Tuesday claimed that people in his office, several party and other opposition leaders have been sent a warning by Apple of state-sponsored attackers targeting their phone, and alleged that as soon as the Adani issue is touched, probe agencies and snooping are deployed.
He also alleged that the government was indulging in "distraction politics" on the Adani issue.
"We are not scared. You can do as much (phone) tapping as you want, I don't care. If you want to take my phone, I will give it to you..," he said.
"The hierarchy in the country is No. 1 – Adani, no. 2 Prime Minister Narendra Modi and no. 3 Amit Shah," he alleged.
Modi's soul with Adani: Rahul Gandhi
Narrating an old tale to assert his point, Gandhi said there used to be a king in India against whom people stood up and opposition was attacking him but he was like teflon and nothing used to affect him.
"After a few years, opposition people went to a rishi and said 'we keep attacking the king, people are against him but nothing happens. Rishi said the king's soul is not with him, there is a parrot in a small cottage and his soul is in that parrot," Gandhi said.
Multiple opposition leaders allege 'hacking', share Apple warning received on their devices
"Narendra Modi's soul is with Adani. Truth is power is in the hands of someone else. As soon as Adani is touched, intelligence agencies snooping are deployed," he said.
"Adani cannot escape, we have surrounded him. Distraction politics is taking place," he said
(With inputs from agencies)Watch Opposition vs govt on iPhone hacking: Rahul Gandhi calls spying bid sign of panic, IT minister hits back