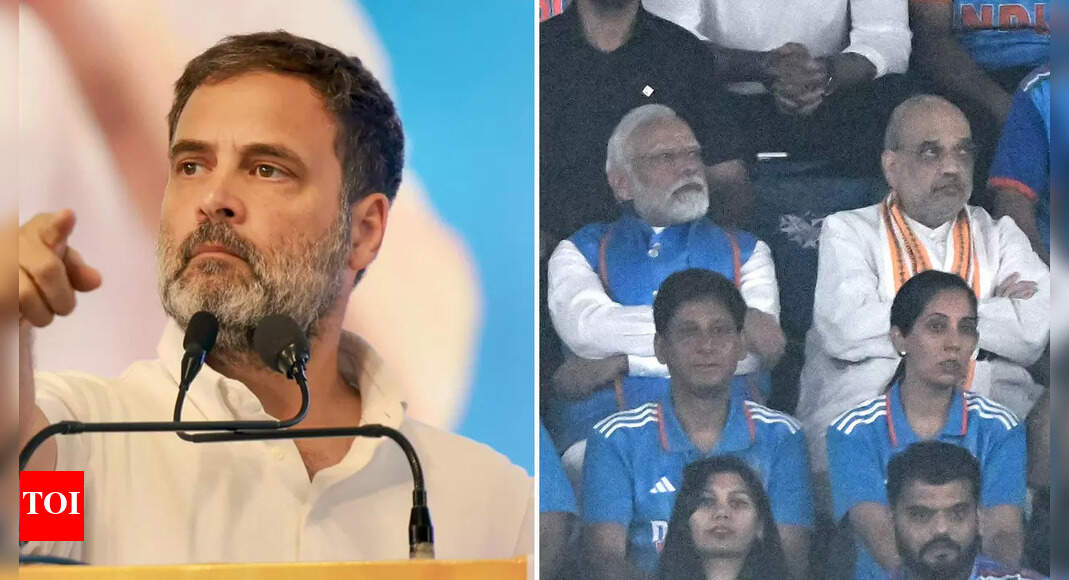 NEW DELHI: Congress leader
Rahul Gandhi
on Tuesday took a veiled dig at Prime Minister Narendra Modi and blamed him for India's heartbreaking loss to Australia in the World Cup final.
Addressing an election rally in Rajasthan's Balotra, Rahul suggested that India lost the match in Ahmedabad because PM Modi was in attendance.
During the rally, somebody in the crowd yelled "panauti", which means unlucky or a bad omen.In response, Rahul grinned and said: "Haan … panauti, panauti … acha bhala waha pe humare ladke World Cup jeet jaate, waha pe panauti harwa diya. TV wale ye nahi kahenge magar janta jaanti hai (Our boys were easily going to win the World Cup but the 'bad omen' made us lose. The media won't point this out but people know).
Rahul was alluding to the fact that PM Modi personally attended the final match in Ahmedabad.
He later said that "PM means Panauti Modi".
The BJP took umbrage to Rahul's "shameful" remarks against PM Modi and demanded an apology from the Congress leader.
Senior BJP leader and former Union minister Ravi Shankar Prasad said Rahul's remarks about the Prime Minister of the country were "shameful, condemnable and disgraceful".
He has shown his true colours but he must remember as to how the Congress has sunk in Gujarat after his mother Sonia Gandhi called Modi, then chief minister of the state, "maut ka saudagar".
"I vehemently condemn Rahul Gandhi's comment about the Prime Minister," Prasad told reporters when asked for his reaction on the Congress leader's remarks.
The BJP leader alleged that Rahul has made such remarks against Prime Minister Modi out of frustration seeing an imminent defeat of the Congress in the assembly polls.
"Rahul Gandhi must apologise…else we will make this issue very serious," the BJP leader said, adding that the Congress leader with his remarks against Modi has shown "his true colours as to what is your status and understanding".
India suffered a distressing loss to Australia at the Narendra Modi stadium in Ahmedabad on Sunday after their dominant 10-match undefeated streak at the World Cup.
Australia beat India by 6 wickets to claim their sixth World Cup title, breaking over a billion hearts.
PM Modi met the Indian players after the match and consoled them, saying that the entire country is proud of the team.
"India stands with them today and always," he said, sharing a brief video on social media on Tuesday of his meeting with the squad soon after the final.
"You reached here after winning 10 matches. These things happen," the prime minister is seen telling captain Rohit Sharma and champion batter Virat Kohli, holding their hands, in the video.
"Smile, the country is watching you," he said.
PM Modi hugged Mohammed Shami, India's most impressive bowler in the tournament, and said he performed very well.
Watch Rahul Gandhi calls PM Modi a 'Panauti' during campaign in Rajasthan polls