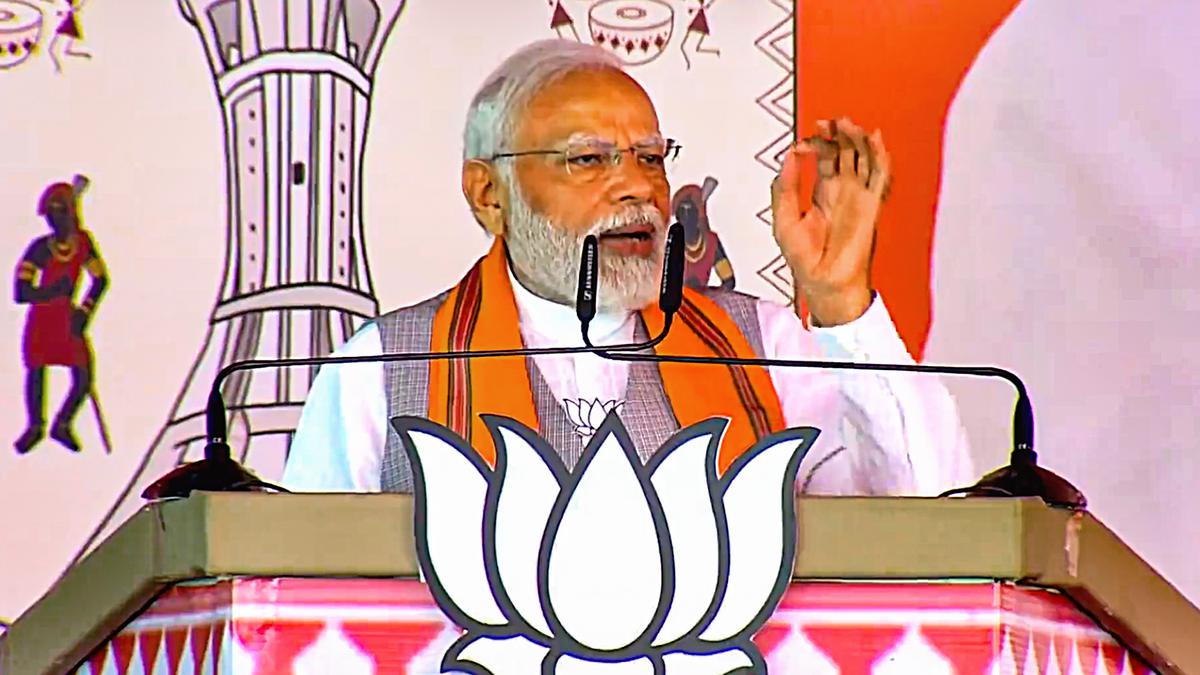 Prime Minister Narendra Modi on November 4 attacked Chhattisgarh Chief Minister Bhupesh Baghel over the alleged 'Mahadev' betting app scam, and said the Congress leader should tell what links he has with the accused in the case.
Mr. Modi was addressing a public meeting in Durg city of poll-bound Chhattisgarh, a day after the Enforcement Directorate (ED) claimed that a forensic analysis and a statement made by a 'cash courier' have led to "startling allegations" that Mahadev betting app promoters paid about ₹508 crore to Chhattisgarh CM Baghel so far.
Mr. Modi also announced that his government's free ration scheme Pradhan Mantri Garib Kalyan Anna Yojana for 80 crore poor will be extended for next five years.
Accusing the Congress of abusing him and the entire Other Backward Classes (OBC) community, Mr. Modi said he was not scared of abuses.
"Congress government in Chhattisgarh has not spared any chance to loot you. They have not even spared the name of 'Mahadev'. Just two days ago, a major action was taken (by the Enforcement Directorate) in Raipur and a huge pile of cash was recovered. People are saying that this is the money belonging to 'sattebaj' (those involved in betting) and they have collected it by looting the poor and youth of Chhattisgarh. Congress leaders have been filling their houses with the same money," Mr. Modi said.
In the media, it is being published that the money is linked to him, the PM said, apparently referring to CM Baghel.
"The Congress government and the chief minister should tell the people of Chhattisgarh what link they have with the accused in this scam sitting in Dubai," he said.
"Congress' priority is to fill its coffers by indulging in corruption…Chhattisgarh says '30 taka kakka, apka kaam pakka'," PM Modi said, alleging 30% commission in every work in the Congress government.
The PM said that for him the biggest caste in the country is the 'poor', and said he was their 'sevak' (servant).
He also accused political parties of hatching new conspiracies to divide the poor and spread the poison of casteism, he said.
The PM said the Congress does not want the welfare of the poor and does not want their condition to improve.
"Congress abused the OBC prime minister. Why does Congress abuse the OBC community? Why do they call 'Sahus' (an influential OBC community in Chhattisgarh) thieves?" he asked.
Polling for the 90-member Chhattisgarh assembly will be held in two phases on November 7 and 17.