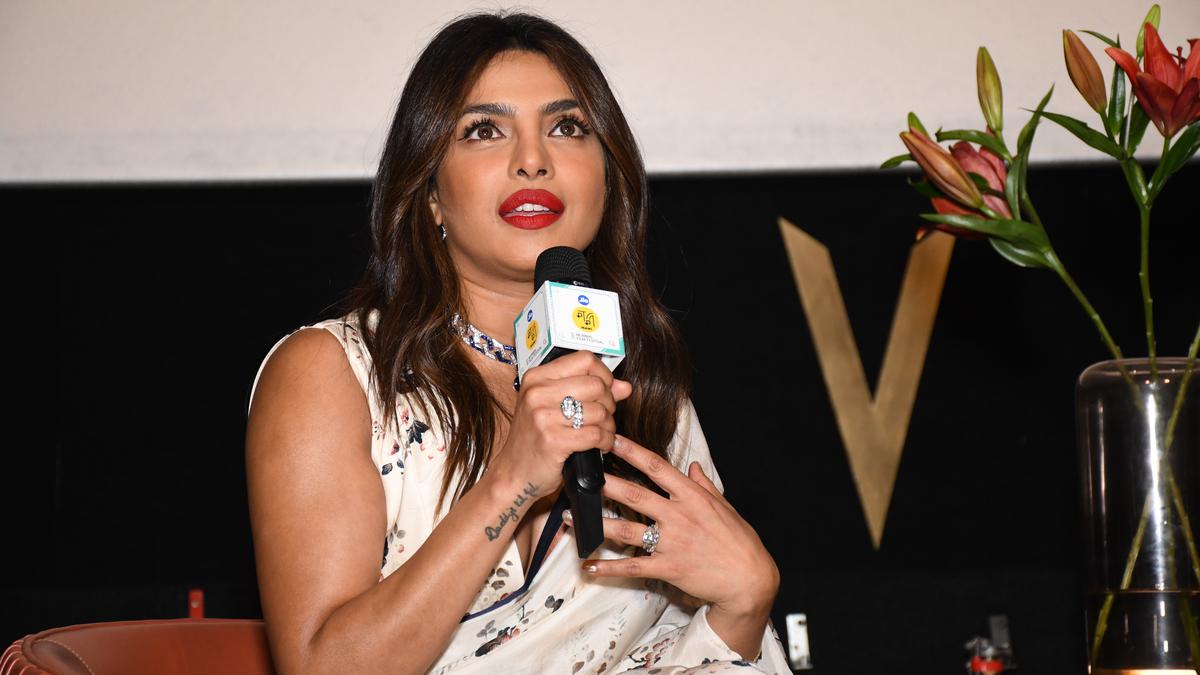 Priyanka Chopra Jonas summarises her high-powered career as a combination of hustle, persistence, and hard work. The globally-recognised star, who is chair of the ongoing Jio MAMI Mumbai Film Festival, delivered an hour-long masterclass at the festival entitled 'The Mind Of An Actor'. With negotiations between striking actors and studios yet to reach a close in Hollywood, Jonas wasn't at liberty to discuss her American projects, and didn't take questions at the masterclass. Instead, in conversation with fellow actor Bhumi Pednekar, Jonas reflected on her 21-year journey in the movies, negotiating fame and public scrutiny, and expanding her body of work in American cinema.
Jonas recalled that, in the mid-2000s, the success of mainstream Hindi-language films like Aitraaz and Krrish put her in a position to make independent choices as an actor. Her decision to headline a film like Madhur Bhandarkar's Fashion (2008) was met with industry cynicism. "At that time, I was told that actresses do female-oriented films only at the end of their career to win National Awards. I was asked why I was doing one now, when I was having a moment. There weren't many women-led films being made at that time." The story of a middle-class girl from Chandigarh who becomes a supermodel, Fashion was a commercial and critical success and, ironically, won National Awards for both Jonas and co-star Kangana Ranaut, then just a handful of films old.
Jonas did concede to feeling pressure when women-centric films don't succeed. Further into the chat, she said, "When a female-led film doesn't do well, I feel a collective failure on behalf of all women. I feel like I've taken them a few steps back… because there are so few of us who get the opportunity to do this." However, with time, she has learned to negotiate failure rationally. "When a movie works, it works because it has something to say. And if it doesn't work, it didn't say what it need to say. So (I) take away the power of making it personal and just move on to the next thing."
Jonas also spoke about the intensely 'public' nature of her job and the need to disassociate from social media from time to time. She said she does not take online vitriol to heart. "You can't get consumed by comments and public opinion on social media because that's not real. What's real is not the viral stories. It's so easy to pick on someone and just troll a public person and forget to look at the human behind."
Jonas, who is settled in LA, had two Hollywood releases this year, the large-canvas spy series Citadeland the romantic feature Love Again. Her latest, Heads of State, an action comedy co-starring Idris Elba and John Cena, had entered production before being temporarily halted by the SAG-AFTRA strikes. Meanwhile, her last Bollywood film was The Sky Is Pink in 2019. While she has successfully straddled mainstream and offbeat fare in India (Kaminey, 7 Khoon Maaf), she wants her American filmography to reflect that range as well.
"I spent about 12 to 15 years in Hindi cinema and about 6 to 8 years in American work, so I think there's like a lot that I want to do with my English language work, because I think the variety of work that I've done in my portfolio in India, I haven't achieved in America. So I want to be able to expand that because I am getting amazing opportunities."
She is keen on feeling more 'challenged' by her international roles. "I'm hoping that in the next one or two years this strike comes to a place where we can start having these conversations again, and that I can find something that I really can sink my teeth into."