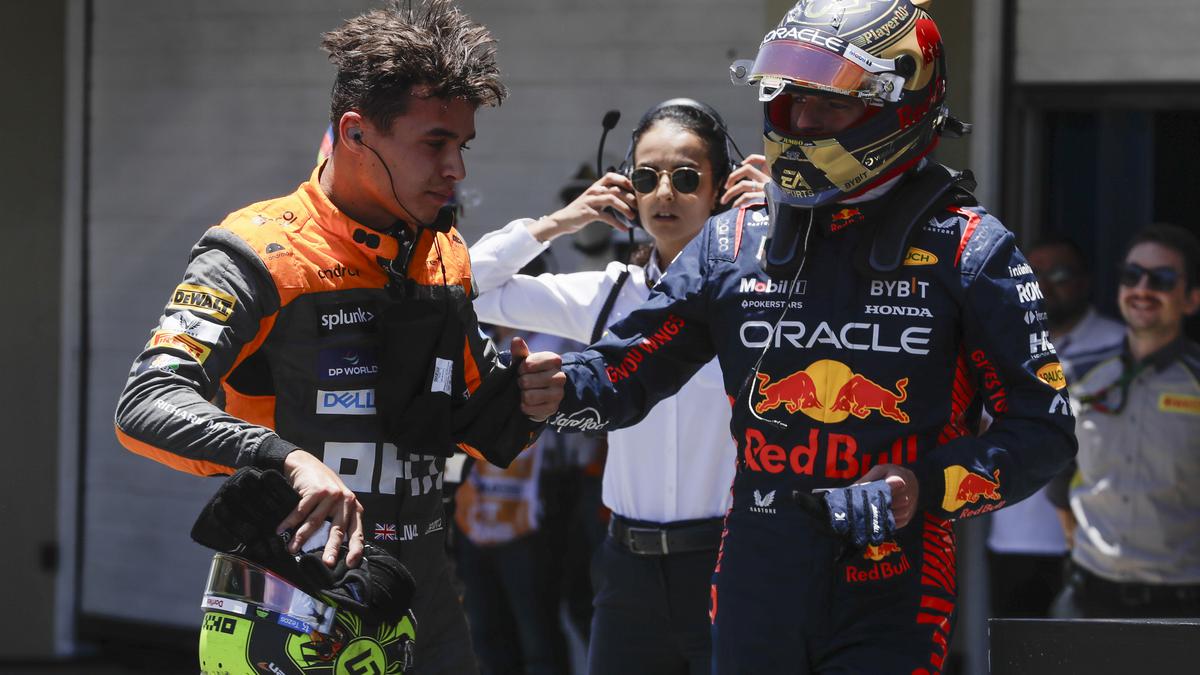 A little help from heavy rain at Interlagos made it easier for Formula One champion Max Verstappen of Red Bull to start this weekend's Brazilian Grand Prix in pole position.
His teammate, Sérgio Perez, didn't get as lucky and will start in ninth position after Friday's qualifying.
Verstappen clocked 1 minute, 10.727 seconds in qualifying, which was cut short due to rain. Race organizers said it would take about one hour to remove debris from the track, so the decision was made to end qualifying.
Ferrari's Charles Leclerc will start in second position, with a lap 0.294 seconds behind Verstappen's.
Two Aston Martins will be in the second row, with Lance Stroll and Fernando Alonso, respectively.
Perez, who is still fighting for the runner-up position in the drivers' championship with Mercedes' Lewis Hamilton, will see his rival start from the fifth spot on Sunday.
Qualifying at Interlagos started with a 15-minute delay due to debris on some of its main turns. No accidents took place in the lone practice session earlier. Verstappen set his time early in the third and decisive part session of qualifying and then the rain came.
"We didn't know when (the rain) was going to fall during qualifying, but we thought it would," Verstappen said.
"This weather is insane … Charles (Leclerc) and I were saying our laps looked terrible, but I don't know about that. The wind started to change and got very strong, we lost a lot of lap time because of that." Leclerc said he never experienced such a turn in the weather.
"The car was extremely difficult to drive, it had no grip. I was thinking about that at the end of the lap," the Ferrari driver said.
"It was weird for everyone on the track today. But I am happy to start in the first row." After the qualifying was over, the covering on some of the stands at Interlagos collapsed. No one was injured as the vast majority of fans had already left, race organisers said.
Earlier, Ferrari's Carlos Sainz paced the field at Interlagos with a lap at 1 minute, 11.732 seconds at the only practice session of the weekend. Leclerc was 0.108 seconds behind.
Three-time F1 champion Verstappen spent a long portion of the practice session working with Red Bull on adjustments to his car and was only 16th fastest. The effort paid off with his car looking steadier than his rivals' during qualifying.
Perez was 18th in practice, in another sub-par showing for the embattled driver.
Verstappen has won a record 16 of 19 races so far this season, including four in a row. That includes the first two stops in a monthslong tour of the Americas. Verstappen won the U.S. Grand Prix in Austin, Texas, two weeks ago, then last Sunday at Mexico City.
F1 wraps up three consecutive weeks of racing this Sunday in Sao Paulo and has a one-week break before the eagerly awaited Las Vegas Grand Prix. Verstappen claimed his third consecutive title early last month and Red Bull has already won the manufacturer championship.
It's made the status of Perez, who has woefully underperformed this season in clearly dominant Red Bull equipment, the hottest topic in the sport. He's under contract at Red Bull, but the team also has Daniel Ricciardo under contract and Perez left Mexico City with reports swirling he'd be replaced next year by Fernando Alonso.
Alonso was displeased with the chatter when he got to Brazil and said it was disruptive to his Aston Martin team.
"Paddock rumors are normal, but people out there just try to make fun of it and gain some followers and these kinds of things," Alonso said.
"But I am not into that game. I am not enjoying the rumours." Perez is clinging to second in the F1 standings and trying to hold off Hamilton, who cut the deficit from 39 points to 20 with three races remaining when Perez crashed out of his home race last Sunday in Mexico.
Alonso in Friday practice said the track was dirty and "not in Formula One standards." The veteran driver had the 11th-fastest lap of practice. Stewards worked to clean some of the turns as soon as practice was over.
On Saturday, there will be a sprint race with more points up for grabs.
Formula One also announced on Friday it has extended Interlagos' contract until 2030. AP SSC SSC