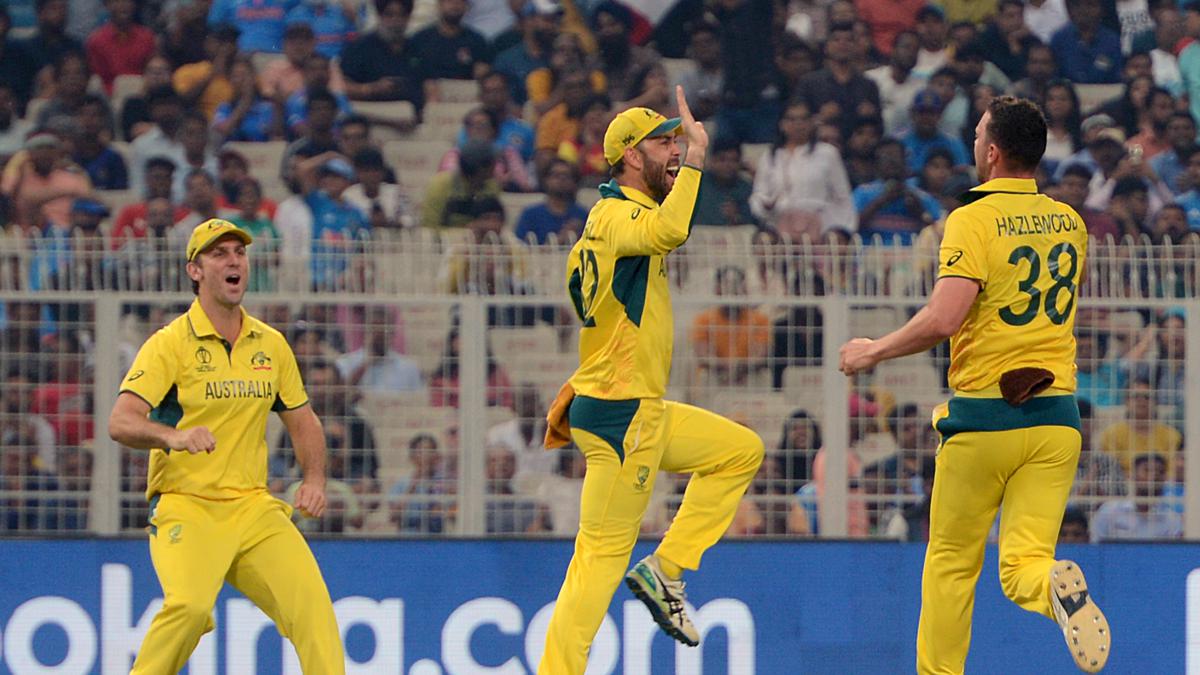 Bracing up for the World Cup final against India, a team he describes as one without "any real weaknesses", Australian pacer Josh Hazlewood says he saw a "few cracks" while rattling their top-order in their tournament opener.
Australia, who lost that game in Chennai by six wickets after reducing India to 3/2 in the second over, set up a big-ticket title showdown against the formidable hosts with a nervy three-wicket win over South Africa here on Thursday.
In the tournament build-up, the two teams were engaged in a three-match ODI series with India winning 2-1.
"We got one in the series, lost that 2-1, but no, we've played them a lot of times. We know them inside out, same with them.
"They're a quality team, they've been on a march the whole tournament, no real weaknesses in their team, so, yeah, look forward to playing them on Sunday," Hazlewood said of India after the win over South Africa.
The pacer added, "I guess we saw a few cracks when we played them in Chennai chasing a small target, we were lucky enough to get a couple early."
India bowled out Australia for 199 in their first game in the showpiece.
It will be a repeat of the 2003 World Cup final which a batting-heavy Australia won in a lopsided contest.
Hazlewood, who rocked the South African batting along with fellow new ball bowler Mitchell Starc, hoped they would recreate their magic against India in the final in Ahmedabad on Sunday.
Hazlewood and Starc got plenty of early movement and bounce with the new ball to leave South Africa reeling for 24/4 after the first 13 overs, setting the tone for their win.
"I think there was enough there on the wicket. It looked like every time they went to play a shot, we got a wicket. They sort of had to knuckle back down and try and see it out," Hazlewood told reporters.
"Yeah, Starc and I have bowled together for a long time now, we know each other's games, and we both play well on the same night, which is pleasing.
"Hopefully, we can do that on Sunday as well, but… yeah, there's a little bit in the wicket which we probably haven't had, in the previous games, or in a couple here and there, but it was nice to get the ball on," he added.
Hazlewood credited Starc for keeping it simple against South Africa.
The left-arm quick returned with brilliant figures of 10-1-34-3, while Hazlewood bagged 2/12 from his eight overs with three maidens.
"You don't try and chase it too much either. You know there's enough there, you've just got to put the ball in the right area, but easier said than undone sometimes.
"Starc keeping it simple… don't go over-attacking. We know that they've sort of got six front-line batters, and Marco's (Jansen) had a great, great tournament at seven, so if we can make early in-roads, we know they're set up for the back-end as well."
"So early wickets just put them on the back foot, and we're lucky enough to do that tonight (Thursday)," he said.