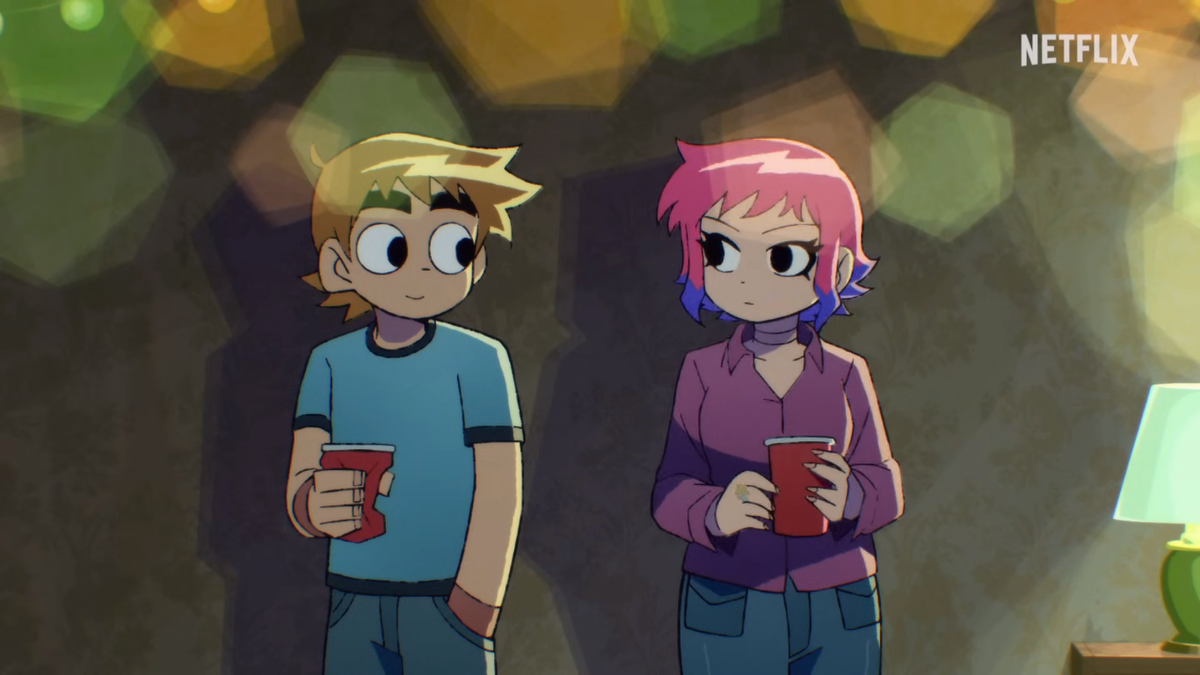 The bass player of Sex Bob-Omb is back and how. An animated revamp of the 2010 film, Scott Pilgrim Vs. the World, and graphic novels by Bryan Lee O'Malley, Netflix's new series, Scott Pilgrim Takes Off, is everything you liked in the live-action film and more. With lively animation straight out of a video game, it reimagines the story of the beloved character of Scott Pilgrim and takes a unique route; one that not only uses the long format to its advantage but does it while retaining the spirit of what the story is all about — how it feels to fall in love in your late teens.
Much of everything you're familiar with from the Edgar Wright film is inventively woven into the series, but it's amazing how even a viewer unaware of the film or the novels can still take pleasure in what the series strives to do. 23-year-old Scott (Michael Cera) is living a carefree life, hanging out with his gay roommate Wallace Wells (Kieran Culkin) and playing bass for his not-so-popular indie garage band, Sex Bob-Omb. He's also procrastinating about breaking up with a high-schooler he's dating, Knives (Ellen Wong).
Everything changes when his wide, googly eyes meet Ramona Flowers (Mary Elizabeth Winstead), the hair-colour-changing, roller-skating girl who often appears in his dreamscape. Ramona goes on a date with Scott, but all the lovey-dovey ends when her ex, Matthew Patel (Satya Bhabha), one of her seven evil exes and the head of The League of Evil Exes, attacks Scott during a Sex Bob-Omb performance.
Scott Pilgrim Takes Off (English)
Director: Abel Góngora
Cast: Michael Cera, Mary Elizabeth Winstead, Satya Bhabha, Kieran Culkin, Chris Evans
Episodes: 8
Runtime: 25-30 minutes
Storyline: When Ramona Flowers realises that her boyfriend, believed to be dead, is in fact alive, she must investigate and get to the bottom of it
This is where things take a drastic turn in the animated series remake; Scott, unlike in the movie, loses the battle with Matthew and dies — they even hold a funeral for him — but Ramona suspects Scott's still alive as she keeps hearing him in the dreamscape. What follows is seven episodes of Ramona investigating the incident and dealing with the demons of her past.
Firstly, there are a lot of dimension-hopping and colourful action sequences but not everything ends with a drastic turn to propel the plot forward. Each of the episodes gives us insight into each of the evil exes and how their relationship with Ramona had transpired. Each of them has their battles to face, and now Ramona is also forced to take them on; for instance, for Hollywood actor and skateboarder Lucas Lee, it's the constant ninja-paparazzi who break into his trailer to click pictures of himself. Gideon Graves (Jason Schwartzman), another evil ex, gets an elaborate subplot after losing a fight with Matthew, while Roxie Richter (Mae Whitman), Ramona's lesbian ex, finally confronts her.
Ultimately, all of it has to do with how their lives were shaped after breaking up with Ramona, and thanks to both the animation and the format, the series creatively dramatizes the feeling of teenage heartbreak. The series also talks about, metaphorically sometimes, the feeling of being jilted for being who you are, how heartbreak can be life-changing, and why it's necessary to pause to deal with the past.
The series also manages to impress its few pop-culture homages, like the apparent tribute to Kill Bill. With all the dimension-hoppings, it's also hard not to think about Everything Everywhere All At Once.
Scott Pilgrim Takes Off is an easy sunny afternoon watch that is both simple and fun, and one can't wait to see what's in store in the second season.
Scott Pilgrim Takes Off is currently streaming on Netflix