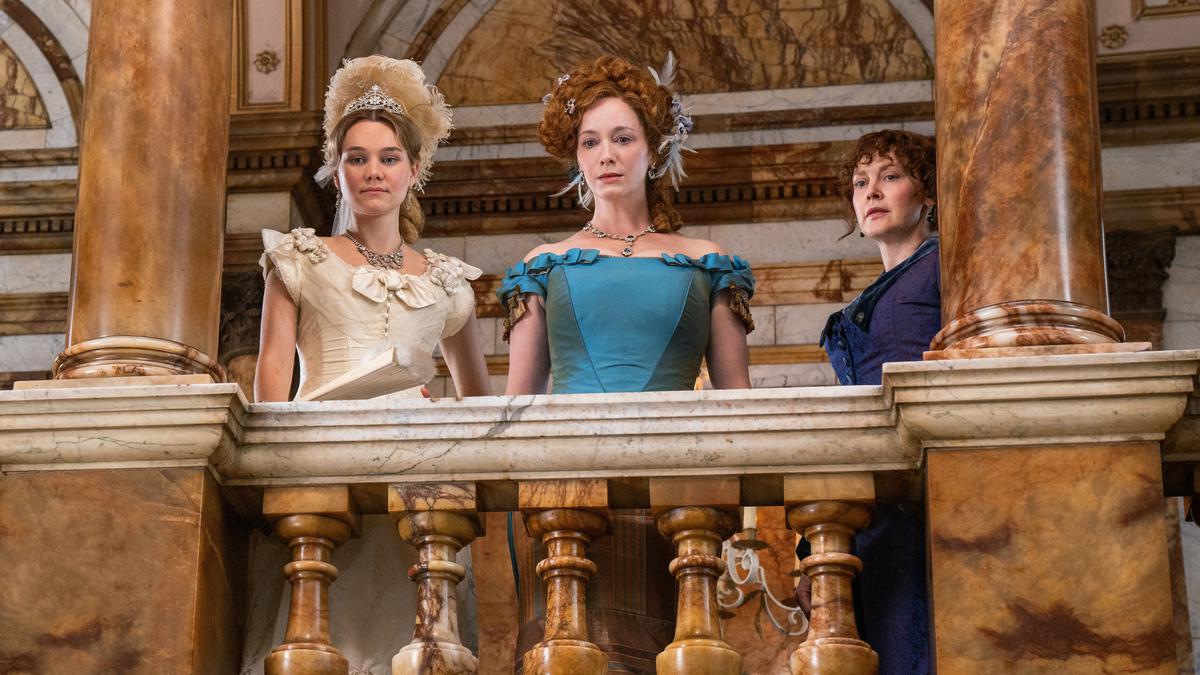 The process of adapting Edith Wharton's 20th century novel, The Buccaneers, was like having your cake and eating it too, says director Susanna White. Apple TV+'s upcoming show, a period drama based on Wharton's unfinished novel, is White's latest venture into a genre she is familiar with.
Starring Kristine Froseth, Alisha Boe, Josie Totah, Aubri Ibrag, Mia Threapleton, and Christina Hendricks, the first three episodes of The Buccaneers will premiere on November 8. This is not the first time Wharton's novel has been adapted for screen. In 1995, Carla Gugino, as Annabel "Nan" St. George, led the BBC-produced miniseries. Seeking to provide a complete story for Wharton's characters, the show courted criticism over its interpretations.
In 2023, White only looked to Wharton's unfinished writing as her source. Wharton's novel had been on White's radar since her days in college, she tells The Hindu in an interview over Zoom. "What really interested me about it was what it would really be like to be a young woman, growing up at a time when your only route to power is getting married to a man and being chosen as a wife," says White. "How tough that [the situation] would be, and the pressure you feel from it. And consequently, the strong female friendships people turn to in the face of that," she adds.
White, who has previously worked on TV adaptations of Bleak House (2005), Jane Eyre (2006), and recently, episodes of Andor (2022), incorporates a unique philosophy in her directorial work. She prefaces her description of her film by saying she believes it to be a complete accident of fate when we arrive on this planet. "Like whether I was born in 1980 or 1880 is irrelevant." In that she seeks to bring a universality to the experience of womanhood. That, whether you are a woman in the 19th century or one living in the TikTok age, the inherent tribulations and realisations of growing up a girl remain the same.
"I wanted to show that with the very first shot when we see Nan go into the house and the first time we meet Conchita. Conchita is standing there in her underwear with her corset and her dress on a stand nearby — to just say this is a young woman who is out of time really, who could be born at any time really," White says of the show. She goes on to cite Sofia Coppola's Marie Antoinette (2006) and Kirsten Dunst's role in the film as an example of this.
"So, although we can enjoy all the tropes of the period dramas (the balls and the costumes), what really drew all of us on the team, was saying all the universal themes of what its like to be young woman, trying to figure out who you are, and the friendships that we rely on," White says comparing it to have her cake and eating it too!
ALSO READ:'All the Light We Cannot See' series review: Mark Ruffalo and team cannot save this atonal period piece
White worked alongside the show's creator and lead writer, Katherine Jakeways, to flesh out Edith Wharton's novel and compares Katherine to the author herself. "She's [Wharton's] got an incredible intelligence, and wit, and it was an incredible pairing with Katherine, who has both those qualities as well."
"Enjoy the lushness of period dramas, but also find something very relatable in it!" White says, summarising her approach to the upcoming show.