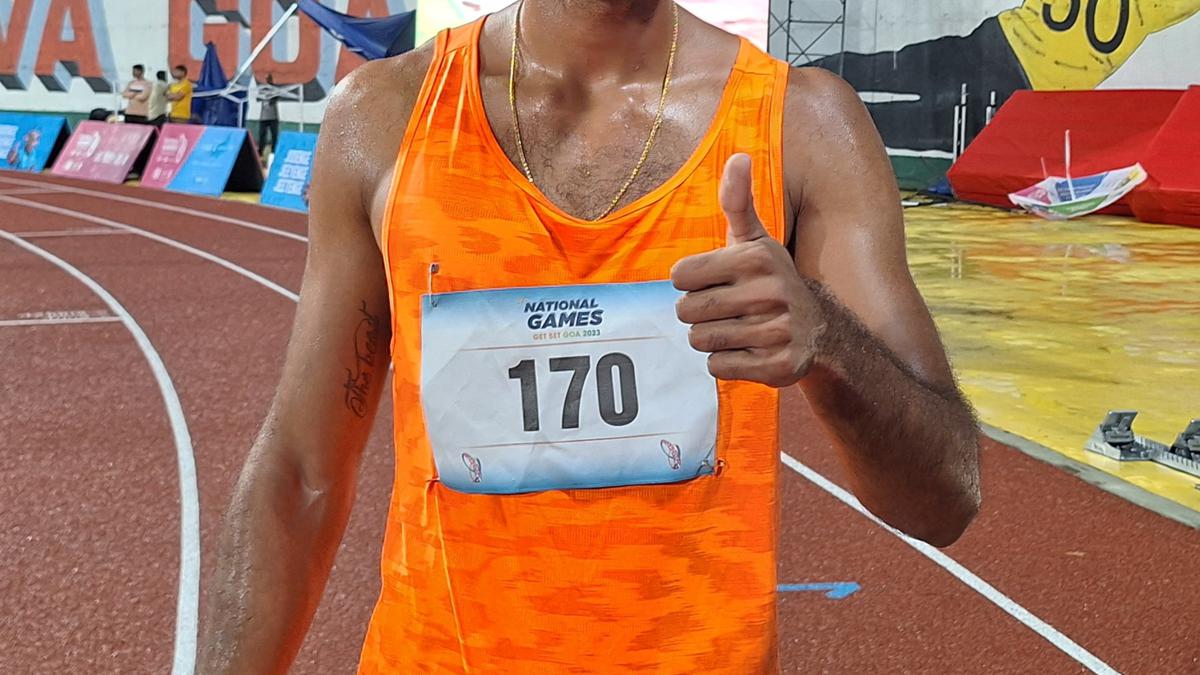 Tejaswin Shankar's presence in the decathlon gives the 10-eventer a new sparkle, brings more attention too. The Asian Games silver medallist is also on a campaign to promote the event. The 24-year-old from Delhi broke the one-year-old meet record in the 37th National Games at the Bambolim Athletics Stadium on Tuesday on a night when heavy rain forced the athletics competition to take an hour's break.
Shankar, who holds the National record in the high jump (2.29m, 2018) and the decathlon (7666 points, 2023 Asiad), had a best of 2.17m in his pet event here.
"I wanted to motivate my domestic buddies, that's why I did the event, otherwise I had no plans of competing in the National Games," Tejaswin, who finished with 7199 points, told The Hindu.
With the Paris Olympics in mind, he will be focusing on the high jump next year. His National record in the event came in 2018 and he is surprised that he is getting some good high jumps in the decathlon.
"Seeing some positives in the high jump… in spite of being in heavy load, having a long competitive season, I could jump 2.17m here. Feel like the high jump is definitely there. I'm planning to go to the US in December, go back to the same coach and focus on the high jump for at least six months, give it my all up until the Olympics.
"It's kind of funny…when I'm not training for the decathlon, I'm jumping 2.27m and when I'm training for the decathlon, I'm doing 2.24."
Asian Games silver medallist Ancy Sojan won the women's long jump title after a hot duel with her Kerala State-mate Nayana James. The difference between the two was just one centimetre.
Meanwhile Tamil Nadu men and Andhra Pradesh women won the women's 4x100m relay while Haryana's Shilpa Rani took the women's javelin throw gold. Asian Games champion Annu Rani's name figured in the start list but she did not compete.
And in swimming, Maharashtra's husband-wife duo of Virdhawal Khade and Rujuta Khade emerged as the fastest in the men's and women's section and with meet records too at the Campal Sports Complex. 
The results (winners only):
Athletics: Men:4x100m relay: Tamil Nadu (Tamil Arasu, R. Saisiddharth, V.K. Elakkiyadasan, Kathiravan) 40.05s. Decathlon: Tejaswin Shankar (Del) 7199 pts (MR, Olsd: U. Khan 7121 pts, 2022).
Women: 4x100m relay: Andhra Pradesh (Chelemi Pratyusha, Madhu Kavya Reddy, Bhavani Yadav, Jyothi Yarraji) 45.61s. Javelin throw: Shilpa Rani (Har) 54.82m. Long jump: Long jump: Ancy Sojan (Ker) 6.53m.
Swimming: Men: 50m freestyle: Virdhawal Khade (Mah) 22.82s (MR, Old: 23.00, own, 2015). 200m backstroke: Nithik Nathella (TN) 2:03.32s. 400m medley: Shoan Ganguly (Kar) 4:28.09s (MR, Old: 4:28.91, Advait Page, 2022).
Women: 50m freestyle: Rujuta Khade (Mah) 26.42s (MR, Old: 26.54). 200m backstroke: Palak Joshi (Mah) 2:22.12s. 400m medley: S. Lakshya (Kar) 5:12.27s.