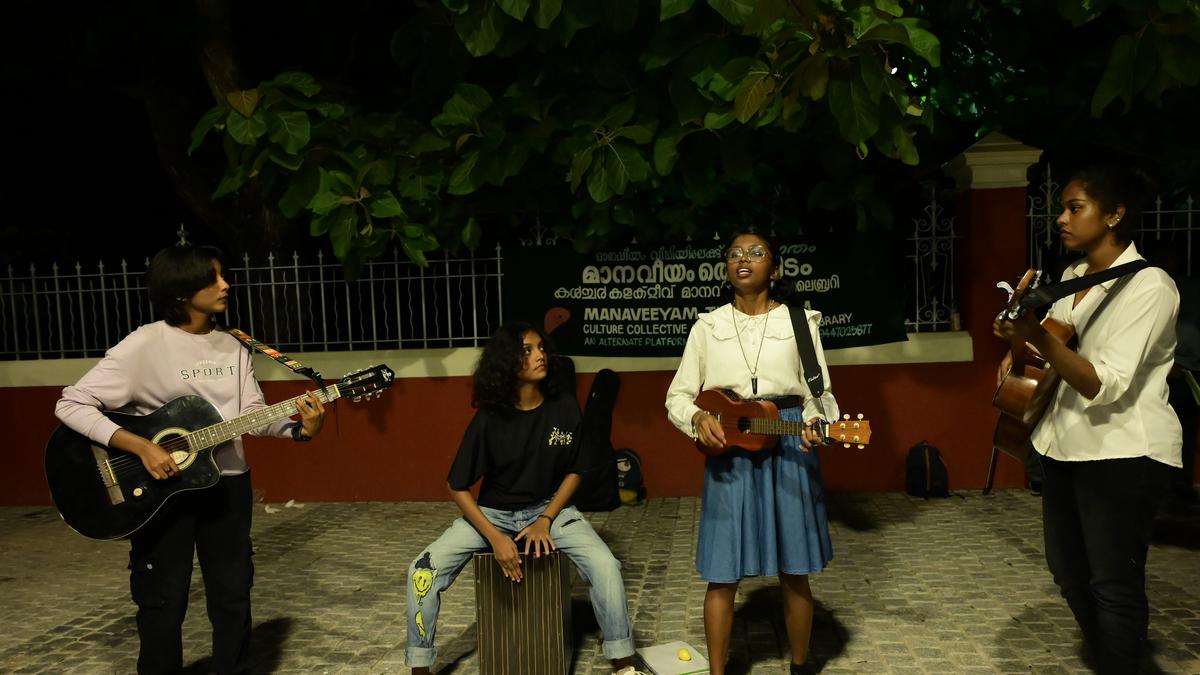 The latest name to announce its arrival on the indie music scene in Thiruvananthapuram is The Charcoals, a four-member all-girl band.
Members of The Charcoals are Aarya Rajesh, Mishma Kamal Mahal, Neha S Arul and Praizy SS. "This level of acceptance was totally unexpected," says Aarya, lead vocalist of the band, an under graduate student of English Literature at Mar Ivanios College.
Aarya had started the band with Mishma, her classmate from Cotton Hill Girls Higher Secondary School towards the end of 2021. "I have been into music from my childhood. I found that Mishma has a good sense of rhythm when she did a programme at our school. Eventually, we came together and did our first show at Somatheeram Ayurvedic Health Resort at Kovalam," says Aarya, who also plays the ukulele and piano. Mishma, a student of cinematography, plays the drums and cajon. "I have been learning drums, but cajon is something I picked up on my own," Mishma says.
Praizy, one of the guitarists in the band, was roped in by Aarya as their third member, when they met at their music school. The band performed as a trio for the first time at Kerala Arts and Crafts Village at Kovalam.
The fourth member, Neha, the youngest in the group, is Aarya's and Mishma's junior at Cotton Hill. "We had seen her walking around with her guitar. There was a long break after our initial shows since all of us were busy with studies and exams. When we restarted, we took Neha as well," Aarya says. Neha, a Class XII student at Cotton Hill, adds, "I used to listen mostly to Malayalam and Tamil songs until I met this group. Now I am getting introduced to Western music and celebrated artistes because of the band."
High note
They performed for the first time as a four-member band at Manaveeyam Veedhi, Thiruvananthapuram's new night-life destination, over a month ago. "The interesting thing is that wasn't meant to be a performance. We had gone there to practise. Neha had just joined and we thought of giving her an exposure. But people soon gathered and it turned out to be our first show," Praizy, an undergraduate student in Physics at Christ Nagar College, says. They went on to do two more programmes on the stretch and another programme is scheduled for November 25.
The group has been mostly performing English songs, original compositions, all written by Aarya. "Once I fix the tune, we sit together and discuss the arrangement. We have 10 originals now and they don't fall into any particular genre. The first one has been recorded and will be out soon," she says. They also sing covers of English and Malayalam songs.
Calling the band The Charcoals was Aarya's idea. "I am a charcoal artist and do hyper-realistic works in the medium. It has been a favourite resource to me and I attach a lot of meanings to it. I consider it a purifier; it can burn things and it can provide light as well," she explains.
The band is performing at the ongoing Keraleeyam, the week-long event to showcase art and culture of Kerala. Their shows are at 6pm at Ayyankali Hall till November 5.