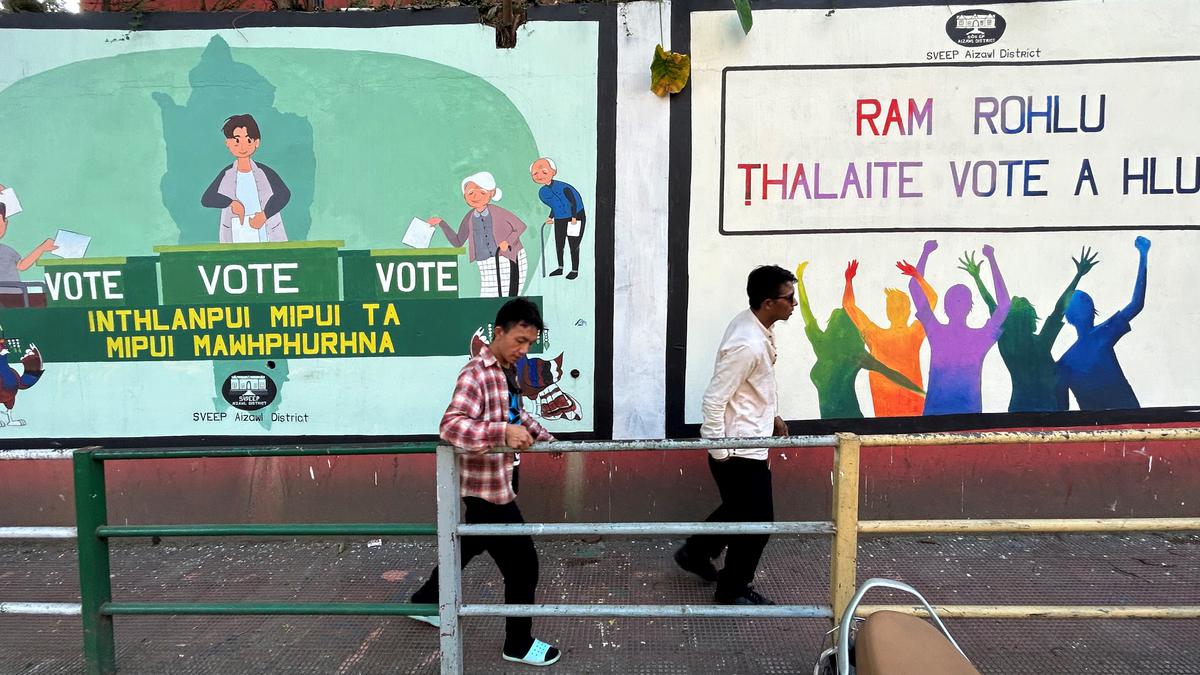 Campaigning ends in Mizoram and for 20 seats in Chhattisgarh
The campaign for the elections to the 40-member Mizoram Assembly and 20 Assembly segments in Chhattisgarh came to a close on Sunday ahead of the polling on November 7.
As A.P. alters PMAY name, Centre puts ₹4,000 cr. on hold
Three small letters — YSR — added to the Union government's flagship rural housing scheme, thus rebranding it to the Pradhan Mantri Awas Yojana-YSR, are proving costly for Andhra Pradesh.
Sikh separatist Gurpatwant Pannun threatens to blow up Air India flight on November 19
Designated terrorist Gurpatwant Singh Pannun, the founder of the banned Sikhs for Justice (SFJ), has released a new video asking Sikhs not to fly in Air India aircraft after November 19, as their lives can be under threat. He claimed that Air India would not be allowed to operate on November 19.
Amid China boundary talks, Bhutan King to discuss Bhutan-Assam border smart city project
Bhutan's 4th King Jigme Khesar Namgyel Wangchuck landed in Delhi on Sunday ahead of talks with Prime Minister Narendra Modi on Monday, a fortnight after Bhutan and China signed an agreement on the boundary delimitation process in Beijing.
BJP expels Rajasthan leader Sandeep Dayma for hate speech
The BJP on Sunday expelled its Rajasthan leader Sandeep Dayma, who was at the centre of a controversy for making a hate remark. Mr. Dayma was expelled from the primary membership of the party for making a statement against the party's ideology, said BJP disciplinary committee head Onkar Singh Lakhawat.
Ahead of FATF review, Centre takes multiple measures to implement recommendations
Ahead of India's mutual evaluations by the Financial Action Task Force (FATF), the Union government has taken several measures to implement the intergovernmental body's recommendations, made following the 2010 review, which includes notification of practising Chartered Accountants, Company Secretaries, and Cost and Management Accountants as reporting entities.
Centre bans 22 betting apps, including Mahadev Book Online
The Ministry of Electronics and Information Technology (MeitY) on Sunday said that it had issued blocking orders against 22 "illegal betting apps and websites", including Mahadev Book Online and Reddyannaprestopro at the Enforcement Directorate's (ED) request.
Rajnath approves maternity, childcare leave for women soldiers, sailors, air warriors on par with officer counterparts
Defence Minister Rajnath Singh has approved a proposal to grant maternity, child care and child adoption leave to women soldiers, sailors and air warriors on par with their officer counterparts.
Warplanes strike Gaza refugee camp as Israel rejects U.S. push for a pause in fighting
Israeli warplanes struck a refugee camp in the Gaza Strip early Sunday, killing at least 40 people and wounding dozens, health officials said. The strike came as Israel said it would press on with its offensive to crush the territory's Hamas rulers, despite U.S. appeals for a pause to get aid to desperate civilians.
Cricket World Cup 2023 IND vs SA | Ultimate satisfaction when you do well and the team wins, says Ravindra Jadeja
Ever the live-wire on the field, Ravindra Jadeja is equally sparkling in press conferences. The all-rounder was obviously a happy man after scoring handy runs and grabbing a five-for against South Africa, all vital contributions towards India's emphatic triumph in the World Cup game at the Eden Gardens here on Sunday.