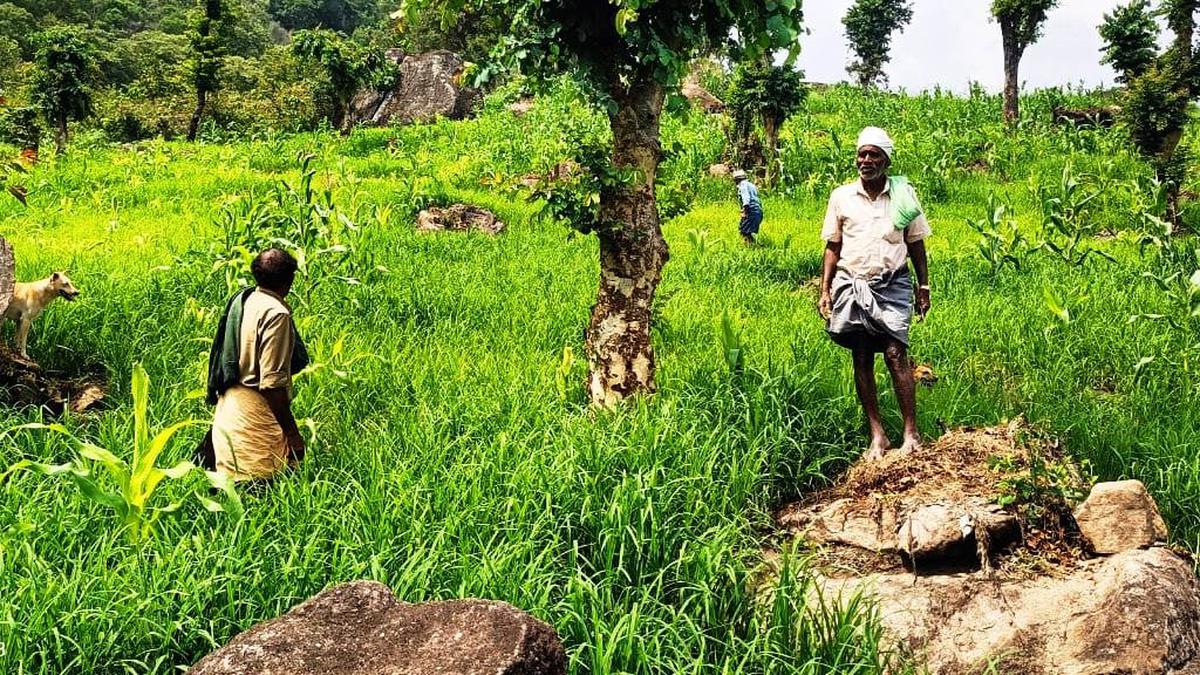 The tribal settlements in the Chinnar Wildlife Sanctuary (CWS) near Marayur in Idukki are reaping the benefits of Punarjeevanam, an initiative launched eight years ago to revive millet cultivation.
Launched in collaboration with the Forest department, the project aimed at addressing malnutrition and other health issues among the tribal community, especially children. The project has so far revived cultivation of 36 millet species on nearly 15 acres and tribal families have gone back to their traditional dietary habits. 
Former CWS assistant wildlife warden P.M. Prabhu, who started the Punarjeevanam initiative, said he interacted with the heads of each settlement to find the reason for malnutrition among the community members after receiving a medical camp report.
"We found that over the years, they had lost their traditional diet. They said the present diet mainly included ration rice and black tea, while it was various types of millet, pumpkin, amaranthus, and vegetables earlier. The diet was the main cause of most of their diseases and we decided to start an initiative to bring back the traditional food habits of the tribal community," said Mr. Prabhu.
Lola Paulose, paediatrician at St. Joseph Mission Hospital at Anchal in Kollam, who led the medical camps at the Chinnar Wildlife Sanctuary from 2016, said at the first medical camp they found that many children under 18 years suffered from malnutrition, were underweight, and diabetic.
"After the Punarjeevanam project, the tribal community went back to their traditional food habits with millet being cultivated in many settlements. Millets are high in minerals such as iron, magnesium, phosphorus, and potassium. In the previous medical camp, we found that the health issues have subsided. Traditional food habits largely helped to maintain the health of the tribal community," said Dr. Paulose.
CWS assistant wildlife warden Nidhin Lal said millet farming was being undertaken in five tribal settlements at present. "In the initial stage, farming was only in the Thayyannankudy tribal settlement on 15 cents. Now, millet farming is spread over 15 acres at the Thayyannankudy, Puthukkudy, Eruttalakudy, Vellakkalkudi, and Managppara settlements. We are receiving many requests for millet seeds from schools and colleges from various parts of the State," said Mr. Lal.
Munnar wildlife warden S.V. Vinod said now the tribal community and the Forest department were focussing on commercial marketing of finger millet products. "Various varieties of finger millet are receiving better response in Forest department stalls. In addition, millet products, including ragi biryani and vada, are a hit product in CWS stalls," Mr. Vinod said.