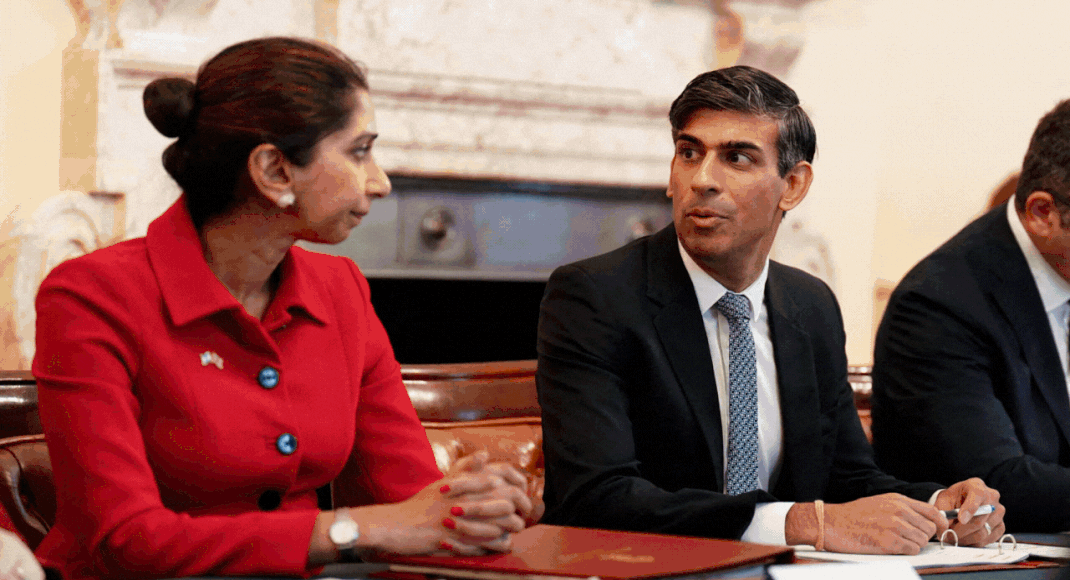 NEW DELHI: UK Prime Minister Rishi Sunak on Monday fired his interior minister Suella Braverman, who accused police of being too lenient with pro-Palestinian protesters.
The government said Braverman has left her job as part of a Cabinet shuffle. James Cleverly will replace Suella Braverman as UK interior minister.
The 43-year-old Goan-origin minister has repeatedly courted controversy in her senior UK Cabinet role, most recently by accusing the Met Police of "playing favourites" when tackling Israel-Gaza protests.
UK Prime Minister Rishi Sunak was facing escalating calls to sack Suella Braverman following her decision to bypass advice from Downing Street and proceed with the publication of a contentious piece.
In the article, she leveled accusations of political bias against the Metropolitan Police. The controversy intensified after five opposition parties made a joint demand for her ousting, in light of Downing Street's confirmation that Braverman's article in The Times had not received the necessary approval.
Massive pro-Palestine protest | Three lakh people in UK urge ceasefire in Gaza | Israel-Hamas War
"Our brave police officers deserve the thanks of every decent citizen for their professionalism in the face of violence and aggression from protesters and counter protesters in London yesterday. That multiple officers were injured doing their duty is an outrage," Braverman had said in a statement on Sunday evening following far-right violence during the protests over the weekend.
"The sick, inflammatory and, in some cases, clearly criminal chants, placards and paraphernalia openly on display at the march mark a new low. Antisemitism and other forms of racism together with the valorising of terrorism on such a scale is deeply troubling," she added.
Her remarks, which resonate with the Conservative party's right wing, follow her previous controversial statements labeling the Gaza ceasefire rallies as "hate marches" and suggesting homelessness could be a "lifestyle choice" for some.
Ex-Prime Minister David Cameron makes shock return
Former UK Prime Minister David Cameron has been apppointed as UK foreign secretary.
The government said Cameron will be appointed to Parliament's unelected upper chamber, the House of Lords. His appointment was welcomed by more centrist Conservatives, who say his international experience will help steady the ship.
Cameron, who was Britain's leader from 2010 to 2016 before quitting after losing the Brexit referendum, has replaced James Cleverly — who was appointed interior minister.
Cameron's appointment came as a surprise to seasoned politics-watchers. It's rare for a non-lawmaker to take a senior government post, and it has been decades since a former prime minister held a Cabinet job.
Watch UK PM Rishi Sunak sacks controversial Indian-origin home secretary Suella Braverman