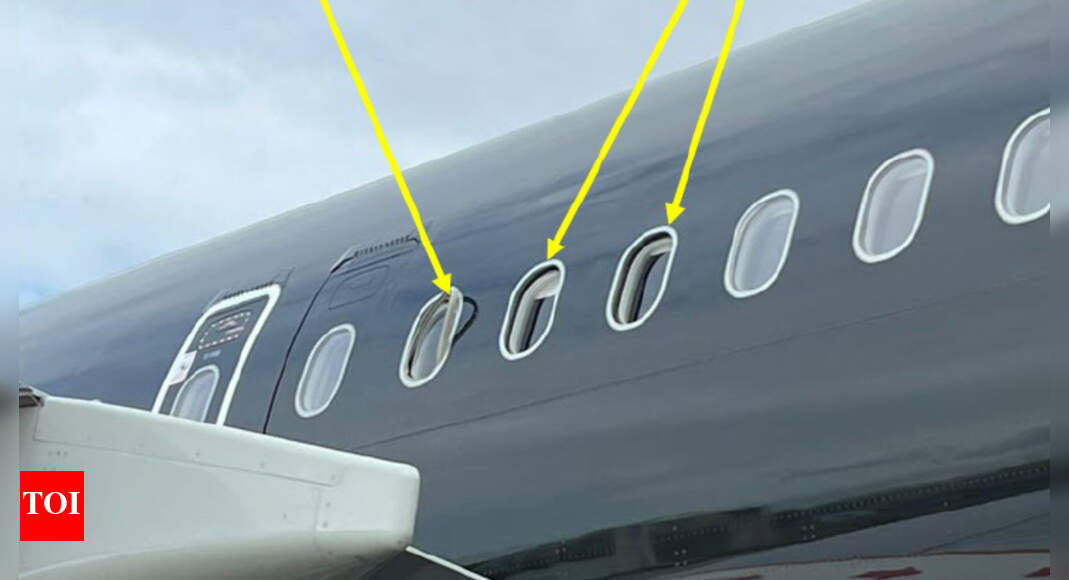 A recent aviation incident at Stansted Airport has raised concerns as an
Airbus
A321 jet, previously utilized by the government, took off with missing windows, reported The Independent. The Air Accidents Investigation Branch (AAIB) disclosed that the damage was incurred during a filming event, where high-powered lights caused issues that were discovered by a vigilant crew member early in the flight last month.
The AAIB emphasized the potential for "more serious consequences" resulting from the incident. Upon inspection, it was revealed that two cabin windowpanes were missing, and two others were out of position. The only object filling the space for the missing windowpanes was the scratch pane, a cosmetic piece of plastic designed to prevent passenger contact with the outer panes.
Operated by Titan Airways and used by TCS World Travel, a US-based luxury holiday company, the incident occurred a day after the aircraft was used for filming on the ground. Powerful lights, set up close to the plane to create the illusion of a sunrise, were a part of the event. The AAIB's preliminary report stated that these lights shone on the right side of the aircraft for approximately five and a half hours before being moved to the left side for four hours.
The AAIB pointed out that the lights were intended to be deployed no closer than 10 meters from the object being illuminated, but in this case, they were positioned between six and nine meters from the damaged windows. However, the report did not disclose the specifics of the filming event.
The Airbus A321 took off for a positioning flight to Orlando,
Florida
, on October 4th, with 11 crew members and nine passengers, all employees of the tour or aircraft operator. After take-off, a crew member observed an issue with one of the windows' seals, prompting the decision to return to Stansted, where the plane landed safely. The incident occurred after reaching an altitude of 14,500 feet, and the AAIB confirmed that "the cabin had remained pressurized normally."
An examination of the damaged windows revealed melted foam used to hold them in place, suggesting exposure to high temperatures or missing foam. The damaged windowpanes were described as "deformed and shrunken."
In conclusion, the report emphasized that while the damage in this instance did not lead to a catastrophic event, a different level of damage caused by similar means could have resulted in more serious consequences, especially if window integrity was compromised at higher differential pressure. Titan Airways and TCS World Travel have been contacted for comment on the incident.