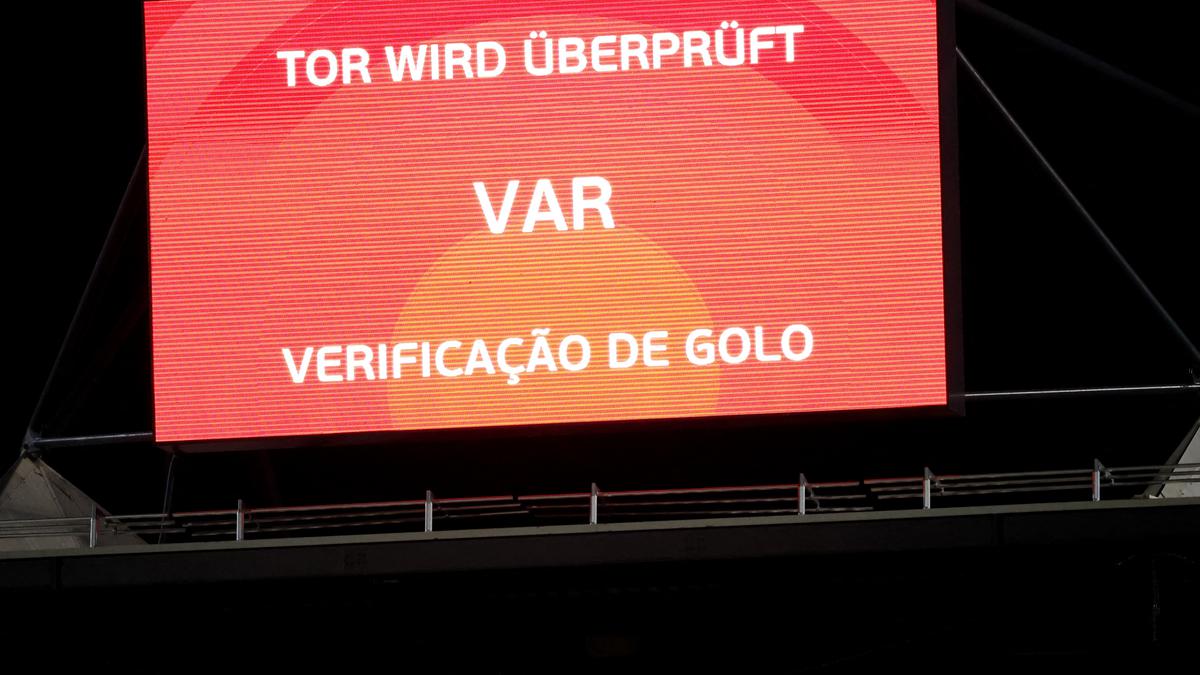 The Video Assistant Referee (VAR) is set to become a reality in domestic club competitions from the 2025-26 season, heralding a game-changing advantage for both Indian Super League and I-League teams, All India Football Federation (AIFF) acting Secretary General M Satyanarayan said on Saturday.
The VAR technology, which was first used in FIFA events in 2016-17, supports the decision-making process of the referee in four game-changing situations: goals and offences leading up to a goal, penalty decisions and offences leading up to a penalty, direct red card incidents, and mistaken identity.
Many countries across the globe used VAR in their domestic club competitions after it was first introduced in Australia and the United States.
"There will be a big decision on the introduction of VAR very soon. We are doing a study on that," AIFF acting Secretary General M Satyanarayan told PTI in an interview.
"Introducing it next season might be difficult for the simple reason that FIFA has to approve the technology, there is a process. More than just getting the equipment, training of personnel takes a lot of time."
"It can be 2025-2026 season, but you never know. Even if we start now (the process), it will take a minimum of 18 to 20 months (to complete it)," added Mr. Satyanarayan, who became the acting Secretary General on November 9 after the removal of Shaji Prabhakaran on "breach of trust".
Implementing VAR technology will incur significant costs for the AIFF, but Mr. Satyanarayan emphasised the potential benefits for the Indian clubs.
"We have to see where the money is going to come from. But ultimately, it's the clubs of the ISL and I-League (which are going to benefit).
The margins of victory or loss are sometimes 5 to 8%, so we can get better results (with the use of VAR)," he said.
Throughout a match, the VAR team constantly checks for clear and obvious errors related to four match-changing situations.
The VAR team communicates with the on-field referee only for clear and obvious mistakes or serious missed incidents.
But it is ultimately the on-field referee who will take a call whether he needs help from the VAR.
Technically, the VAR has made its debut in a domestic tournament in March this year during the Santosh Trophy third-place classification match between Services and Punjab at the King Fahd International Stadium in Riyadh, Saudi Arabia.
The semifinals and the final of the last edition of the national championships were held in Saudi Arabia.
The VAR technology was used on Indian soil on two occasions earlier — during the AFC Women's Asian Cup in January-February 2022 from the quarterfinal stage and the FIFA Under-17 Women's World Cup in October last year.
FIFA-AIFF Academy, a giant step
Former Arsenal manager and FIFA's current Chief of Global Football Development Arsene Wenger will inaugurate the FIFA-AIFF academy in Bhubaneswar on Tuesday.
Terming this a "giant step", Mr. Satyanarayan said: "This is part of FIFA's talent identification programme. Under-14 boys will be under the care of FIFA coaches for two years."
"President (Kalyan Chaubey) has said we want at least five such academies. For a country like India, we need more academies, five is a good number and we are looking for one of these to be for girls."
"This is a two-year project initially. The programme can also continue. Seeing the potential, FIFA would like to continue," added the former Secretary of Karnataka State Football Association.
Odisha government will take care of the boarding, lodging, accommodation and education of the players and FIFA will provide the technical know how and the coaches.
FIFA has recommended Sergi Amezcua Fontrodona — who was previously involved with developing football in China as project director — to be the academy head coach for two years and an Indian will assist him for a few months.
A foreign assistant coach will be appointed in four-five months.
"They (the coaches) will initially select 30 under-14 boys for two years and they will train for 340 days in a year. Their education, accommodation and everything will be taken care of.
"We have just finished national sub-junior championships, we had spotters all around. They have identified 60 to 70 players. Some of the I-League clubs, their junior teams will also have players. All of them will get on to the paces and selection will happen."
He said more talented players can be added later through talent scouting.
"It is not that once selection of players is done, it is closed. As and when the coaches find any highly talented boys across the country, we can always add them."
2-week camp for Asian Cup
Head coach Igor Stimac has talked about the desirability of a four-week camp ahead of the Asian Cup beginning January 13, 2024 but with the ISL matches are scheduled till December 29, it could be a difficult proposition.
"We have to start talking with the clubs (mostly ISL). Since we are doing well (in 2026 World Cup qualifiers), this time they (clubs) may cooperate, hopefully," said Mr. Satyanarayan.
"I think the players can get minimum two weeks. That was what they (ISL clubs) had earlier promised. I think Stimac was also OK with at that time."
India beat Kuwait
India beat Kuwait 1-0 in their away match of the 2026 second-round World Cup qualifiers on Thursday, raising hopes of making it to the third round for the first time.
"The result is very encouraging. We beat Kuwait in Kuwait. There has been a lot of changes under Stimac, on how the national team plays, the aggression and confidence the team showed. They no longer think that they are inferior. These are good signs," he signed off.