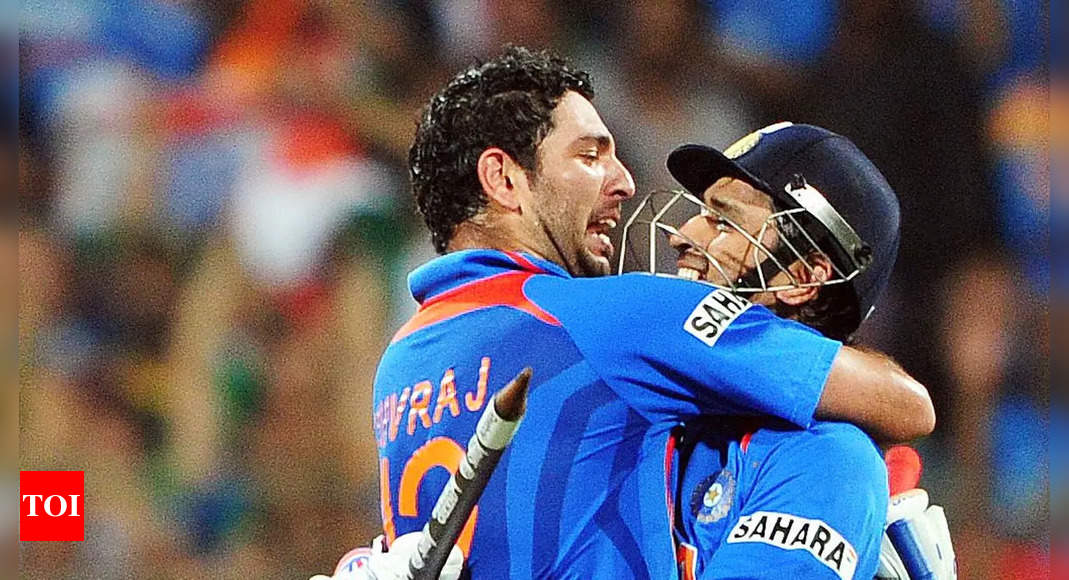 NEW DELHI: Former India all-rounder
Yuvraj Singh
has made a sensational admission on a talk show, where the World Cup winner said that he and former India captain
MS Dhoni
are "not close friends."
Yuvraj played an integral role in India's triumph at the 2007 T20 World Cup as well as the 2011 ODI World Cup, as Dhoni led the team in both the tournaments.
Both Yuvraj and Dhoni are regarded as two of the best finishers in white-ball formats.
While in a conversation on a show called 'TRS Clips', Yuvraj admitted that he and Dhoni "were friends because of
cricket
".
"Me and Mahi are not close friends. We were friends because of cricket, we played together. Mahi's lifestyle was very different from me, so we were never close friends…When me and Mahi went on the ground, we gave more than 100% for our country together. He was the captain, I was the vice-captain…When you are captain and vice-captain, there will be decision differences. Sometimes he made decisions I didn't like, sometimes I made decisions that he didn't like. That happens in every team," he added.
"When I was at the end of my career, when I wasn't getting the right picture about my career, I spoke to him and asked him for his advice. He was the guy who told me that the selection committee is not looking at you right now. I was like, at least I got to know the real picture about my career from someone. This is just before 2019 World Cup. That is the reality."
The former all-rounder said that it's pretty natural for two individuals to not have the same lifestyle and thus not be the best of friends.
"Everybody has a different lifestyle, skill set. Certain people hang out with certain people. You don't have to be best of friends with everyone to perform on the field. If you take any team, all eleven don't get along. Some guys get along, some don't. When you are in the park, put your ego behind you and contribute on the field," said Yuvraj.
He stressed on that point by giving an example from their camaraderie on the field.
"There were times when MS was injured, and I was the runner for him. I remember there was one moment when he was in the 90s, and I wanted to give him the strike to help him reach his 100. I remember diving for him, for his second run, as he was in the 90s.
"Similarly, when I was batting in a World Cup match, I was 48 against the Netherlands. There were two runs to get and Mahi blocked both the balls, so that I should get 50," he explained.